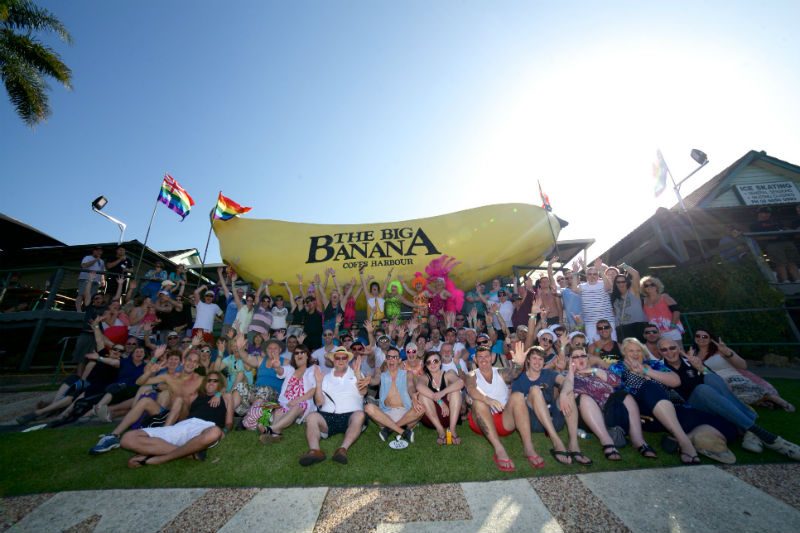 Treat yourself to the Coast Out Festival
Travel to Coffs Harbour for three days and nights of party entertainment under a marquee in a beachside park at the Coast Out Festival. Halfway between Sydney and Brisbane in a near-perfect climate, you never know who you will see in Coffs Harbour.
Now in its fifth year, Coast Out Festival runs 24th – 26th October 2014. It is a Destination NSW flagship event and past community event of the year. You can party day and night, or sample some of the tourist trappings of the Coffs Coast – where the mountains meet the sea.
Pack something shiny as this year's festival theme is GOLD. Gracing the marquee stage are golden boy Bob Downe, performer Queenie van de Zandt, Triple J Unearthed star Charity-Rose Turner and singers of cabaret such as Paul Ross and Paul Robert.
Mirror balls will spin in the beachside air, thanks to ARQ Sydney resident DJ Justin Scott, his fellow club DJ Magnus, in his partnership of Bootleg House with jazz singer Paul Robert, will release an EP at Coast Out to follow their successful single, Gold Life. Also spinning discs are SX Magazine cover girl DJ Lady K, a favourite of Sydney's Extra Dirty dance tribe, and her NSW Northern Rivers partner in dance-crime, DJ 1iSamurai (aka Craig Wilson).
Not forgetting the fun of letting loose, there are some drag queens to steal the show: the lovely Jan van de Stool, Cube Canberra queen bee Flangelina Jolie, good time international girl Sandy Bottom, and former coast dweller now ARQ Sydney resident queen Coco Jumbo.
As well as your gold clobber, be sure to pack the picnic rug and deck chairs for the chilled daytime events, which include the famous Pollys Dancers, jazz and easy listening entertainers, as well as a golden Pet Parade and Cake Competition.
All under the Coast Out beachside marquee in Coffs Harbour, it will be a hot and dirty Spring weekend to remember.