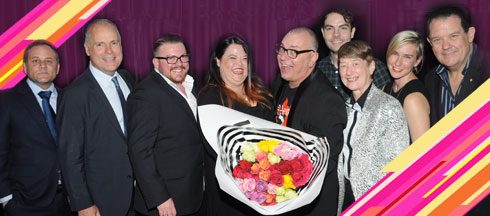 A diverse and inspirational mix of 28 people and organisations have been announced as finalists for the 2014 Honour Awards.
Now in their eighth year, the Honour Awards are an annual event that recognises outstanding achievements within or contributions to NSW's lesbian, gay, bisexual, transgender and intersex (LGBTI) community. The awards are also a gala fundraising event for LGBTI charity Aurora and for ACON, NSW's leading HIV and LGBTI health organisation.
The 28 finalists were selected from over 140 nominations received across seven categories covering the business, health, education, community, legal, political, media and cultural sectors.
The winners will be presented with a range of gifts and prizes at a gala ceremony and cocktail party at the Ivy Ballroom
Acting ACON CEO Karen Price says the judges were impressed with the quality and variety of nominations. "The judging panel noted that selecting the finalists was a difficult process because the achievements and contributions of all the nominees were remarkable in their own way," Ms Price says.
"However, the judges agreed that the finalists they selected exhibited a truly outstanding commitment to supporting the LGBTI community and deserved to be recognised for their efforts.
"I congratulate all the finalists and look forward to them and other members of our community coming together to celebrate their achievements at the Honour awards ceremony at the Ivy on September 17."
The finalists will join a host of government, media, entertainment and community personalities for an inspirational night full of fun and festivity.
Guests will also be able to bid on a range of amazing silent auction items including luxury holidays, art, furniture, homewares, and 5-star dining, accommodation and entertainment packages.
2014 Honour Awards – Finalists
  unUsual Risks – for establishing a new insurance service that specialises in providing insurance to people living with and affected by HIV
Hellfire Club – for making an outstanding contribution to the LGBTI, queer and fetish communities over 20 years through culture, advocacy, health promotion, and sex positivity
Dowson Turco Lawyers – for being one of NSW's most LGBTI-engaged law practices through pro bono work, community partnerships and direct donations to key community organisations
Suzy Spoon – for being an incredible role model for passionate and ethical small business operators in the LGBTI community through her work as a maker and supplier of vegan and vegetarian produce
      Media Award (presented by SX Magazine)
Archer Magazine – for launching a groundbreaking publication focussing on sexual diversity and gender identity in Australia
Network 10 – for getting all of Australia talking about LGBTI-related issues by commissioning and broadcasting Ian Thorpe: The Parkinson Interview
60 Minutes – for Emma, a story about nine-year-old Emma Hayes and how she and her family have responded to Emma's gender dysphoria. Reporter: Karl Stefanovic. Producers: Steve Jackson, Lincoln Howes
Dirty Queer Magazine – for providing a unique perspective on queer culture, arts and community since 2010 
Arts & Entertainment Award (presented by Foxtel)
Women Say Something – for providing a unique and valuable forum over many years for participants to come together and discuss issues affecting lesbians and same-sex attracted women
Maeve Marsden – for her work as a writer, director, producer and performer, and as a campaigner for feminist and LGBTIQ rights 
John Frost – for his outstanding contribution to the performing arts as Australia's most successful producer of plays and musical theatre   
Dan Murphy – for his work as a leading LGBTI community DJ, as an activist for LGBTI rights and issues, and for his significant support of LGBTI community organisations and events
      Cayte Latta Memorial Awards For Visual Arts (presented by Friends of Cayte and CULT Magazine)
The winner will be announced on the night of the awards
Health & Wellbeing Award (presented by GLYDE Health)
Emma Rodrigues – for her work in the area of women's health and human rights, as well as her research into and advocacy for the health and wellbeing of lesbians and same-sex attracted women living in regional and rural areas
Dave Whittaker – for over 20 years of service to gay rugby as a player, coach and president of the Sydney Convicts Rugby Club
Way Out Wodonga – for providing vital support, personal development and social network for young LGBTI people in far Southern NSW.
Prof. Andrew Grulich –for his work over 2 decades as one of Australia's leading HIV researchers and public health physicians, and for his significant contribution over many years to HIV and LGBTI community organisations through board and committee memberships
Community Organisation Award (presented by Aurora)
Australian Lesbian & Gay Archives – for over 35 years of working to collect, preserve and make accessible the history of the LGBTI community in Australia
Bingham Cup Sydney 2014 – for securing and organising the world's premier international gay ruby tournament, launching the first international study into homophobia in sport, and producing an anti-homophobia policy framework for Australian sport which has been adopted by all major sporting codes in the country. 
Far West Community Legal Centre – for working to increase LGBTI understanding and inclusivity among community members and service providers in Broken Hill and Far West NSW
Care Connect – for working to make aged care services in NSW more inclusive and supportive of LGBTI people and people with HIV
Matt Yeldham, Charles Sunstrom and David Ball – for creating Out for Sydney, a mentor program to help and support LGBTI students transition from tertiary study into the workplace
Brendan Maclean – for his work as a musician, actor, writer and broadcaster, for his advocacy on LGBTI rights and issues, and for many years of donating his time and talent for various LGBTI charity fundraisers
William Ho – for working to provide vital support services for LGBTI people on NSW's Central Coast
Tyson Young – for his work in promoting the LGBTI community to the mainstream business sector and for developing the marketing and media capacity of LGBTI businesses and community organisations 
Community Hero Award (presented by ACON)
Mama Shirl – for over 20 years of supporting performers and venues on Oxford St, and for 'mothering' countless young LGBTI young people as they find their place in the world.
Fabian LoSchiavo – for almost 4 decades of advocating for LGBTI rights (particularly in relation to religious-based discrimination/hypocrisy) for co-founding the Australian chapter of the Sisters of Perpetual Indulgence, and for his work as an LGBTI historian
Cheryl 'Webby' Webster – for over 20 years of service to the LGBTI community as a member and leader of many key LGBTI community organisations and events
The Rev. Vera Bourne – for over 3 decades of service as a campaigner for LGBTI rights, as a volunteer and supporter of many LGBTI community organisations, as an archivist of LGBTI history, and as a minister of progressive and inclusive spirituality.