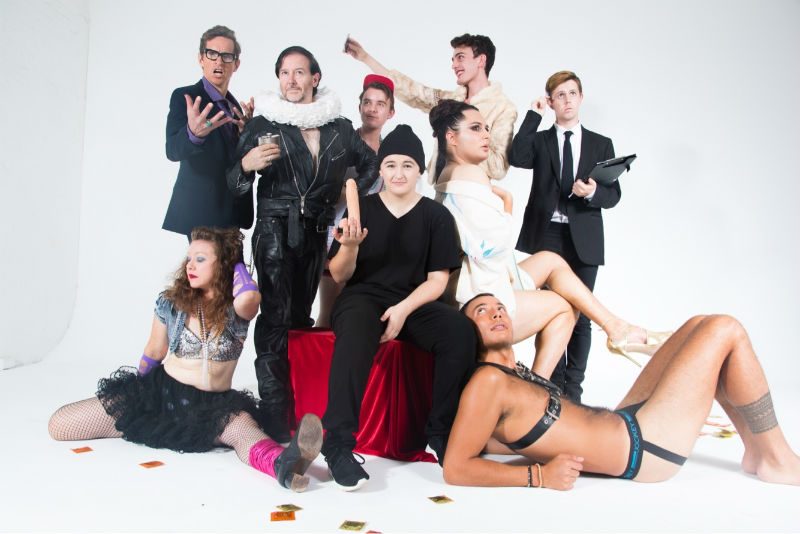 12 Inch Night is a modern adaptation, set in a fictional gay porn studio in Sydney, of William Shakespeare's "Twelfth Night".
Taking key elements and story arcs from the classic comedy, "12 Inch Night" turns them on their head, creating a rollicking ride of debauchery, humour and gender bending.
This new play will premiere as part of the Sydney Gay and Lesbian Mardi Gras Festival on February 28th-March 2nd at Redfern's 107 Projects.
"12 Inch Night" is the newest production from Sibils Collective, a Sydney based theatre group who recently put on a successful run of "The Complete Works of William Shakespeare: Abridged". The plot centres on Viola, a frustrated Film Studies graduate who dresses up as her twin brother Seb at his job as an assistant at a film studio when he goes missing in action after a drug-fuelled bender. Viola is in for a surprise when she realises that Seb actually works in a gay porn studio and unwittingly finds herself in the middle of the various schemes and plots of the colourful characters on set.
Out lesbian actor and circus performer, Lisa Hanssens, stars as Festie, the sassy, Madonna-obsessed, cinematographer who provides some of the show's most memorable comedic moments.
The in-jokes run thick and fast, satirising everything from Game of Thrones to Grindr as the egos and creative disagreements of everyone on set escalate. Despite the barbed humour, co-writer and Producer James Wilson was sure to make the final message one of acceptance, community and sex positivity – entirely in keeping with this years' Mardi Gras theme, "Creating Equality".
Wilson said, "'12 Inch Night' was imagined as a fun update on a Shakespeare classic. Naturally, this means dispensing with feudalism and chivalry and updating it for a modern audience. Issues such as LGBTIQ rights and equality, drug use, HIV, sex work and gender roles all come through in this production. Our community comprises many different people with many different kinks and gender or sexual identities. We aim to give them a voice, but are not judgmental about it; rather, we seek to break down the barriers that separate us as a community."
More Information:
When: February 28-March 2 2017
Where: E3 Theatre, 107 Projects, 107 Redfern St, Redfern
Tickets Adults $20/ Concession $15