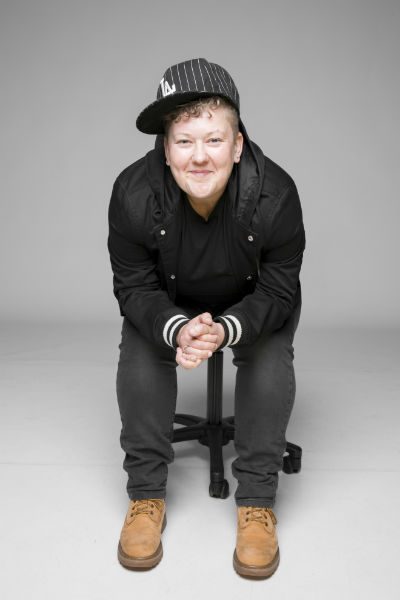 In two and a half short years, Kirsty Webeck has gone from being a full-time public servant, to be a full-time comedian.
Her meteoric rise is the result of non-stop writing, back to back gigs and her unconventional approach to breaking into the comedy industry.
Webeck's childhood was the perfect setting to pique her interest in comedy, with her parents and two sisters constantly cracking gags and winding each other up.
"Dinner time was pandemonium, we really should have had a talking stick. Everyone was cracking jokes at once, I didn't hear my little sister's voice properly until she was 14," she reminisced.
From a young age, Webeck knew she wanted to be a stand-up comedian but put it off in favour of travelling the world doing everything from studying Mandarin and teaching kindergarten to being a marriage celebrant. In 2013, she decided the time was right to take the mic and launch her comedy career.
"I'd been procrastinating for years and had basically run out of careers to try. I knew the circus wouldn't take me, so comedy it was," she said.
Her first stop was a one-week comedy workshop culminating in a showcase of all of the participants' work. After a successful debut performance, she was hooked, however, rather than throw herself into regularly performing in Melbourne's comedy rooms, she wrote a one hour show and debuted it in her hometown, Canberra, selling out all 100 tickets.
She brought the show back to Melbourne and it sold out again to rave reviews. From there, she spent the next 18 months practising her skills by writing and performing four more one-hour shows. Her audience grew exponentially through word of mouth and social media. Amongst all of the writing, she generated enough work to leave her public service job to pursue comedy full time.
It wasn't long before she started meeting other people in the industry and was being invited to perform in various comedy rooms and at events across Melbourne. Since her debut performance in 2013, she's performed solo shows at the Melbourne International Comedy Festival, Adelaide Fringe Festival and Midwinta Festival and has been on the lineup for the Lesbian Comedy Gala twice. She's performed at the launch party for Midwinta Festival and the Mass Debate and Taste of The Fest for the Midsumma Festival.
She MCs, features and headlines in various comedy rooms around Melbourne and now produces her own monthly room, Kirsty Webeck's Comedy Crushes, where she invites her favourite comedians along to share the stage with her.
Webeck's gained a reputation for performing comedy that consistently punches up. Her stories are inclusive and considerate and she prides herself on making her audiences leave her shows feeling happy and uplifted.
Same Same reviewed her Melbourne International Comedy Festival show last year and described it as "comedy that has no real victim, and what a joyous thing it is to laugh at nobody's expense."
Her audiences are wide and varied and her positive brand of observational humour and storytelling has won her fans across a broad range of demographics.
Kirsty Webeck's hard work shows in everything she does and she is fast on her way to becoming a household name.
When she's not performing comedy, she can be seen loitering around the inner city suburbs of Melbourne drinking soy lattes, catching up with friends and finding ways to expand her plant collection. She's also a regular attendee of anything LGBTIQ on Melbourne's hectic social calendar.