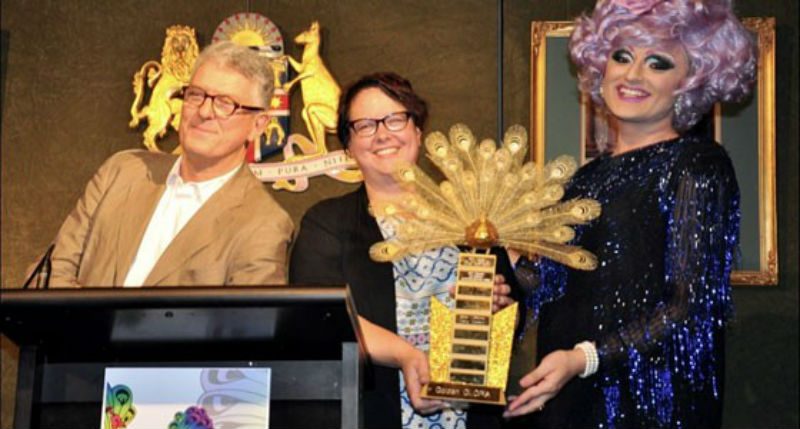 Over 300 people voted online and the evening was hosted by comedian Kirsty Webeck.
With over 150 in attendance and 32 people nominated, Prime Minister Malcolm Turnbull has won the politics award at the GLORIA Awards 2016.
Now in its sixth year and organised by Labor member Penny Sharpe, the GLORIAs is a fun event that shines a light on outrageous, ignorant, and ridiculous comments made about gay, lesbian, bisexual, transgender, and intersex people.
The eight award categories include Media, Sport, Politics, Law, Religion, Online, International and Silliest LGBTI comments made from within the LGBTI community.
Turnbull has won the 2016 award for "effectively saying nothing to help defend the LGBTI community from attacks on Safe Schools, and for refusing to overturn the unnecessary, inappropriate, wasteful and divisive plebiscite on marriage equality."
Other winners included 2CH's evening host Kel Richards in Media for saying the Safe Schools program is "an attempt to sexualise and recruit children for the gay and lesbian movement." He labelled the movement as "disgusting gay and lesbian propaganda."
In the Religion category, Lyle Shelton, the Managing Director of the Australian Christian Lobby, won the award for his statement earlier this year on Sky News about marriage equality affecting his straight relationship. He said, "If the definition of marriage is changed, it's no longer assumed… that I'm married to a woman. So that affects me straight away."
Former US Presidential hopeful Marco Rubio won the International category for saying same-sex adoption is a "social experiment." World boxing champion Manny Pacquiao was awarded the Sports category for his statement that same-sex couples are "worse than animals."
Nominations for the 2017 GLORIAs are now open. To nominate, click here.