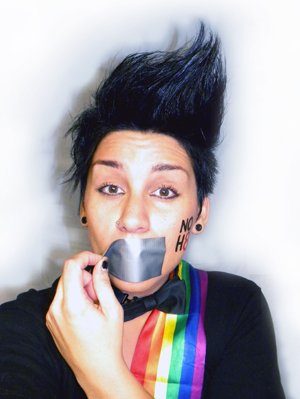 Jenelle Hutcherson is taking the pageant world by storm as the first out lesbian to go for the Miss California USA crown.
When Jenelle Hutcherson arrived to work one Fall afternoon at Long Beach's Den Salon, she had no idea she'd end the day as a beauty pageant contestant — her spiky faux-hawk, tattoos and nose ring would probably have Donald Trump clutching his toupee in horror — but that's exactly what happened when salon regular and local event planner Justin Rudd sat down at Hutcherson's chair and began dishing the details on his upcoming Miss Long Beach beauty pageant.
Not wanting to miss out on an opportunity to get Den Salon's name out there, Hutcherson asked the prolific community organizer how she and her fellow Den stylists could get involved with the pageant. Needless to say, Rudd took her inquiry very seriously: within a couple of weeks, the 25-year-old had made history as Miss Long Beach's first openly lesbian contestant.
Compared to other regional pageants, Rudd's annual competition, which took place on November 13, is on the unconventional side — there's no over-the-top opening number, no height or weight requirements, and Little Miss contestants, who range from six to 10 years old, are barred from wearing makeup or any other beauty enhancers. Hutcherson had reservations about taking the stage regardless of the pageant's all-inclusive attitude.
"One thought that stuck out in my mind was just that I'm not a gown and heels kind of girl. That's not at all who I am. I'd look like a truck driver!" says Hutcherson.
Hutcherson opted instead to sport a vintage tux and, for the swimwear portion of the event, a handmade full-body two-piece based on the bathing suits men wore in the 1930s. While Hutcherson clearly stood out among her bikini-clad and bronzed peers, she says she felt fully embraced by Long Beach's pageant community.
"It was a really cool experience just to be there and get to be a part of the camaraderie that was behind the scenes, and to have my viewpoint and perspective on a few things checked," says Hutcherson. "It was really touching to me how warm everybody really was and as sweet they were."
In addition to working as the Lead Artist at Den Salon, Hutcherson is a fierce advocate for LGBT youth, working as a mentor for The Center Long Beach's Mentoring Youth Through Empowerment (MYTE) program. Her work with MYTE was a big factor in her decision to enter the pageant in the first place, seeing the event as an opportunity to educate audiences about the many challenges that all young people face, whether they are queer or not.
By entering the pageant world as a proud, out lesbian with an unconventional personal style, Hutcherson hopes to show young people that they too can remain strong and comfortable in their own skin, even in the face of discrimination.
"It seems like every other day you turn on the news, there's another kid that has either been bullied or hurt by another classmate or has committed suicide," says Hutcherson. "That very well could have been me. There's nothing in the world the world could say to me — it's not going to affect how I feel. I'm still going to get my message across and out there."
Hutcherson didn't take the Miss Long Beach tiara, but she's grateful for the exposure she and her cause have gotten as a result of her candidacy. Energized by the overwhelming international support she's received, she's now got her sights set on a bigger crown: Miss California USA.
Though the hair, the gowns and, of course, the pageant itself may be bigger this time around, Hutcherson is remaining true to her Miss Long Beach message.
Just as she did in her last pageant, she hopes to universalize queer issues by drawing a parallel between LGBT discrimination and the recent onslaught of bullying among teens from all backgrounds. It's a message she feels transcends politics and LGBT rights — and one that all people can appreciate, no matter their political affiliation.
"It can be any part of who you are that people can pick apart. To be honest with you, that's what really has fueled me in wanting to see this message go a bit further, in a larger scale, on a more televised scale, so I can reach the youth of today," she says. "If I can give one child hope or open up one adult's mind then, educationally I think it's really helping to break down those barriers and take down those walls, in the name of something that is love."
The Miss California USA pageant will be held January 6-8, 2012 and, in the weeks leading up to the event, Hutcherson has a lot of work to do. When she's not shopping for formalwear or crafting a new bathing suit from scratch, Hutcherson is tirelessly fundraising. Most Miss California USA contestants have had a year to secure sponsorships to help with the various fees associated with the pageant, so Hutcherson has quite a bit of catching up to do.
Of course, Hutcherson is in it to win it, but her decision to go for Miss California USA is way bigger than the crown.
"This is not just a personal battle at this point," she says. "This is something too that affects so many other people that are paying attention and wanting to see this push through — it's a win for them as well."