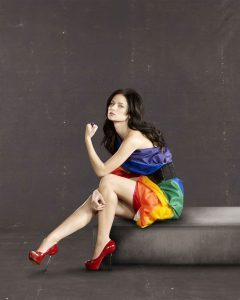 The only lesbian, Kayla Ferrell, on America's Next Top Model was eliminated – and so close to the finish line!
The Hooters waitress from Illinois, Kayla Ferrell was just one episode from being a finalist on the hit show before her elimination yesterday. (We thought there were only faux lesbians at Hooters but apparently, we were wrong.) Ferell did exceedingly well on the show and became a fan favourite.
The nineteen-year-old said of the elimination, "I"m upset that I didn't make it to the top two but right now I'm happy of how far I've come and all my accomplishments, especially coming into this experience from not having had much modeling experience. I'm gonna go home and kiss and hug my girlfriend like never before." Awwwww.
Before leaving the comp, Tyra Banks told Ferell she had something special and suggested she also look at acting as a possible career.
We totally agree.