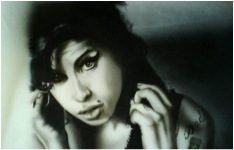 UK airbrush artist, DC Willans, brings his artwork to Sydney in a standalone exhibition focusing on music, the beauty of the male and female form, pop and Australian culture.
Highly established airbrush artist DC Willans is hosting his first standalone exhibition in Sydney. The exhibition's opening on Wednesday night was a huge success featuring handcrafted photorealist portraits and landscapes exploring the pop culture. Willan's signature iconic and suggestive imagery also combines visual art with live models, literally bringing his art to life.
This Saturday night will see Willans' host a private art event where the audience becomes part of the installation – intertwining visual and eargasmic treats to make a truly three-dimensional experience. A bespoke event – working on multiple levels – the "Experience" will include exquisite air-brushed models, original artworks and prints, burlesque dancers, live music, drinks and culinary treats, and live art.
Focusing on music, the beauty of the male and female form, pop and Australian culture, his distinctive use of black and white, injected with lashes of vibrant colour have found him fans amongst many, including the late multi-award-winning Amy Winehouse.
"Sydney has been a massive source of inspiration to me and has played a key role in my artistic journey so far," said DC Willans. "My goal has always been to make this exhibition a fun interactive experience for the audience. Colleague Garth Linton will curate the music."
"Airbrushing since the '70s seems to have fallen into the background and become a niche market. It's my life and I want to bring it back into the foreground with my unique style and ideas," continued Willans.
An established artist, Willans' humble beginnings started in East London. Awarded a prestigious Prince's Trust grant to further his talent as a professional artist, he was commissioned by Amy Winehouse to paint an exquisite portrait of the lady herself that now stands in the late singer's family home.