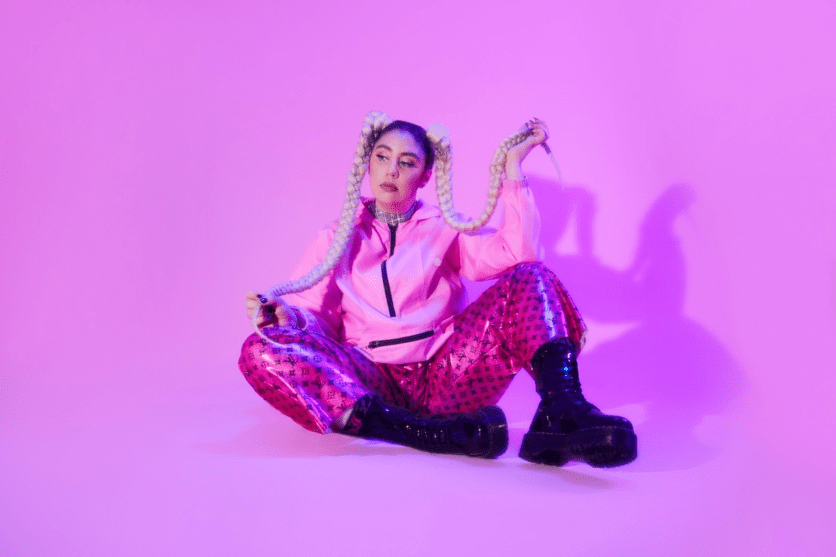 Australasian alt-pop artist THEIA returns with an almighty bang with the release of her new single 'Kitty Kat'.
The Christchurch-born singer and songwriter will also be performing at this year's Sydney Mardi Gras at the sold-out Heaps Gay party on Saturday, February 29.
Blending bright and glossy futuristic alt-pop, with crisp hard-hitting 808s, 'Kitty Kat' is a powerful, yet playful, ode to 'pussy power'.
It is the first single from Theia's new project – THE 99% ANGEL MIXTAPE – which will be rolled out in the coming weeks.
The mixtape, which was written and recorded in Sydney with producer Liam Quinn, is in keeping with Theia's reputation for pairing clever and socially conscious lyrics with bold, in-your-face production. Inspired by youth and optimism, as well as the tumultuous journey of being a young up-and-comer in the music industry, this is Theia at her fiercest.
Theia has been making waves since she first emerged in 2015 with the exquisite R'n'B-infused 'Silver Second' co-written and produced with Alex Hope (Troye Sivan, Selena Gomez). She followed it up in 2016 with her breakout hit 'Roam', co-written and produced by Josh Fountain (Benee, Leisure). Her debut EP earned Theia three nominations at the 2017 NZ Music Awards and a nod for 'Breakthrough Artist' at the 2017 George FM Awards. She returned in 2019 with her second EP NOT YOUR PRINCESS, which received international critical acclaim.
We are excited about your new single 'Kitty Kat' and have been told that it's a powerful, yet playful ode to "Pussy Power". Tell us more about the release of this new song? Where was it written? Who produced it?
Thank you. I'm excited too. And yes, that's exactly how I describe it – a pussy power anthem! The lyrics are pretty confrontational in that they tackle issues such as slut-shaming. For instance, the chorus says "call me a slut when I dress like that, gonna chain me up like a Kitty Kat, hands around my neck, I'll give you a scratch, karma comes around cos this kitty bites back". It's a powerful statement set to a playful and edgy soundscape. Ultimately it's about empowerment – as most of my songs are.
I wrote it in Sydney with producer Liam Quinn, who worked with me on all the songs on the 99% Angel Mixtape.
Kitty Kat is the first single from your new project 'THE 99% ANGEL MIXTAPE" – what's this release all about? When is it being released?
The mixtape is essentially four songs, which will all be released in fairly quick succession over a period of a few months. They are all stand-alone songs in their own right but together they fit together perfectly – lyrically and sonically. So after release, they'll be packaged up as a mixtape. The title comes from the fourth and final song I'll release – 99% Angel.
You are playing at the Sydney Mardi Gras 'Heaps Gay' party on February 29, what can the audience expect to see and hear from you on the night?
Firstly, can I say how excited I am to be playing at Heaps Gay and at Sydney Mardi Gras, no less? I perform with a DJ and my set is really fast, high energy and so much fun. Obviously, I'll be playing the new songs from the mixtape but I've also got a few older songs in there, like Bye Bye and Not Your Princess, which are fun and sassy tunes. The set is designed to get people moving and I cannot wait!
Have you played at LGBT events before? If so, please let us know where/when/details.
I released my single Candy at a launch party at Family Bar in Auckland in 2018. For those who aren't familiar with NZ's queer scene, it's one of our most famed clubs on K Road. It's one of the few places in Auckland you can dance till dawn! I have such a beautiful bunch of LGBTQI+ bbs who have supported my music from the beginning and it was the perfect place to celebrate.
Do you have a close connection to the LGBT community?
Very much so. My music has always tackled issues head-on. I think anyone who's ever felt like an underdog or an outsider will resonate with the strong underlying messages in my songs. I love to play with juxtaposition, so serious lyrics are sometimes set against playful, fun production, which makes you feel fab!!! Also, I adore fashion and creating imagery, which goes with my music. My queer fans are always the first to comment and share. They have supported me from the beginning.
You are a household name in NZ and recently opened for Tones and me in January. Tell us about how that came about? Any collaborations on the way with her?
I felt so lucky to open for Tones And I! I'm not sure how that came about but I was very grateful because she's incredible. It was one of the most fun support slots I've ever played because the crowd was electric. As for the collab, I think Tones is probably a bit busy right now (touring the world, breaking records, just generally being fabulous) Haha!
In NZ, you have toured as support for Sia alongside Charli XCX, and Swedish pop artist Leon, tell us more about this experience.
I opened for Sia a few years ago and Charli was on the same bill. It was my first and only time performing at Mt. Smart Stadium, which is a huge outdoor venue. It was pretty daunting playing such a big show – very different to playing a small grungy club. But I loved it. What an experience. And yes, I supported LEON at the end of 2019 in NZ and in Brisbane at The Zoo. I was honestly blown away by the response I got from the Aussie crowd. So many people came up after and said hi.
We love your PR images, who takes your photos?
My 'pro' photos are taken by an amazing NZ-based fashion photographer, Frances Carter. She's a true legend and she totally gets me and my vision. But I also have a lot of press photos that aren't professional. Most people don't even realise they're just photos taken on a phone by my manager. Haha. She's a woman of many talents.
What do you like to do away from music?
I love to get out of the city and just relax. I love vintage fashion, so when I can, I'll hit up the vintage stores in Sydney, where I seem to spend most of my time these days, also I love going to the movies and being anywhere with animals.
What's planned for you for the remainder of 2020?
I've got so much cool stuff, like the graphics, the art and videos that go with the songs for the mixtape, so I can't wait to get those out. After Mardi Gras, I'll be in LA for a month or so. And then I guess there'll be more new music on the horizon!