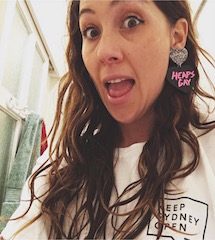 Kat is the founder of Heaps Gay, the inclusive, queer party series that is glitterfying Sydney's nightlife, lockout laws be damned!
I cannot count the number of times my queer mates have lauded Heaps Gay as "the most inclusive and also cool queer party in Sydney." What drove you to create Heaps Gay, and what differentiates it from what else is available in Sydney's queer nightlife?
Ah, that's nice 🙂 Heaps Gay began 4 years ago when I felt there was nothing I aligned with in terms of parties and spaces. The scene was so different back in 2013, Oxford Street gay clubs were thriving and the spaces were very male-focused. I started HG to play the music I like and make sure my non-LGBT pals felt super welcome.
The scene has changed so much though, there are some really amazing and inclusive events and spaces for LGBT's in Sydney these days.
I don't know if you've seen that episode of The Simpsons, "Homer's Phobia," where Homer is homophobic but then a gay man, John, saves his life, so Homer is no longer homophobic towards him this one man. John then concludes, with a knowing smile, "Homer, I won your respect, and all I had to do was save your life. Now, if every gay man could just do the same, you'd be set."
Srsly such a good episode – the whole steelworks industry is gay, and Homer is scared that Bart is too.
To what extent do you think that Heaps Gay offers a similar capacity for creating allyship and queer community between queer people and cis-hetero people alike? Does a queer person showing a non-queer person the time of their life on the dance floor have a similar effect to John saving Homer's life? 
It's not about pointing out this distinction between heteros and queers—I think we need to get past drawing a line in the sand and think about us as inclusive BUT yeah I totally think the dance floor is that common ground where people can be themselves, make friends and respect each other no matter what label they choose to identify.
This year you are again collaborating with Vivid Sydney for two queer parties – "

Heaps High

" (now sold out!), a party to be held at the top of Centrepoint Tower on June 17, and "

The Kaleidoscope

," a one-day queer dance, art, and music festival at The Factory Theatre on June 11. Can you tell us about each of these events?
We are going high, taking over the Centrepoint tower for a really special one night only event, it has 360-degree views of the city and the Vivid lights and will be decked out with neons like a Tron Playground.
The Heaps Gay Festival happening this weekend at the Factory Theatre is going to be really special, this is the 3rd year we have taken over this space for a 3 stages all immersive art music event. The theme is Kaleidoscope so imagine light reflections, refractions and music for days. This is almost sold out and sold out the last 2 years.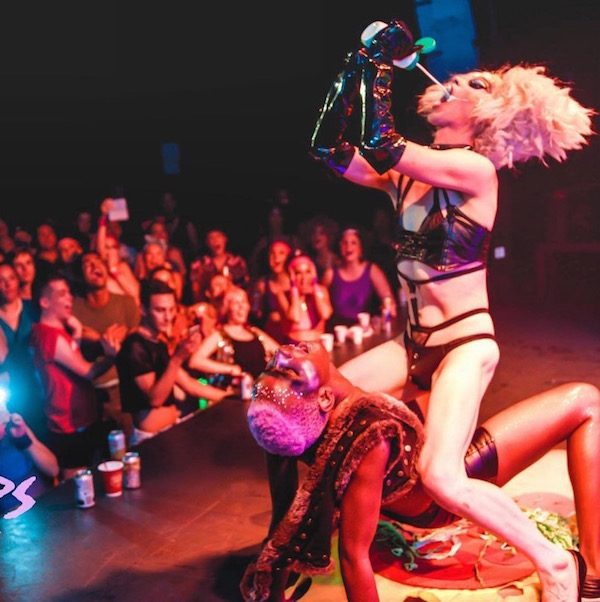 A telling shot from this year's HG Mardi Gras extravaganza! Via @heapsgay
​
What's been your favourite Heaps Gay party memory?
When my sister Suz got engaged to Jessica, they met at the very first Heaps Gay in November 2013. Lezo moment – you can meet your soul mate on the D floor at HG and make magic happen, haha!
Central to Heaps Gay's ethos is a commitment to supporting charities – in fact, the first Heaps Gay party ever was held to raise funds for the wonderful ACON. How does that work? Which charities are Heaps Gay focused on supporting at present?
This has always been at the core of what we do. There are several ways we work with LGBT organisations and charities. We donate a percentage of ticket sales from our big special events. We also hold 1 key fundraising event each year to raise awareness of a bigger issue and to also raise funds. Last year we held Totes Gay — an art exhibition for Marriage Equality. In September this year, we are producing an art exhibition focusing on Trans rights in partnership with Trans Sydney Pride and to raise money for The Gender Centre.
Finally, what is next for Heaps Gay?                               
Last we launched the Heaps Gay Travelling Gap Year, where we plan to take Heaps Gay to 12 country pubs in 12 months. We hit up Newcastle and we plan to go rural to spread equality and support young people in regional areas.
We also have a big focus on our community video channel on FB, ensuring we continue to tell stories and work with the community to share big issues with LGBT young people.
AND lots of parties!