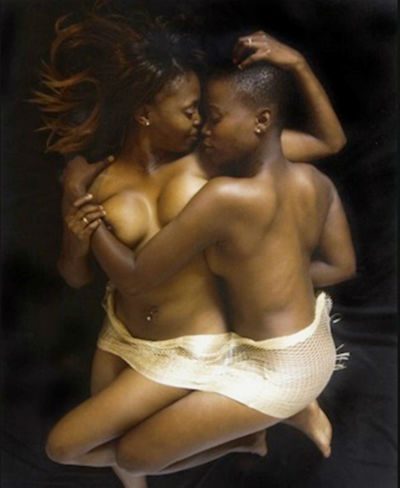 Artrage; A new exhibition at Leslie-Lohman Gallery challenges censorship.
Irreverent: A Celebration of Censorship is a new exhibition examining the age-old conflict between creativity and censorship, and how this impacts LGBT artists in particular.
Curated by Jennifer Tyburczy and showing from February 13 to May 3, 2015, the exhibition is inspired by the Culture Wars of the 1980s and 1990s, when artists and activists defended their work from conservative attacks.
The outrage around art and the calls for censorship never really end—think of the government-level protests against Robert Mapplethorpe's photographic nudes and Andres Serrano's "Piss Christ," to the outcry against UK artist Tracey Emin's "My Bed," to the more recent withdrawal of David Wojnarowicz's A Fire in My Belly from the National Portrait Gallery in 2010.
Frequently censored are expressions of the artist's sexuality—especially female and LGBT.
Irreverent consists of work that has been excluded from other mainstream galleries due to its explicit LGBT content. Many galleries still verge on conservative choices, post-Culture Wars.
Thankfully, the Leslie-Lohman Museum of Gay and Lesbian Art, the first LGBTQ art museum in the world, located in SoHo, New York City, has gathered works spanning more than three decades, and which reflect a variety of LGBT subjectivities.
"The exhibition draws inspiration from the innovative responses to watershed moments in the history of censoring LGBTQ art in Canada, England, Ireland, the Netherlands, South Africa, Sweden, Turkey, and the United States," says guest curator Jennifer Tyburczy.
Its concept is to respond to the controversies caused by the work of Mapplethorpe and Wojnarowicz "to delve deeper into the many ways that censorship functions in queer artistic life."
Featuring the work of 17 artists, the exhibition will depict approximately a dozen episodes of exclusion and censorship including the Being series (2007), in which Zanele Muholi interrogates black lesbian relationships and safer sex; Seray Ak's untitled photograph of two women kissing while wearing headscarves; and Corrine Bot's Jack & Jill 01-03.
"Sex—queer, dissident and explicit—is central to the exhibition," says Tyburczy,  "The acts depicted in these works of art by established artists is what caused the censors and vandals to take the steps they did.
The exhibition shows how the defamers of queer life have consistently used sex as a political tool to silence all kinds of minority voices on issues that range from immigration to religion, to race, gender, and disability, to globalization and capitalism."