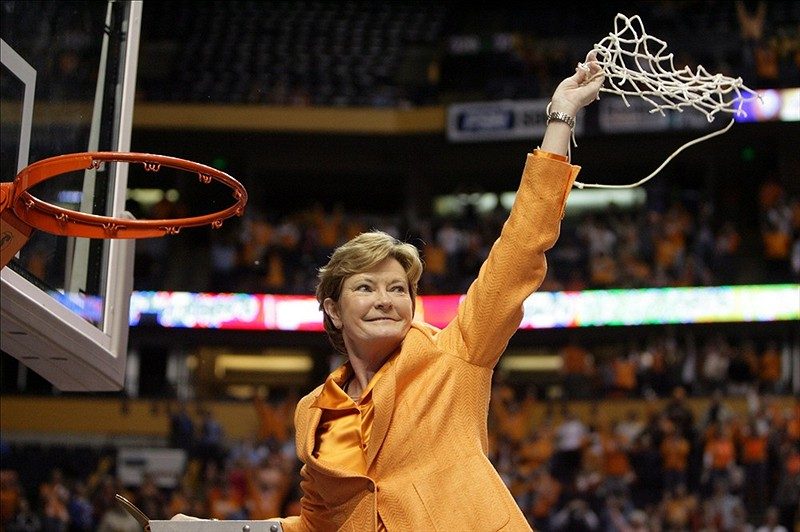 There are fewer female coaches in college sports than ever before, and it's a troubling sign.
In 1972, Title IX was enacted and women coached more than 90 per cent of women's college teams. It's 2016 and that number has dropped down to 40 per cent.
You read that right.
A decade ago, it appeared as if things were on the upswing. Legendary women's basketball coach Pat Summitt was at the peak of her career and leading the way. Kim Mulkey of Baylor, Dawn Staley of South Carolina, Brenda Frese of Maryland, Muffet McGraw of Notre Dame, and Tara VanDerveer of Standford are just a handful of women's college basketball head coaches who have followed suit and established successful programs themselves. But today they are in the minority.
According to the NCAA, the number of female head women's basketball coaches has steadily decreased since the 1996-1997 season. At that time, 62.3 per cent of all Division I women's basketball coaches were women. Now, that number is at 58.6 per cent. The percentages of female head coaches in volleyball, soccer and tennis are even lower.
How is that possible when the number of women's athletic programs is higher than it has ever been before? Moreover, why do female coaches have to work twice as hard to prove themselves as male coaches? After four decades of hard-fought battles for an equal playing field in sports, shouldn't women have it a tidbit easier by now?
Unfortunately, no.
Over the past nine years, there have been at least 11 public lawsuits filed by former coaches against colleges and universities citing sexual orientation and/or gender discrimination. Each lawsuit blatantly describes numerous incidents of misogyny, sexism and homophobia. It's enough to think that Title IX never even happened.
Pat Griffin, a founding member of the LGBT Sports Coalition and a familiar voice among lesbian and female sports advocates, told Outsports.com last year regarding the lawsuits:
"The message is, as a woman coach, you are a second class citizen subject to a double standard in which your success and experience will not protect you from discrimination. In fact, these accomplishments might even contribute to being targeted for discrimination. If you are a lesbian coach, the message is, you better watch your back, keep it on the down-low and even if you do stay in the closet when athletic administrators want to come for your job, they will find a reason to justify their action."
The truth is that female coach like Pat Summitt are an anomaly instead of the norm. Her accomplishments and established reputation kept her firmly planted on the Tennessee Rocky Top. But I have no doubt in my mind that even Summit faced her fair share of discrimination on her momentous mountain climb up the coaching ranks.
Would it have been easier for Summitt to get to where she was when she retired in today's coaching climate? Or would it have been that much harder?
It kind of makes you wonder, doesn't it?