Sarah Deragon's artistic journey, and the birth of The Identity Project
Brenda Howard, Harvey Milk, Mary Daly—all well-known for being advocates for gay rights and helping to keep queer issues in the forefront of people's minds…and now, there's a new queer femme on the block: Sarah Deragon.  Through her passion for art and community, Sarah's new photography symphony, The Identity Project, unites, inspires, and promotes visibility for an otherwise still invisible group—my LGBTQ brotha's and sistah's.
"Can you take my headshot? Can you take my headshot?…PLEASE!" In 2009, what seemed like a simple request from a friend ignited a wildfire inside Deragon's soul, "I grew up always taking pictures, but using a camera a friend had given me, and taking that first headshot, I started to realize that I was really good at photographing people, and I really loved it." And if you ever get the honour of meeting Deragon, you'll soon discover it's no wonder why she's amazing at it.  While she is an extremely strong, focused, and passionate entrepreneur, Deragon is filled with so much warmth, compassion, and humility that her subjects can't help but be put to ease in front of her lens.
In August of 2012, with the encouragement and reassurance from her wife, Dergaon did what most of us only fantasize about doing—she quit the comfort of her beloved day job at Frameline to pursue her passion for photography full-time.  In the beginning, Deragon was asked by her business coach, "What kind of photographer do you want to be?" The sheer magnitude of the question gave her immense pause for thought—What kind of artist do you want to be? How do you want to see and be seen?  Her answer: The Identity Project. A chance to establish her artistry and improve as a self-taught artist. With an MA in post-colonial anthropology, Deragon's work is a visual study and snapshot of people, culture and the community, "Because of the marriage equality push […] I feel like the world is like, 'OK, gay is OK. We got some people on Grey's Anatomy and all this shit'—but it's bigger than that.  It's almost like, 'We're still here. You think you know us, [but] you really don't know us.' I wanted the project to be very queer and provoking a conversation that we're not done."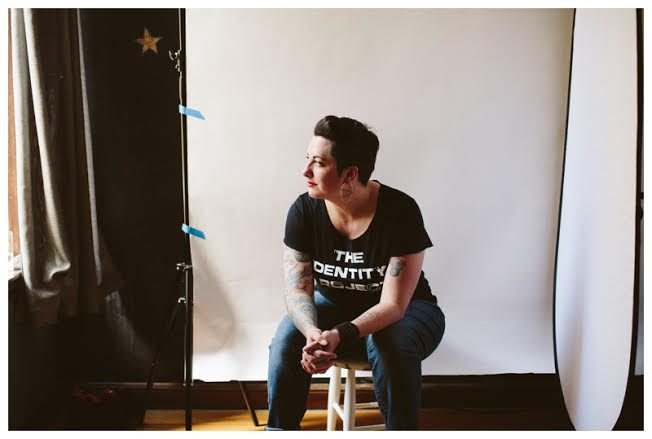 After having an impromptu conversation with her wife, and her wife's friend from Brazil, Deragon began to brainstorm all the names and terms that we in the community use to define not just our sexuality—but our very essence, "This project, if anything, is showing the power of the invention of language, and how language, like our identity, is and can be ever-changing and fluid—and we should learn to find comfort in that." Most would agree. In Buddhist philosophy there is a school of thought that believes you are not the same person a minute ago or a minute from now; we are constantly changing and growing—discovering ourselves. While names, terms, stereotypes, and labels are used to degrade and harm our community, Deragon turns the tables and empowers people by allowing them to define themselves in their own terms before anyone else, "I hope this project inspires everyone to own their identity, and being out with it, and sharing it, and being comfortable with an ever-changing identity."
In January 2014, the first portraits were taken and the project began to expand everyone's understanding of what it means to be queer in today's society—and eventually, not just in San Francisco where the initial portraits have been taken, but hopefully with the help of her INDIEGOGO Campaign, the portraits will portray what it means to be queer in other USA cities such as Chicago (IL), Columbus (OH), New York (NY), Atlanta, (GA), and Portland (OR).
While Deragon has received some hate mail containing extremely bigoted and racist language, the positive most definitely outweighs the negative.  Parents from Columbus, OH, India, South Africa, France, Australia, and Russia, flood Deragon's inbox with emails asking for advice and resources so they can best support their trans, queer, or gay child.  The Identity Project gives visibility to people and issues that affect all communities and families.  In addition to being an affirming experience for those who have found their identity, like a warm hug with open arms, this project speaks to and welcomes those who are struggling to find their identity as well, reassuring them as Deragon says, "We're all waiting for you; come out, come out, and we will be here for you."
With plans to speak at San Francisco State University and the University of Pennsylvania, Deragon would love to see the project expand and eventually travel to Europe and Asia, and to be transferred into a documentary, book, and non-profit organization.  With no signs of slowing down, Deragon stresses the sense of accountability she feels towards her queer community as she continues on. Never in doubt of the project, as the words of the early feminist, Joan of Arc, tattooed on her inner forearm state, "I am not afraid, I was born to do this"—yes, Sarah Deragon, you were. And I, and many like me, couldn't agree more.
To learn more and support The Identity Project visit the following sites:
http://www.identityprojectsf.com/