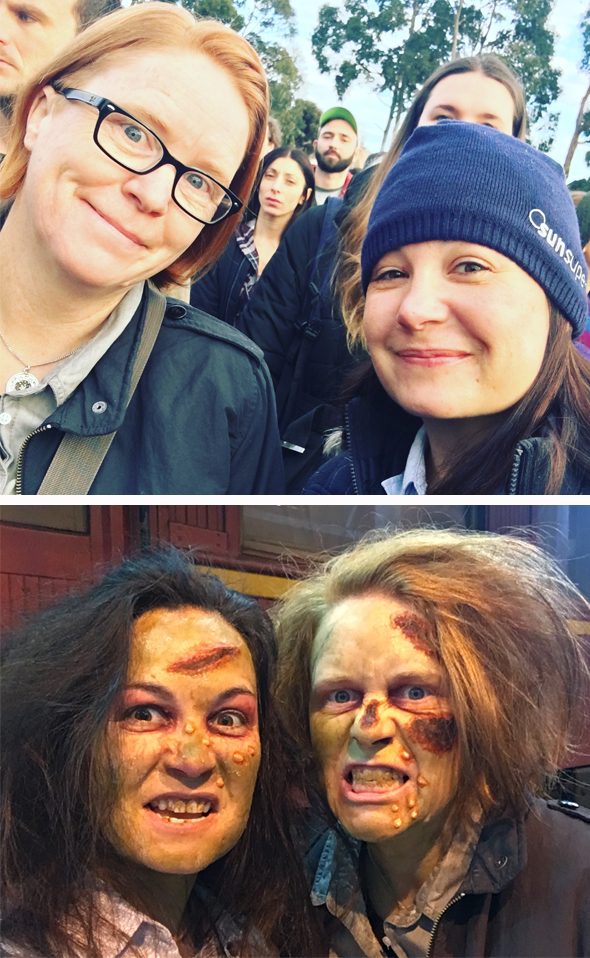 The first magazine devoted entirely to lovers of Halloween in Australia has been created by a Melbourne-based couple, Andrea Beattie and Cathy Anderson.
The pair started their own freelance journalism and digital content agency Ginger Brown, in 2015 after mX, the daily newspaper they both worked for, folded.
"The media landscape was shrinking and full time jobs were scarce so we thought 'why not just do our own thing?'," says Cathy. "We have always worked together anyway, we have similar skill sets and trust each other as professionals so we set up a home office and never looked back."
However, the pair do have very different interests: where Cathy is a fan of romantic costume dramas, Andrea has had a passion for horror films and the October 31 holiday ever since she watched Michael Myers slash his way across Haddonfield in the 1978 classic film, Halloween, at the tender age of eight.
The Halloween website had a soft launch in 2019 and now has a highly engaged and niche audience online and on its social media platforms including Facebook and Instagram.
"There are so many people in Australia who share my love of Halloween, and we have an incredible community who are, interestingly, mostly women," says Andrea.
And, even though Halloween celebrations will be impacted this year, Andrea believes there's no reason fans can't have a fabulous October 31.
"Covid-19 has disrupted all aspects of life and there's no doubt that Halloween will be very different this year," she says. "We might not be able to trick or treat or gather at events as we have done on previous Halloweens, but there's no reason Australians can't keep their 'spirits' up!
"People are really starting to embrace Halloween here in Australia and we didn't want those who love it to miss out because of restrictions imposed by the pandemic. Hallozween offers practical advice on all aspects of celebrating, from creating socially distanced displays and walk-throughs, to trick or treating safety tips and ways to make the most of Halloween 2020."
The magazine, available for $8.85 as a digital e-magazine, will outline ways Halloween lovers can make the most of their favourite day, as well as top tips for celebrating safely in the wake of the COVID-19 pandemic.
The magazine also features:
Australia's most comprehensive buyers' guide for home decorations and more
Spooky recipes and baking tips
Creepy cocktail recipes
Home and yard decorating tips
Movies and board games for the whole family
Classic costume and makeup ideas
DIY craft ideas
Jack o'lantern carving tips and stencils
An introduction to paranormal investigations
Travel inspo for haunted locations across Australia and the US
Andrea says the increasing popularity of Halloween in Australia meant there was an appetite for fans here to have their own spooky community and their own resource for all things Halloween.
"Many people think Halloween is simply a borrowed American tradition but that's not actually the case," she says. "The origins of Halloween date back to the ancient Celtic Pagan harvest festival of Samhain. Historians say the celebration was first brought to Australia by Irish immigrants in the early 1800s, so it's having more of a revival than an emergence."
The magazine is on general sale from 5 pm on Friday, September 25.