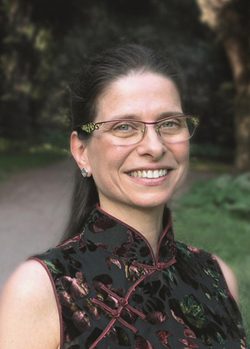 An Eastern practice gave Lisa O'Shea the energy she was seeking.
After 15 years of study, Lisa B. O'Shea has attained the first-ever certification as a YMAA Qigong Master by the acclaimed teacher, Dr Yang, Jwing-Ming. She is also the author of a new Qigong for Women DVD, released this month, passing on this ancient healing wisdom for modern women. (Available on Amazon, Barnes & Noble, and YMAA.com, $29.95 SRP)
O'Shea began her career as a chemical engineer. A graduate of the prestigious Rensselaer Polytechnic Institute, she worked at Kimberly-Clark and Mobil Chemical for several years. Then, when she became a single mother, she didn't want the heavy travel schedule her job demanded and went back to school to earn a teaching credential with the intention of teaching high school chemistry and physics. In the meantime, she sought out tai chi and qigong classes to deal with stress. O'Shea fully embraced Eastern healing traditions when her severe asthma symptoms disappeared, about six months after she began her qigong practice.
She also studied hypnotherapy and Reiki to understand more about how the body works. "As an engineer," O'Shea says, "I yearned to understand the mind-body connection. I come from a family of doctors—my father was a surgeon and my grandmother was a pediatrician—so it was a very medical model."
Qigong is about unblocking energy and getting it to flow through the body in a healthy manner. Practitioners use movement, visualization, and breathing to achieve that healthy flow, using different configurations with different people.
O'Shea soon experienced her own energy flow: What began as a part-time avocation and a hobby for stress relief eventually turned into a profitable business, and in 1998 O'Shea created the Qi Gong Institute of Rochester, in western New York. These days, she has a thriving full-time private practice, and, in addition, she offers qigong healing classes and seminars, through which others can become certified instructors. Her certification program also includes counselling in traditional Chinese medicine and nutrition. "A session usually begins with some hands-on healing to jump-start the process, and then I use qigong teaching to help clients improve their own health," she says.
O'Shea says her private practice consists of an equal ratio of women and men, but her certification classes are mainly composed of women. "I think women seek out self-care in a more social setting, while men tend to engage more in self-study."
"I don't think many lesbians are yet in this field," says O'Shea about her second career. "Not because it's not appealing, but because it does not yet have broad visibility. Women see nursing, social work, massage therapy, and other Western healing and seek those out as careers."
Qigong is certainly not a new discipline, but it's gaining in popularity even though it is relatively new to the United States. O'Shea says she enjoys the business end of things just as much as her energy practice. "I'd say I spend a quarter of my time on the business aspect. I like to work on the computer, crunch numbers, and analyze the business. I've done all my own business work, including promotion, advertising, and PR, until my most recent video, which I did with a publisher."
O'Shea, who recently married her partner of 12 years on the first-day lesbians could marry in New York State, will be releasing a new qigong video this fall. It's especially for women and addresses our physical, emotional, psychological, and relationship health.