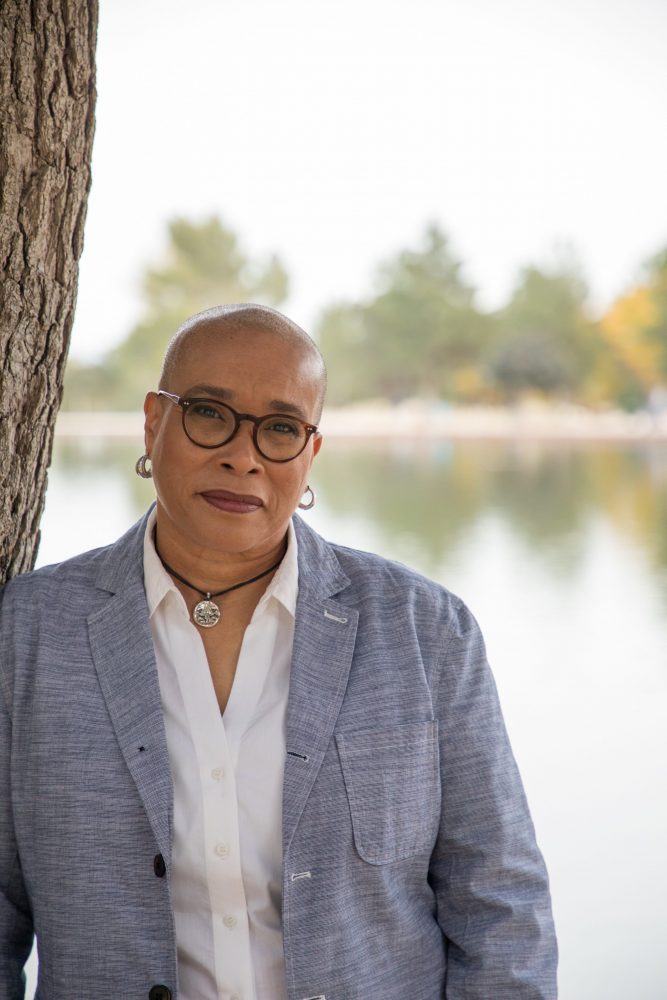 Opa Hysea Wise is an American author, born to mixed-race parents.
Like so many people of colour, she came to experience a sense of "otherness," which fueled her desire to discuss diversity as the woven fabric within the American tapestry.   
As both a Jack Canfield Success Coach and an author, Opa Hysea Wise looks to set a fire within the hearts of both her students and her readers.
Her new book is a riveting story about a woman caught in the crosshairs of an agri-business' corporate assassin.
Against hope, Smythe Windwalker Daniels' anonymity is compromised, and a threat has been made against her life. The danger impacts not only her life but the lives of those around her.
She reluctantly accepts the FBI's protection, hoping to testify and bring a promise of justice to a community. Smythe is a woman with vision in her eyes and fire in her soul.
Smythe was discriminated against as a mixed-race girl from a young age in a predominantly white neighbourhood. She leaves her career to escape the corporate rat race, only to get entangled in a pesticide poisoning cover-up attempt by a mega-corporation. While on the run, she seeks to find meaning in events that now threaten her life.
Through a series of misadventures, she discovers how all events are all woven together in this tapestry called "life." As she uses her past experience to find meaning in her present, she begins to see beauty in the midst of chaos. But the harder she tries to hide, the more difficult it is to survive.
We sit down with Opa Hysea Wise to discuss her latest book: 
You say that you experienced a sense of "otherness" being a woman of colour and also a lesbian…how has that impacted your career and your writing?
I  don't ever remember a time when I fit into the status quo. I am a mixed race African American and Choctaw Native American lesbian. Until very recently I didn't see a lot of me represented in mainstream media and growing up I certainly didn't see me. As a child and young adult, I remained hidden in the shadows of society.  
Ongoing threats to divide us continue to persist.  Too often BIPOC and LGBTQI+ and particularly BIPOC/LGBTQI+ people have been marginalized; our very personhood— threatened.  Decades ago I decided that I needed to step up to represent people who may feel they are hidden in the margins of society. It is the reason I dedicated the majority of my adult work life to diversity education and training. 
I do not have to match exactly to another's marginalization, but I have the compassion and drive to bridge the gap of disparity. As a life coach, trainer and now, new author, it is important for me to continually represent people who may feel they are hidden in the margins of society. It is our lives, lived well that our human race requires and therefore really none of us can be sidelined.  In my novel No Place to Hide I was very intentional.  I wanted my character to represent women like me. I also wanted the cast of characters to be rather diverse. We all fit most beautifully into the tapestry of the human family.
Your book "No Place to Hide" examines deep and topical issues such as racial discrimination, our ingrained belief systems, and the innate human need for belonging….do you find it easier to tackle these difficult subjects using fiction and story-telling?
Absolutely. I find people connect and resonate with stories, more than they do facts. Our works of fiction, non-fiction and verbal storytelling allow us to more easily remember the lessons our stories are imbued with rather than being told something. Each story leaves enough room for the listener to interpret meaning based on their own lives. It is probably the reason many of our elders tell us stories as a form of teaching, rather than give us the answers to our questions outright. 
Some of our most prolific truths regardless of our skin colour, cultural and religious affiliation, or geographic location, are our common experiences. When we become physically or emotionally sheltered from one another, we may feel we are going through the struggle alone. Yet it is our shared experiences through the written word that can help us feel less isolated and more connected.
"No Place to Hide" is a rare form of self-help fiction. Tell us how the story helps the reader to break out of their fear and constraints. 
The story helps the reader see themselves in the protagonist's story and become the heroine in their own. It holds up a kind of mirror and explores some of our social values, allowing the reader to explore their own and determine if or how their values serve a purpose in their lives. Perhaps asking along the way, is this life? Is there a way to make life better? From a place of physical existence, can I call into the world something different?  
My truth lies in the belief that life is all about perception. First perception is an approach to life that proclaims that everything in the seen world should be taken at face value—similar to the adage, 'what you see is what you get;' nothing is hidden, and everything in the world is concrete. It says that life is full of lack. This approach or perception is here where societal messaging lives. The messaging tells us who we are and how we should behave—the optimum word behaves.
The second perception is an approach that allows our imagination to see beyond what "is" (the messaging) and move into an unknown place—a place that doesn't exist in our physical world; a place that perhaps holds a promise not yet attained. It is a place of creation—our re-creation of who we choose to become in a very physical world. In this approach, we can "see" a future where anything we imagine has the potential to be called into existence. It is a world full of abundance and endless possibilities. This approach is where the majesty of profound truths thrives. 
By tapping into and trusting in their own wisdom, my hope is that the readers will begin to reframe their own stories, step out from the passenger side of their lives (if indeed they find themselves there), and move around to sit at the wheel.
Often, the most impactful stories to tell are the ones that come from deep within our own hearts…what connection do you have to "No Place to Hide"?
Some of  Smythe's stories are my stories. I lost everything. I lived in a state that I adored. I had the job, staff and clients I was thrilled to work with. I had meaningful relationships. My life was pretty stellar.  Out of my control, between 2008-2012, my country's  (United States) economy took a nosedive and I found myself unemployed. Over time I recovered economically, but there was a point in my life when I realized I was profoundly unhappy in almost every area of my life. As I reviewed those specific troubling areas, I realized that I had placed my ladder on the wrong wall. I was unhappy in the state I moved to, unhappy with the job I held and unhappy with my personal relationships.  But I didn't know how to change any of it.
One day I begged out loud for something to shift in my life. Regardless of whether you believe in God, Universe, or Spirit, I spoke out loud to the energy of all things and said that I no longer recognized the face staring back at me in the mirror—please help me. And like a snap of the fingers,  I received an answer to my begging, with a return question— "Will You Trust". It sounds weird I know, but if you are in touch with the spiritual side of all things, it's rather normal. At any rate, I said yes—what did I have to lose. I was already miserable living the life of a passenger in my own life vehicle.   
Over the course of a few months, I dug deep and got in touch with what I truly wanted out of life. And now, I have the pleasure of writing fiction novels and coaching people to become who they have always wanted to grow into.  
"No Place to Hide" is more than a work of fiction…it has a message and a profound meaning…how are you using your book to connect with your audience?
Look, we all have secrets in our lives. Many of them are devastating—life-changing, even. Those secrets, those events, have shaped us into who we are.  Some for the better, some—not so much. 
What I know is that we all have more in common than we have differences. What I work toward is magnifying that we are all pieces of a larger human story and the lessons we have learned along the way, might light the way for others who come after us. Our stories move humanity forward toward the light of the sun rather than the darkness of night. Therefore everything I do is based on connecting individually and collectively to move people from where they are to where they want to be.