The top 9 Halloween costumes for your furry friends!
Halloween begins the quick descent into my favourite time of year: nonstop holidays! Halloween, or gay Christmas as people I know call it, is my favourite part—and the best part of any holiday is spending them with my family, especially my dogs. I always have a hard time deciding what my dogs will be for Halloween because there are just so many great options! I'm considering dressing my pack up as some of my favourite queer/lesbian/feminist historical figures this year! Sound like fun to you too? I've got plenty of ideas to share! Here are a few of my dog costume ideas. Please post pictures in the comments or share with us on Twitter!
Fridog Kahlo
(Frida Kahlo) Honour this important feminist artist. Deck your dog out in a floral shirt/dress, pin a shawl around their shoulders, any craft store will have fake flowers. Pick a few beautiful blooms and attach them with hot glue to a headband that your dog can wear, and add a few necklaces and attach a paintbrush to your dog's outfit, or even better, teach them to hold one!
Sojourner Pooch
(Sojourner Truth) A former slave and powerful leader in women's rights and abolitionist movements. She is best known for her "Ain't I A Woman?" speech given at the Ohio Women's Right's Convention in 1851. To make this outfit happen for the dog, I suggest: a white shall, wire glasses, and a white bonnet.
Susan "Barks" Anthony
(Susan B. Anthony) was a women's rights activist, totally deserving of being memorialised as a feminist Halloween costume for your dog! For this costume, I suggest a white lace collar and a black dress and small wire glasses, and a white sash that says "Votes For Women."
Rosie the Ruff-eter
(Rosie the Riveter) We Can Do It! For this costume, your dog just needs a red bandana, a blue shirt, overalls, and buttons. You could even add an American flag to drive the look home.  I'm thinking of this costume for my dog Mercury who was a Minion a couple of years ago for Halloween so I think I could re-purpose the overalls from that costume for my feminist purposes.
Joan of Bark
(Joan of Arc) I know it's a little problematic to apply identities to people but there's no denying Joan is a feminist/lesbian icon. I'm also pretty sure this is who my dog Charlotte will be dressed up as this year! I found a little knight outfit meant for toddlers at a dollar store and I think it will fit her. You can also make a sword out of cardboard to add to your dog's look.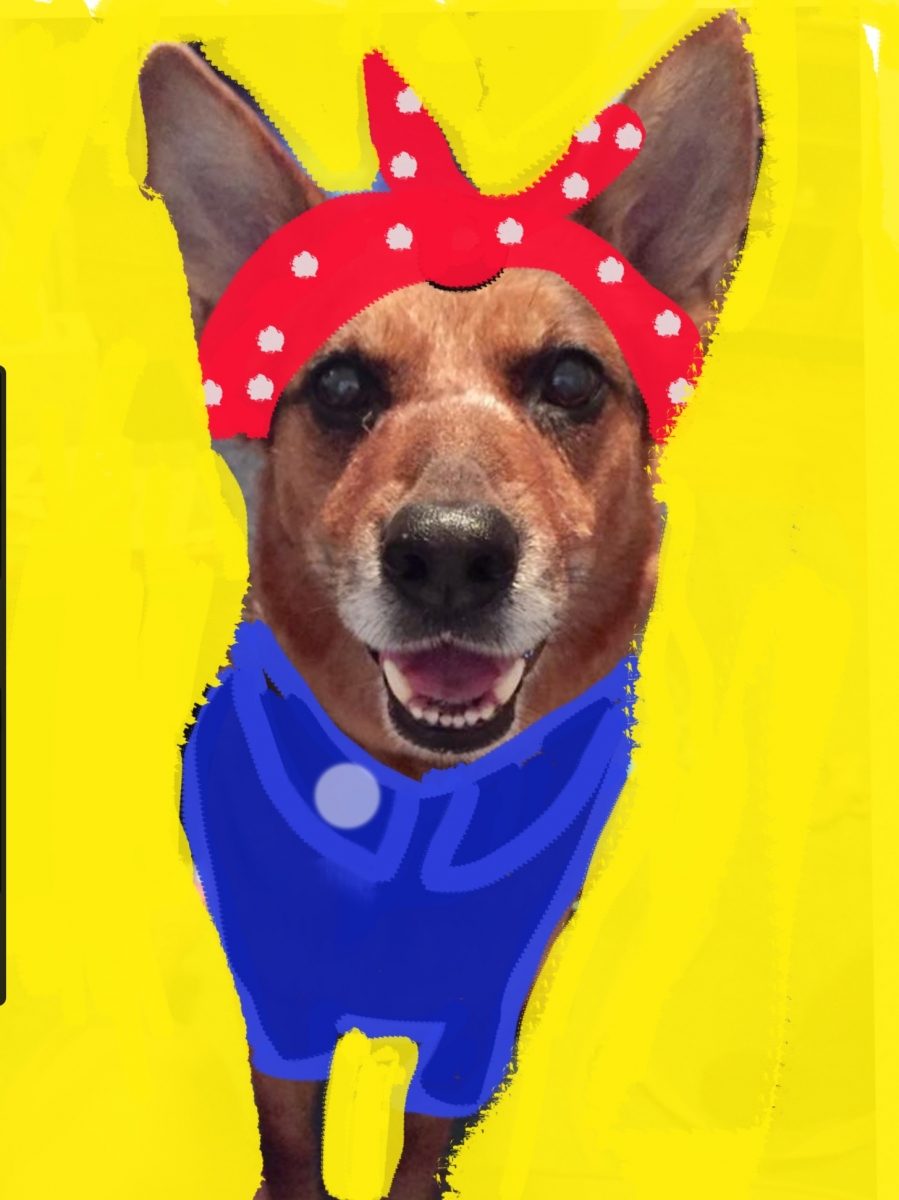 Virginia Woof
(Virginia Woolf) Beloved feminist author. For this outfit, you can put your dog in a simple Victorian dress and have them pose with some books. You could even get their crate in on the costume a la "a room of one's own."
Sylvia Ruffvera
(Sylvia Rivera) LGBTQ Activist, and veteran of the Stonewall riots, Sylvia is a founder of our modern LGBTQ movement. "Everybody says it was me that threw the first bottle. No, it was somebody behind me that threw it. But when that first bottle went by me, I said, Oh lord, the revolution is finally here!" For this costume outfit your dog in a dress, and signs with LGBT liberation messages
Hillary Dogham Clinton
(Hillary Rodham Clinton) To create this costume I recommend you hook your canine companion up with a pantsuit. Alternately you could dress your dog up wearing all kinds of campaign swag, but I prefer the idea of little pups walking around rocking white pantsuits!
The Indigo Pups
(Indigo Girls) My favourite band of all time, and lesbian icons, so I couldn't resist including them. This costume would work best with two dogs. You can get cheap toy ukuleles at the dollar store. Or make guitar cutouts with cardboard. Dress your dogs in shirts with social justice and environmental messages along with a flannel shirt on top, or a cowboy shirt.
Dogs shouldn't have all the fun. I'm dressing my cats up as rainbow unicorns this year, but if your kitty is looking to get into the political costumes, how about dressing your feline companion up as: Pussy Grabs Back!