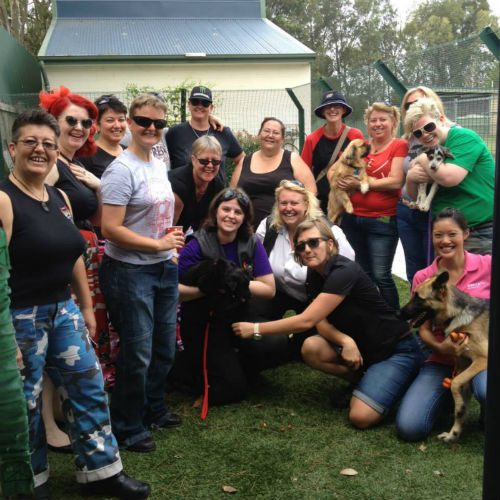 Over $1000 worth of goodies donated through Dykes On Bikes Christmas Toy Run.
On Saturday 6 December, Dykes on Bikes gathered for the 1st annual RSPCA Christmas Toy Run.
A convoy of 12 bikes and 2 cars packed full of goodies for our furry friends in need headed to RSPCA's biggest shelter in Yagoona.
Over $1000 worth of goodies were donated by members and friends including 3 kennels, treats, bedding, flea and worm treatments, food and a cat scratching post strapped to a Harley!
The gifts will benefit shelter animals who may not have a home this Christmas. The gifts provided by Dykes on Bikes will go towards improving the experiences the shelter animals will have at the shelter, whilst waiting to be adopted into their new homes.
The RSPCA were very thankful and greeted the girls with some very excited puppies who jumped headfirst into the goodies. Dykes on Bikes were also treated to a 'backstage' tour of their facilities.
Community Programs Supervisor for the RSPCA, Sandra Ma, said, "The generous donations make a huge difference. The RSPCA reaches out to those in need in a number of ways throughout the year, but at Christmas time pet care packs are one of the things gratefully received."
The haul is going to those doing it tough this time of year that is part of RSPCA Community Outreach Programs including a program that helps treat and care for pets belonging to homeless people.
Dykes on Bikes President, Manda Hatter, said, "Animal welfare is close to our hearts and I was really impressed to see just how much we collected as a group. The charity run was a great success and we'll definitely look at making this an annual event."
Christmas is a particular time of need for the RSPCA and each year, thousands of animals turn to the RSPCA for help during the festive season.