Dykes on Bikes commemorate the centenary of ANZAC
On Sunday 19 April, Dykes on Bikes Sydney (DOB) took part in a very different kind of march, swapping the usual revving and frivolity for a reserved and respectful ride alongside soldiers and descendants of the fallen, school children, scouts and a marching band.
Dykes on Bikes were invited to take part in the Commemoration Sunday march and service by major supporters of DOB Sydney – Club Five Dock RSL.
Media officer for DOB Sydney, Mel Kelly said that it was an absolute honour to be invited to participate in the commemoration of the centenary of ANZAC. Our members travelled from the south coast, north coast and all over Sydney, many with Australian and New Zealand flags mounted on their bikes. Some members marched on foot with medals on display.
"We led the parade ahead of time as we did not want to detract from the marching band. We then formed a guard of honour standing in front of our bikes as the march proceeded to the Five Dock Park. The weather was kind and we were just so pleased to take part."
President Manda Hatter and Vice President Coralie Lester were invited to lay a wreath in the newly completed Five Dock War Memorial as part of the Service. Mel Kelly said, "No one blinked an eye with our presence or participation in the service. That was really heartening."
"In addition to being a generous supporter of Dykes on Bikes Sydney, Club Five Dock also gives us the opportunity to promote awareness about who we are and what we do to a wider community".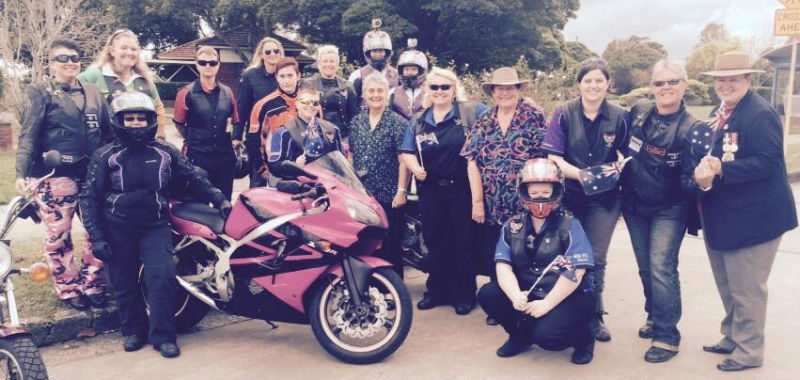 For more information on Dykes on Bikes and upcoming events, visit www.dykesonbikessydney.org.au.