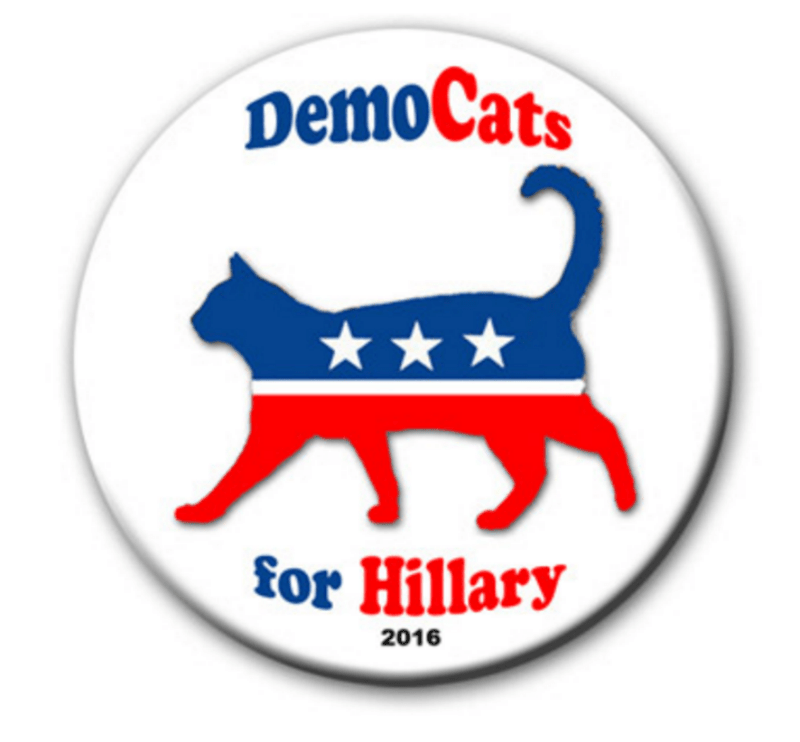 DemoCats For Hillary – Where do your pets stand, politically?
Normally I don't talk much about politics in this column, but let's face it, I don't know any lesbian or queer person that isn't utterly terrified at the thought of a Trump presidency. In this time of anxiety about the state of our country, I definitely encourage everyone to spend more time being comforted by our pets—and, maybe even using our pets to help get Hillary elected!
During the primaries, a friend sent me this adorable Hillary cat button—pretty gay, and definitely a conversation starter! You can get your own here.
Presidential elections always get people worked up, but this election, in particular, feels particularly dire to a lot of us. I have even heard from readers across the country who are changing dog trainers, and other pet care professionals because their dog trainers are voting for Trump!
I can't say I blame them—at this point, I'm not sure I'd feel comfortable leaving my furry kiddos in the care of a Trump supporter because it would be such a clear indication that they don't care about my pets queer parents. What about you, would you change pet trainers/vet/groomer if you found out if they were voting for Trump?
I'm sure if my pets could vote they would be voting for Hillary, so I have no shame in using them to start conversations about this election. Think about it: every time someone wants to pet your adorable dog is one more opportunity to have a conversation about what a great presidential candidate Hillary is.
What about using your time at the dog park to be an unofficial canvasser for Hillary's campaign? I would hope that your dog park friends would have found a whole lot of other reasons to vote for Hillary, but if any of them are voting for Trump, it might be a good idea to let them know how much a Trump presidency would hurt your dog's gay parents.
Sometimes the way to change hearts, minds, and votes is through helping people to understand the real lives that are going to be impacted by a particular candidate.
I've found some pretty cute dog shirts and bandannas featuring Hillary campaign logos/slogans that I might order for my dogs, but what I really want are these Trump poop bags!
I think I might need these to use on walks and to make my politics clear at dog training class. If you can stomach having his visage around your house you can also hook your dog up with chew toys in Trump's likeness. I think it would be somewhat cathartic to watch dogs chew on him during what I'm sure will be some pretty obnoxious presidential debates.
Finally, let's talk about the most important issue: how cute Hillary's dogs are! A lot of us probably remember the Clintons' dog Buddy and cat Socks that rose to fame during her husband's presidency when Hillary authored "Dear Socks, Dear Buddy: Kids' letters to the first pets" but according to the Presidential Pet Museum Hillary Clinton is currently dog-mom to three pups—Seamus a Labrador, Tally a Shih tzu/poodle mix, and Maisie a poodle mix. A little more Googling turns up some cute photos of soon-to-be first husband Bill Clinton playing with the dogs at an NYC dog park!
Go look! I promise Bill playing with poodles might even be cuter than him playing with balloons at the Democratic National Convention!