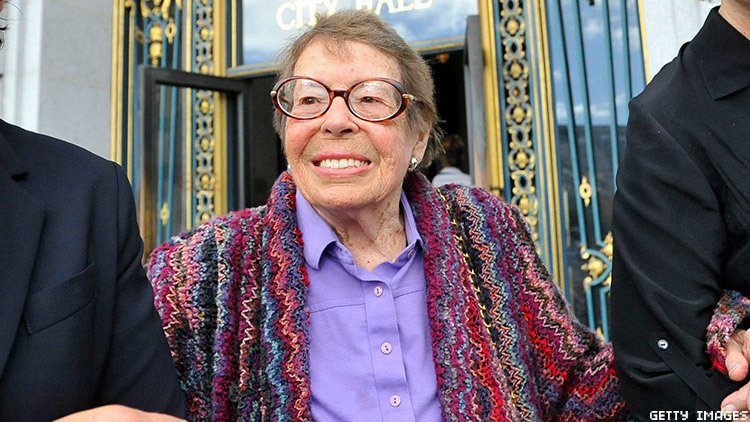 The National LGBTQ Wall of Honor celebrates LGBTQ leaders who have paved the road to liberation and contributed significantly to progress for LGBTQ people.
During last year's 50th anniversary celebrations of the Stonewall Riots, the oldest LGBTQ organization in North America, The International Imperial Court System of the U.S.A, Canada and Mexico, established in 1965, and the oldest national LGBTQ advocacy organization, the National LGBTQ Task Force, established in 1973, dedicated the National LGBTQ Wall of Honor at the historic Stonewall Inn in New York, NY.
The inaugural fifty artists, activists, and leaders were honoured with their own space in the bar where the modern LGBTQ activist movement started in 1969.
The first 50 Names put on the Wall of Honor were selected by the Stonewall 50 Wall of Honor Board of Governors, made up of 18 LGBTQ leaders, including Wilson Cruz, Mandy Carter, Russell Roybal, Marsha Botzer, California Senate Pro Tem Toni Atkins, Rev. Troy Perry, and Stuart Milk.
This year, and in subsequent years, the International Imperial Court System and the Task Force will add five more names to the Wall of Honour.
"Now more than ever it is important for us to remember whose shoulders we stand on. For a community, indeed a civil rights movement, that does not know where it came from doesn't know where it is going," said National LGBTQ Wall of Honor founder and City Commissioner Nicole Murray Ramirez, Queen Mother I of the Americas.
"As we add these names to the Wall of Honor this year, we reflect on how these five people have helped to change the world and improve the lives of LGBTQ people and those with HIV. Each represents the fierceness, the resiliency, and the determination to do what is right, to move us all towards freedom and liberation. Against the odds and the forces stacked against them, they provided a beacon for what our community, what our country, is capable of accomplishing," said Rea Carey, Executive Director the National LGBTQ Task Force.
This year's honorees are:
Phyllis Lyon founded the first lesbian organization, Daughters of Billitis, in 1955.
Sean Sasser, AIDS activist, educator and reality television personality.
Lorena Borjas, trans and immigrant rights activist, Mother of a trans-Latinx community of Queens.
Aimee Stephens's historic court case paved the way for LGBTQ non-discrimination protections in employment.
Larry Kramer, playwright, author, LGBT and AIDS activist, and founder of Gay Men's Health Crisis.