Rainbow Fertility is the first and only dedicated fertility service provider in Australia to cater exclusively for the LGBTQIA+ community.
An initiative of City Fertility, one of Australia's largest privately-owned fertility and IVF providers, Rainbow Fertility offer years of extensive experience in IVF, donor, and surrogacy services. The philosophy of "we don't define how a family should be, we focus on helping people create one of their own" is a view shared by everyone at Rainbow Fertility.
Since its launch in 2016, Rainbow Fertility has celebrated over 100 births.
The dedicated centres offer couples and individuals from the LGBTQIA+ community a choice to attend a standalone service that caters to their individual needs.
From treatment options ranging from donor Insemination, IVF, partner IVF, donor egg and sperm programs to fertility preservation (egg and sperm freezing) and surrogacy services; Rainbow Fertility offers individually tailored fertility treatment options to suit your individual needs and bring your dreams of building a family closer to reality.
To help couples and individuals in their attempt to become parents, Rainbow Fertility also runs a sperm, egg and embryo donor program with a dedicated and experienced donor team to provide you with guidance and support throughout the process. Through our extensive sperm donor program, you will have access to our large database of donor sperm available immediately with no registration fees. Donor sperm is now available for access, with no wait times.
Our accredited fertility clinics have some of the best specialised laboratories. We pride ourselves on maintaining state-of-the-art equipment and the highest quality standards. Our scientists, nurses, specialists and staff will provide you with all the information you need, so you can get a full understanding of the process we go through to help you build a family.
We understand the journey to parenthood can be a stressful time, so we do not want to add to it with a financial burden. That is why we are always clear and up-front about pricing, with no hidden fees or registration costs for standard IVF services. To further assist, you can choose from several payment plan options, which have been designed to cater to your circumstances and help ease any financial stress. Details of which are available on our Payment Options page on the website.
Both the staff and specialists at Rainbow Fertility have undergone training to better appreciate the diversity and unique needs of LGBTQIA+ families, many of which offer substantial experience in helping create LGBTQIA+ families. With this in mind, you can rest assured you will always be treated with the utmost respect from day one.
At Rainbow Fertility, you will choose your specialist, who will get to know you and be with you throughout your journey, ensuring continuity of care.
For your convenience, Rainbow Fertility offers a number of consulting locations across Australia.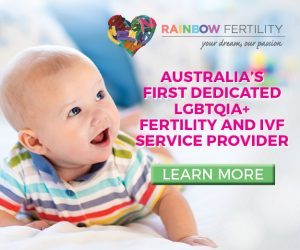 If you would like to find out more about our fertility services or discuss the options available to you, just give our friendly team a call or send us an email.
Call: 1300 222 623
Email: info@rainbowfertility.com.au
Visit: rainbowfertility.com.au