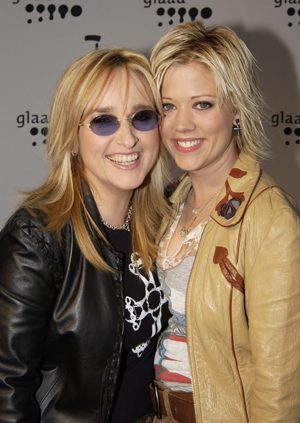 After nine years, the couple has announced that they've gone their separate ways.
It's official—after nine years, celesbian super-couple Melissa Etheridge and Tammy Lynn Michaels have gone their separate ways. According to the Associated Press, their split was announced on Thursday, April 15.
In an official statement by Etheridge's rep, they asked for "consideration and respect for our family as we go through this difficult period."
The two met at a We-Ho bar in 2001. In Sept. 2003, the musician and the L word actress exchanged vows during a ceremony in Malibu, Calif.  However, their plans to legally wed were stalled by the passing of Prop. 8 in California.
In 2004 Etheridge was diagnosed with cancer. After successful treatment, she became a breast cancer activist and made it one of her missions to raise awareness about the disease.
The Grammy Award winner and her former partner are mothers to 3-year-old twins Miller Steven and Johnny Rose, who was conceived through an anonymous donor.
Etheridge also shares custody of a daughter and a son from a previous relationship with Julie Cypher, whom she separated from in 2000.