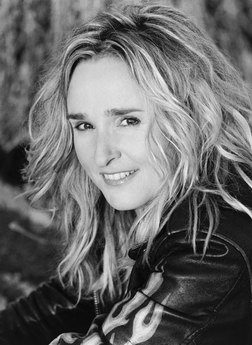 Lesbian Icon and rock legend Melissa Etheridge landed in Australia in 2012 for a national tour.
The Frontier Touring Company are proud to announce that Oscar® and Grammy award-winning singer-songwriter Melissa Etheridge is returning to New Zealand and Australia for an exceptional July 2012 live tour.
Fans will experience an intimate evening of over two hours of powerful performances from Melissa's extensive catalogue of hits when she returns for her first Australian appearance since 1996.  The tour will kick off in New Zealand in July 2012 and continue to Australia, taking in QLD, NSW, VIC, SA and WA.
On September 27, 2011, the Grammy Award-winning singer officially reached global star status after she received the honour of having her star placed on the Hollywood Walk of Fame. This comes on top of her remarkable 2007 Academy Award for her song "I Need To Wake Up," written for the Al Gore documentary on global warming, An Inconvenient Truth.
The singer's honest and confessional songwriting style, paired with her bluesy rock-infused vocals, has seen her rise to the top of the musical spectrum since her 1988 debut album Melissa Etheridge, which is certified triple platinum in Australia and double platinum in New Zealand.
Fan favourites such as 'Bring Me Some Water, 'No Souvenirs' and 'Ain't It Heavy',  for which she won her first Grammy for Best Female Rock Vocal, are among the songs that make Etheridge one of rock music's most exciting performers.
Etheridge's 1993 album Yes I have contained the massive hits 'I'm the Only One and 'Come to My Window, a scorching song of desire that delivered her second Best Female Rock Grammy.  Since then, Melissa has continued to tour constantly, released a total of ten studio albums, and recently launched the daily Melissa Etheridge Radio Show for broadcast worldwide.
Fans can rejoice at the news that the one and only Melissa Etheridge is returning to our shores for a series of electric and inspirational shows. Don't miss a chance to see the legendary performer live in your city.