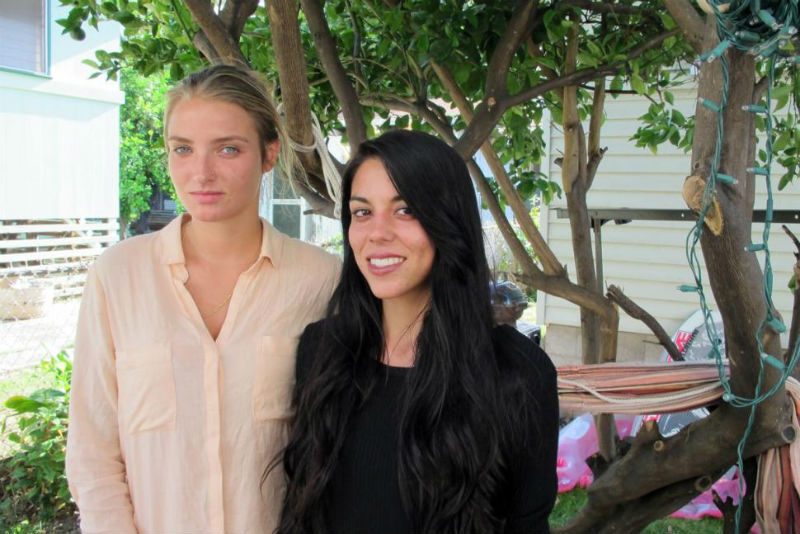 An American couple's Hawaiian vacation turned into a nightmare when they were harassed and arrested by a cop.
On their first vacation to Hawaii, the last thing Courtney Wilson and Taylor Guerrero expected was to be arrested.
The two women have filed a lawsuit against Officer Bobby Harrison and the city of Honolulu for harassing and arresting the two for sharing a public kiss.
Wilson and Guerrero state that they were picking up snacks in a local grocery store in March when the incident occurred.
Wilson says, "We were just dancing, being goofy, you know. I gave her a hug. We were just like, 'hey, we're happy to be here,". The couple was holding hands and exchanging cheek kisses while in the store.
The women go on to say that Harrison, who was shopping in his police uniform but off-duty, noticed the exchange and started yelling at them.  He told the couple to "take it somewhere else" and "You girls can't do that in here!"
Continuing to shop, the two women say, Harrison, again, approached them in the checkout line after sharing another affectionate moment. He told the couple he would have them thrown out of the store. This is when events escalated from verbal harassment to physical harassment.
Guerrero says, "He was bumping his belly against Courtney. He said, 'You girls don't know how to act. You don't know the difference between a motel and a grocery store.'"
Wilson was on the phone to police dispatch when Harrison grabbed her by the waist.
Trying to protect her girlfriend, Guerrero stepped in between the officer and Courtney and was promptly pushed to the ground while Wilson was punched in the face.
Because Harrison was off duty, he did not have handcuffs and demanded that store employees restrain the women on the ground, eventually using zip ties to keep the two women restrained.
Wilson says "They took us down to the basement of Foodland where they continued to harass us about our conduct in the store, asking us if this was worth it, if we were happy where we were."
Eventually, the two women were arrested and charged with felony assault on the officer. After spending three days in jail, the women each had to pay a bail bondsman $1,300 for bail, which was set at $12,000 each.
Due to bond conditions, the two women had to remain in Honolulu for five months. They were forced to stay with family-friends, at homeless shelters, and were even housed by generous strangers.
The charges were dismissed and an internal investigation has been opened into Harrison's behaviour. He is currently still on full active duty.