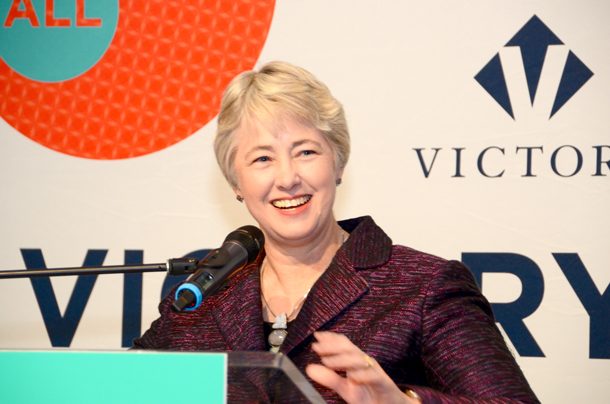 For decades, Díaz Sr. has pushed dangerous, extremist rhetoric and policies that disqualify him to represent New York's 15th Congressional District Leading Democratic candidates to vow to protect abortion access and LGBTQ rights in contrast to Díaz Sr.'s regressive views
NEW YORK — As New York grapples with the COVID-19 pandemic, a broad coalition of progressive groups — including Planned Parenthood Action Fund, LGBTQ Victory Fund, NARAL Pro-Choice America, Latino Victory Fund, and the Congressional Hispanic Caucus BOLD PAC — announced their opposition to Rubén Díaz Sr. as a candidate to represent the 15th Congressional District in New York for his attacks on equal access to basic health care; the LGBTQ community; and the right to safe, legal abortion.
Due to historic inequities in health care access for the Latinx community in the district, the Bronx has been one of the hardest-hit areas by the COVID-19 pandemic. In the midst of this public health crisis, New York voters need to elect a leader who will fight for equality and their basic health care needs.
And that leader is anybody but Díaz Sr. Every other leading Democratic candidate has demonstrated support for protecting and expanding abortion access and LGBTQ rights and would be far more qualified to represent New Yorkers in Congress.
It's not just that Díaz Sr. is out of step with the values of New Yorkers, he doesn't have the best interests or well being of those in the district at heart. The Bronx, where the 15th District is located, has the highest abortion rate in the state. Latinx voters — who make up the majority of the district — overwhelmingly support the right to access abortion.
Latinx Millenials are more likely to identify as LGBTQ than any other group and the New York City metropolitan area has the largest LGBTQ population in the country with more than 750,000. As time has passed, Díaz Sr.'s policies have never been more disconnected from the priorities of New Yorkers.
Its clear voters across the country are ready for candidates who will expand abortion access and LGBTQ rights. In April, Marie Newman beat incumbent Democratic Rep. Dan Lipinski after 15 years of representing the Chicago suburbs in a race where Lipinski's anti-abortion position was a key issue.
Alexis McGill Johnson, acting president, Planned Parenthood Action Fund says: "The last thing we need in Congress is a politician like Rubén Díaz Sr. who would use his platform to peddle misinformation and stigma about abortion and the LGBTQ community.
His comments over the decades have shown that he has no respect for reproductive or LGBTQ rights, and he would use his newfound power to push a dangerous agenda. As a New Yorker, I know how out of step Díaz Sr. is with the values of our city.
Our leaders in Congress must be determined to fight tirelessly for the rights of every American, not just those who share their ideology. Planned Parenthood Action Fund is committed to electing candidates who will protect and expand abortion and LGBTQ rights — and today that means standing against Ruben Díaz Sr."
Mayor Annise Parker, President & CEO, LGBTQ Victory Fund:
"This is among the most important Democratic congressional primaries of 2020, with voters deciding between a homophobic and anti-choice Democrat or candidates who champion equality and reproductive rights. Throughout his disgraceful career, Rubén Díaz Sr. has used his positions of power to stigmatize and denigrate his own constituents because they are women or LGBTQ. It is imperative voters deny him an even larger platform to spread this hate and instead elect a leader who will push for a federal agenda with equality at its core. We cannot accept a Democratic member of Congress who agrees with Donald Trump on issues core to rights for LGBTQ people and women. LGBTQ Victory Fund is committed to joining our partners in defeating Rubén Díaz Sr. on Election Day."
The full list of coalition groups includes: Planned Parenthood Action Fund, LGBTQ Victory Fund, NARAL Pro-Choice America, Latino Victory Fund, the Congressional Hispanic Caucus BOLD PAC, Bend the Arc Jewish Action, Congressional Progressive Caucus PAC, Human Rights Campaign, Equality PAC, and People for the American Way
Here are just a few of the comments and actions that show how unqualified Rubén Díaz Sr. is to represent New York:
Comparing abortion to the Holocaust: Díaz Sr. penned a newsletter piece comparing abortion to genocide, saying, "Hitler was pro-choice. He chose to send the Jews to Auschwitz. That was not their choice that was Hitler's choice…Murderers, assassins and criminals are pro-choice. They choose to put a gun to your head and take your life." Observer, 05/01/2012
Standing steadfast against marriage equality: Two years after being the lone Democratic state senator to vote against New York's Marriage Equality Act, Díaz Sr. addressed an anti-marriage equality rally in Washington, D.C., saying "The majority is not always right. 2,000 years ago the majority chose the rabbi and rejected Jesus. Now, the majority are rejecting the Bible and not choosing Jesus. I know my conviction and I know I will not change my view." Observer, 04/05/201
Pushing homophobic stigma and policies: Díaz Sr. has been peddling misinformation and anti-LGBTQ stigma for decades, saying last year, "When I get to the City Council, I find that the City Council is controlled — most council members out of 51 council members — over there, everybody is controlled by the homosexual community," New York Times, 02/11/2019
Ignoring sexual harassment: Díaz Sr. showed his true colours when he claimed he would protect perpetrators of sexual harassment instead of taking complaints seriously. During a mandatory City Council training, he was asked hypothetically what he would do if he overheard a chief of staff sexually harassing another staffer in an elevator. He responded, "I'm not gonna rat, my people, out! This place is full of rats!" City & State New York, 05/09/2019
Questioning support for abortion and LGBTQ rights: During his floor speech in opposition to the Marriage Equality Act, Díaz Sr. revealed his unfiltered views on support for reproductive and LGBTQ rights, saying, "All Democrats do is abortion and gay marriage, but the Republican party has always been the party that protects traditional values and family values." LGBTQ Nation, 06/26/2011
 Supporting Sen. Ted Cruz who proudly attacked "New York values": After then-presidential candidate, Sen. Ted Cruz made his controversial comments about "New York values," Díaz Sr. invited the Texas senator to his district, saying "Imagine Ted Cruz travelling to the Bronx where there is a grassroots army of Black and Hispanic Evangelical Christians who are just like him — and who have been ignored by every presidential candidate." City & State New York, 07/17/2018