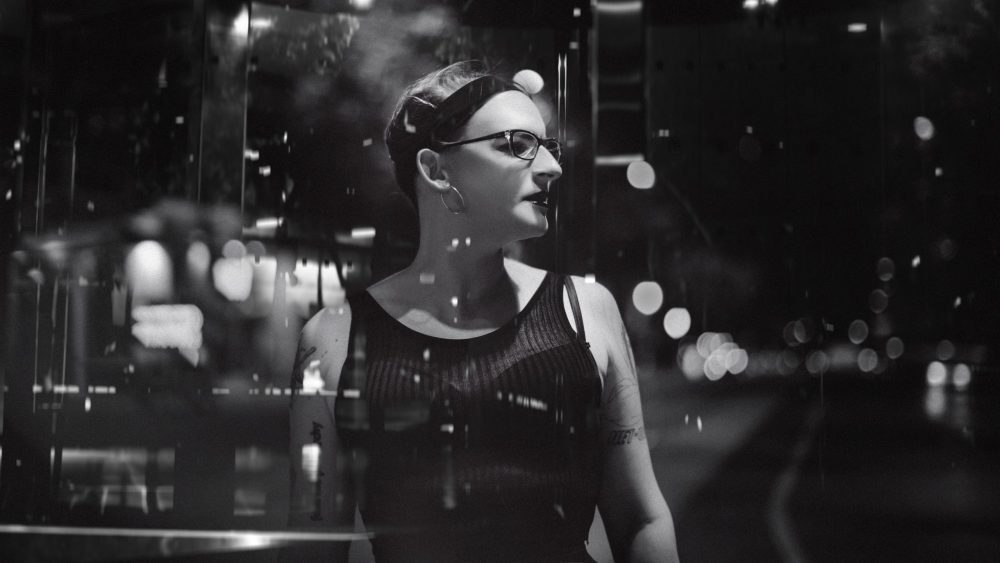 Simona Castricum has evolved into one of Melbourne's unique underground electronic artists, DJs and producers of emotionally textured synthwave and technopop.
Hers is inspired by gender and sexual nonconformity, relationships with architecture and dreamy futures of transgender cities between URL and IRL spaces. Simona's iconic live performances are cardio-electronic percussive expressions in rubberism, smoke haze and laser beams, shared catharsis, and self-confrontation.
'Panic/Desire' is the third full length album from Melbourne electronic artist Simona Castricum — an allegory about gender nonconformity lived in the spaces between urban and digital realms.
Of the album, Simona says:
"'Panic/Desire' is the soundtrack to my experiences of the city as a gender nonconforming person; songs about how I move and navigate through the city in the night; how I find a place of belonging — somewhere between my fears and desires. 'Panic/Desire' is about transition, resistance, empathy, and how the city, its architecture, and its relationship to tactile and virtual worlds hold archives of emotion that influence the way I move a feel about urban space.
Featuring 2020's single 'Supertouch' (ft m8riarchy) and 2019's the 'The Half Light', 'Panic/Desire' is Simona's most sonically accomplished and diverse work.
From cinematic moments of 'GNC City' and the title track 'Panic/Desire'; to the anthemics of 'Let Myself Be', the dreamy textures of 'Monolith' and 'Borderline Spaces'; to the driving darkwave of 'The Good In You', the provocations of 'The Present' and the lamentations of 'Panopticon'.
It's Simona's most collaborative work to date; recorded by Evelyn Ida Morris, mixed by Simona and James Cecil ('Supertouch' and 'The Half Light'), and features guest appearances from Raquel Solier on acoustic drums, Em Gayfer on guitar and m8riarchy on vocals.
'Panic/Desire' serves as the musical soundtrack to her PhD in Architecture at the Melbourne School of Design at the University of Melbourne 'What if Safety Becomes Permanent? Architecture and the Gender Nonconforming City'.
Congratulations on the new album! Panic/Desire is an interesting name, can you explain the meaning behind it?
'Panic/Desire' describes a liminal space between two seemingly opposing feelings of how personal relationships and the city can be experienced, like; how is that space more than a threshold that is switched between, but one to exist within or upon. I explore visibility, access and rights to space through experiences of desirability, surveillance, or violence. It's about the club, the dance floor, the street, noticing other trans people in public and being clocked as trans myself, getting home and leaving the house.
The way it's represented as text suggests that the condition might be one in the same. I wanted to look beyond the perceived binary of this condition. There is a unique complexity in how queer and trans people experience space under the influence of heteronormativity and cisnormativity, that in some way we create a space of belonging in an often hostile context. While the album recognises a connected experience of isolation and victimisation for gender nonconforming people, it more importantly celebrates survival and ways in which we thrive to create spaces of love, longevity, resistance, safety and belonging.
Panic/Desire tells the story of your lived experiences navigating spaces as a gender nonconforming person, was this a deliberate choice or did the music just come to you?
SC — It was a deliberate choice. The album serves as a soundtrack to my PhD in Architecture; 'Panic/Desire' is conceived in the very established sense of the 'concept album'; as a way to explore and communicate lived experience in a cinematic way and as a series of songs. It gives the opportunity to create a narrative, and provide an atmosphere to articulate affective conditions navigating identity and space. Music has always had a profound way to communicate ideas about architectural utopias/dystopias and the human condition in an empathetic way, I wanted to push this. Pop music, too, as a tool to convey political or conceptual ideas about sexuality and gender is also a more accessible way to reach more people beyond the academic context I'm producing this in.
Do you have a favourite track on the album? If so, what is it about that track you love?
'The Present' and 'Panopticon' are probably the most lyrically and sonicially powerful; in that they go beyond articulating an experience of gender nonconformity to be provocative streams of consciousness that challenge notions of trans and gender diverse visibility and rights and contribute to a wider discourse.
This is one of your most collaborative projects to date – how did you find the process and what defines a strong creative relationship for you?
I think having creative trust in the people you are working with is really important. It's a leap of faith to do that when you have spent most of your time working as a solo producer, performer and songwriter, but it's a really necessary part of music making to challenge yourself in order to grow as an artist. 'Panic/Desire' gave me the time and opportunity to do that. Experimenting through 2019 with a band in live performance informed the texture of instrumentation beyond what I could ever achieve as a solo artist; particularly in vocals with m8riarchy, guitars with Em Gayfer and drums with Raquel Solier. Working with Evelyn Ida Morris in a studio for the first time made that happen. They also challenged my ideas of production and how experimentation with creating soundtracks can become this evocative place to connect with emotion. Developing my work with James Cecil took 'Supertouch' and 'The Half Light' to the quality synth-pop singles they've become.
If there was one thing you could do musically, one gig you could play, one message you could deliver, what would it be?
One of my biggest influences is Depeche Mode and their 1987 live movie 101 where they performed at Rose Bowl in Pasadena, California – at the time one of the first acts to fill a 80s rock arena. Stadium synth-pop is a huge mood for the festival. I was really lucky to play Golden Plains in Victoria just before COVID-19 hit. How our band and this music set that crowd alight at 4pm on day-one was a highlight for the audience as well us us. One lasting thing from that experience was a punter told me through that performance they understood something new about gender and sexuality they would have never considered before. I want my shows to go beyond the medium as the message, connect with people by celebrating trans and gender diverse lives.
Simona Castricum - The Present