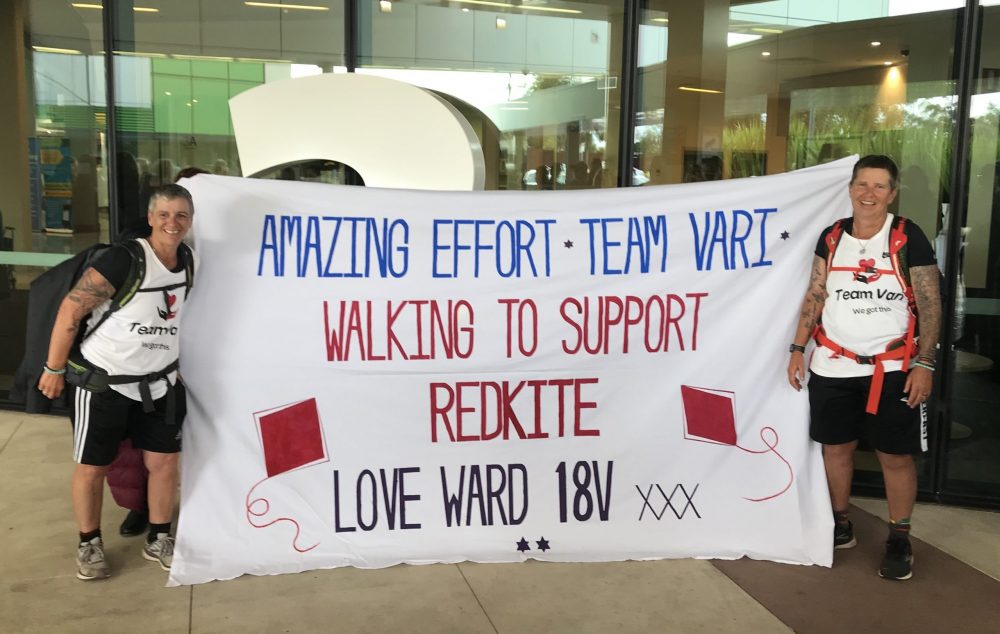 A trek inspired by a family's tragedy, ended in triumph on Friday, 23 October on the steps of Royal Adelaide Hospital.
Maria Topalian and Belinda Moore were greeted by family, friends and members of their daughter Natalie's treating team from the RAH, marking the end of their 23-day, 740km walk for childhood cancer throughout South Australia, which started on 1 October.
Their daughter, Natalie Vari, was diagnosed with acute lymphoblastic leukaemia in December 2018. Despite finding a stem-cell donor and undergoing a transplant, she developed a lung infection and died in June 2019 at the hospital.
Inspired by Natalie's dying wish to "pay it forward", her mothers, themselves healthcare workers, took on a physical challenge of their own to raise funds and awareness for Redkite.
"It really was both physically and mentally challenging for us but every time it got really tough, we thought about how hard it was for Nat. She never gave up and that's what got us through," they said.

"It was an amazing adventure where we experienced so much laughter and tears and we could not have done it without the support of our family and friends. Thank you. We feel very loved.

"We've managed to turn something so cruel of losing Nat into something so beautiful and hopefully we've inspired others along the way to pay it forward," Maria said.

"Nat would be so proud of the journey as we are so proud of her, and she will always walk with us," they added.
Haematologist, Dr David Yeung, who was on Natalie's treating team, remembers her fondly and the close bond she shared with her mothers.
"This fundraiser walk by Belinda and Maria is an excellent way to remember Nat as a beautiful, generous and loving soul, and to support other families going through their own battles.
"On behalf of South Australian haematologists, I would like to thank Redkite for supporting our patients and their families," Dr Yeung said.
Redkite supported the family during Natalie's illness and still support Maria and Belinda through bereavement counselling, especially when they marked the first-year anniversary of their daughter's death four months ago.
"It's just been so nice to know that Redkite is still here for us and we can talk to them whenever we're having a tough day," Maria said.
Redkite's CEO, Ms Monique Keighery, said Maria and Belinda's fundraising efforts will help Redkite to support other South Australian families.
"Over the last 12 months we have supported around 150 children and their families from all walks of life and from all over the state. Families like Natalie's.
"Sadly, the crippling cost of cancer, alongside the added financial and emotional pressures of COVID-19, has pushed many families too far. Belinda and Maria's inspirational trek, and the funds they have raised, will mean we can deliver the vital counselling and financial support these families so desperately need at a time when they have never needed it more," Ms Keighery said.
"Redkite receives no government funding for our essential programs so every dollar raised counts and makes a difference. I can't thank Team Vari enough for everything they've done for other families experiencing the upheaval and heartbreak of cancer and I know Natalie would be so proud of her mums," Ms Keighery added.
The mothers have raised $44,000 for Redkite and you can still make a donation to Redkite via the Team Vari's Facebook Page here: https://www.facebook.com/makethejourneycount/