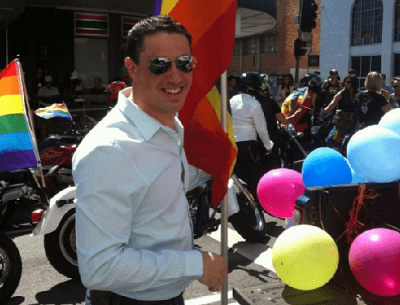 Robert Cavallucci, the member for Brisbane Central, will open the annual Pride Parade this year.
The parade, which will move from Ann Street to New Farm Park along Brunswick Street, is expected to attract thousands of spectators and participants.
Mr. Cavallucci will inaugurate the march with a speech under the historic rainbow flag, appropriately fixed to the historic Empire Hotel building, before the Dykes on Bikes rev their engines and lead the massive crowd to the Pride Fair in New Farm Park.
By supporting the march and proudly waving the rainbow flag during the parade Mr. Cavallucci will be confirming government commitment to the Pride Festival and the LGBTI community. His agreement to appear comes after Brisbane City Council announced that it will be providing funding of $21,000 over the next three years as well as granting the use of New Farm Park, a move that cemented the festival's place in the wider Brisbane community.
At the park, Paul Mac will be headlining the entertainment on the main stage and there will be many other great performers on two stages throughout the day.The fair will also have lots of wonderful stalls to explore, food, drinks (alcoholic and non), rides and a fireworks display to top everything off.