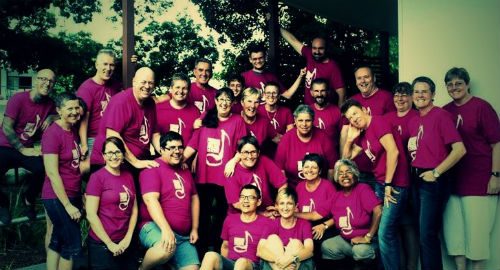 LGBTIQ, a non-auditioned group is looking for new singers
The Brisbane Lesbian and Gay Pride Choir has opened its door for new singers at the start of its 18th year performing in Brisbane and around the State.
"It's an exciting time to join us," said Katherine Richardson, Choir President. "We plan to perform around South East Queensland during the first half of 2015, beginning with Sunshine Coast Pride Festival at the Eumundi Markets on Saturday 28 February."
In 2015, the Choir will continue to dedicate all of its performances to marriage equality. "We donated profits from our two concerts in 2014 to Australian Marriage Equality to support its important work," said Richardson. "This year we will continue to champion this cause through our performances."
The Choir is a non-auditioned group, open to gay, lesbian, bisexual, transgendered, intersex, queer and straight allies who love to sing. They rehearse each Tuesday evening at the New Farm Library meeting room (135 Sydney Street, New Farm), beginning at 7.30 pm. In 2013, the Choir also established a youth chorus, Young Pride.