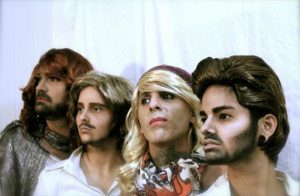 For the third year running, the Brisbane Lesbian and Gay Pride Choir will host an annual concert during Brisbane's Pride month of September.
"We promise a night of great music and lots of fun," said Katherine Richardson, Choir President. "We have a great repertoire of all your favourite Eurovision numbers and a few European classics as well. And for the ABBA-tragics among us, there's even a sing-along.'
Throughout 2014 and 2015, the Choir has been dedicating its performances to marriage equality, including at its forthcoming concert. "This year we performed at the Sunshine Coast and Fraser Coast as well as in Brisbane, encouraging our elected officials to end the discrimination facing same-sex couples who wish to marry," said Katherine Richardson. "Many of our choir performed in Ireland last year and we have been heartened by the result of the recent referendum. It is time now for Australia to bring in marriage equality."
Pride Does Eurovision
Date and time: Friday, 25 September at 7:30 pm
Location: Queensland Multicultural Centre
102 Main St, Kangaroo Point
The concert will include voting for your favourite song/country and guests are encouraged to dress up, with prizes for the Euro-trashiest outfits!