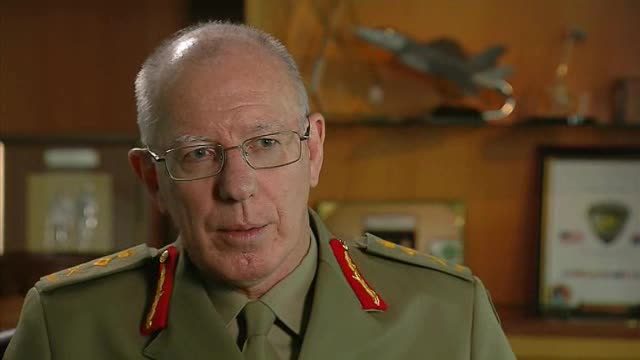 The ADF chief David Hurley has released a statement on why diversity is important and why the ADF will march at Mardi Gras
Australian Defence Force (ADF) General Chief David Hurley has gone on the record as to why it is so important that the ADF march at Sydney Mardi Gras.
Not surprisingly, the decision to allow ADF personnel to march in uniform has been haled by LGBT rights groups and criticised by others.
Hurley says it is important to understand the "rationale behind the decision".
Hurley's statement follows:
"Modern Australia prides itself on multiculturalism and diversity. It is one of our nation's greatest assets and it is an attribute the Australian Defence Force must strive to harness for the future in an effort to ensure we are a just, inclusive and fair-minded organisation.
It is 20 years since Australia lifted the ban on homosexual citizens from serving in the military and five years since a recognised group of Defence personnel first participated in the Mardi Gras parade. These are significant decisions for the organisation that have not degraded the ADF's combat capability, damaged our ability to deliver humanitarian assistance or detracted from our international reputation for excellence. Yet as is clearly stated in the Pathway to Change reform program, our attitudes toward diversity must change. We must value each and every ADF member. This decision will be a very strong, visible statement that the ADF is open to all Australians.
Marching in uniform evokes a great sense of pride in the history and traditions of the Australian military. It also carries significant responsibility to honour the uniform and all that it represents. This holds true for all ADF personnel regardless of their cultural, religious or sexual orientation. That is why strict conditions have been established under the guidance of the ADF's Regimental Sergeant Major Ceremonial to ensure those who choose to march in the Mardi Gras parade do so in accordance with individual Service and Defence protocols.
Participants will march as a formed body and it has been requested that the ADF contingent marches with their uniformed counterparts from the Australian Federal Police, the NSW Police, State Emergency Services, NSW Fire Brigade and the NSW Ambulance Service. Participants will change out of uniform immediately after their appearance in the parade.
These conditions accord with the current Defence policy in relation to ADF members' participation in events and commemorations. Under this policy, all ADF members can be approved to wear uniforms if they are marching as a formed body or performing an official function.
While I understand not everyone will agree with this decision if the Australian Defence Force is to remain a contemporary organisation that reflects the community it serves then change is required."