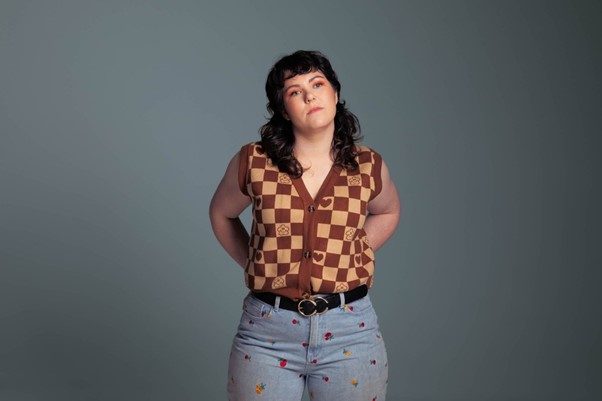 With a knack for pouring her heart out over ear-worm melodies, Fox dives deep into love, loss and friendship.
Hailing from Gippsland and residing in Melbourne's inner north, Darcy has been performing since 15. But really, she's just getting started. Darcy came out in 2017 and is passionate about authentic queer representation in media. Her recent and upcoming work explores the facets of living and loving as a queer person. While the tales are her own, she uses broad enough strokes for the wider LGBTQIA+ community to connect over shared experiences.
Darcy Fox dives deep into a toxic, closeted relationship in the new single "Ashamed". Gut-wrenchingly honest lyrics shine over an infectious melody as Darcy bares it all.
She is uncompromising in this powerful indie-rock track as she explores the shame of being in an emotionally destructive relationship, which festered under the added pressure of being closeted.
Darcy has a history of moving audiences with her raw storytelling, and "Ashamed" is no exception. She lets us peek through the keyhole as she takes off the rose-coloured glasses and sees the relationship, the turmoil and the justifications for what it was.
Since coming out in 2017, Darcy has cemented herself as a prominent queer storyteller dedicated to highlighting authentic LGBTQIA+ experiences in media.
"A lot of queer people can relate to being kept a secret. No one should have to come out before they're ready, but no one has the right to make you hide away or use their fear to manipulate you, either."
The track is effortlessly rousing, mixed, and produced by Curtis Hatton of Studio Truth and mastered by Greg Calbi and Steve Fallone (Taylor Swift, Kacey Musgraves). Clever production choices amplify Darcy's ruthless recount but never drown her out.
Propelled by dynamic guitars, she moves forcefully through the anger and strips away the shame. Her haunting grief escalates on the bridge, culminating in a sucker punch:
"I have never felt more worthless than I did in our last months," Fox says.
Initially written in 2017, Darcy almost kept this one to herself. But she decided to honour her closeted self on the 5th anniversary of that initial demo.
"That broken part of me is long healed, but this song is a gift to the version of me who desperately needed someone to see her. It's for anyone who's ever been isolated by the shame of being who you are."
Following "She's in London Now", it's the second single from her sophomore album, crowdfunded by her dedicated fanbase in 2021 as the Australian music industry ground to a halt.
Her range spans from fury-filled indie-rock to foot-tapping folk-pop, with careful production choices that lay a bed for her evocative storytelling.
Throughout her blossoming career, Darcy received praise from audiences and music industry insiders. She became a finalist in the 2013 Telstra Road to Discovery competition and won the Blues, Roots, and Beyond competition in 2015 at the Queenscliff Music festival. However, her most outstanding achievement is being the first soloist to win the Push Start battle of the band's competition, competing against 350 Victorian bands. Using her loop pedal, she creates a substantial one-man band show with powerful guitar and vocal loops to create her wall of sound.