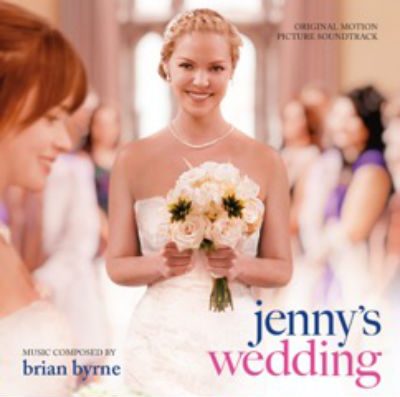 The Released Soundtrack to Jenny's Wedding doesn't disappoint.
Seldom do I review soundtracks, but with all the hype of Jenny's Wedding swirling around – thanks in large part to Katherine Hiegl, an Indiegogo campaign (of which I contributed) to raise funds for this (the music) and a topical storyline, it was fortuitous that this reached my inbox.
Admittedly my love for this soundtrack rests in a number of the tracks ranging from the original songs to the score itself.  The score is from accomplished Golden Globe nominee (Albert Nobbs) Brian Byrne.
Armed with a tight budget, timeframe and strict brief for a light score, Byrne managed to turn out 5 original songs, a new arrangement and a recording of a standard.  All of this was accomplished in only 10 days!
His score in this instance is clever and punctuated throughout with themes consistent with the songs in the soundtrack – listen for the melody of "True Love Ave" seeping into the score of "Jenny Is Free".
Utilizing the sultry vocals of Kristina Train who was named as one of the '10 New Artists You Need To Know' by Rolling Stone Magazine in their May 2014 issue, the soundtrack has the right mix of score and songs to keep any listener interested.
Mary Lambert also lends her talents to the soundtrack with "She Keeps Me Warm".  After seeing the film she was on board and Lambert's track delivers its message with grace and warmth all wrapped in a beautiful melody and sung in the signature Lambert style.
For me, the standout track is "True Love Ave" sung by Kristina Train (Music by Brian Byrne/ Lyrics by Kasey Jones). The track is simply infectious with its charm and whimsy. This song is an instant radio hit in my book. 
About her work on this soundtrack, Train points out that "this was my opportunity to contribute to an important issue in an important time.  When love wins we win and what could be better than that? I'm so proud of my work on this soundtrack and overjoyed to be a part of a fantastic film."
Byrne has managed to bring us a balanced and enjoyable soundtrack with classic love themes intertwined in his score and songs.