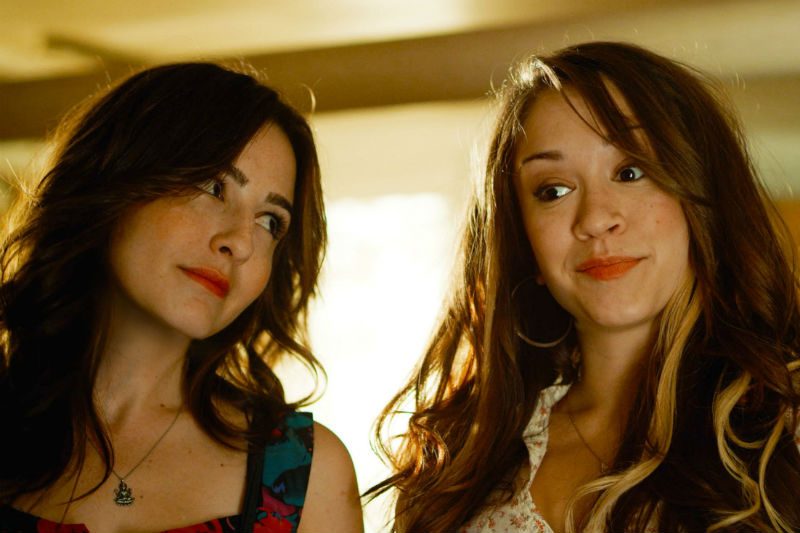 Two Girls. One Gun. The Mob. Find out why Alto has audiences laughing and craving lasagna!
Introducing the next instalment for your viewing and lesbian DVD collection pleasure! Alto, a film by writer/director Mikki del Monico, brings you the story of la Famiglia (the family)! In Italian culture, nothing is more important than family (and food).
I happen to be of large Italian descent, father from Caserta, and I can tell you that that statement is incredibly true (both parts).
The film shows off the pride of Italian-Americans; so much so it will have you feeling your roots from the moment you turn it on. Alto is a feel-good comedy that pokes fun of the Mafia through the use of a fake TV show called Mob Hit and an actual REAL mob hit in the midst of taking place.
In the beginning, we meet Frankie (Diana DeGarmo), the singer/songwriter who passionately wants to make it but feels like her Italian roots in the family restaurant and her new fiancé will prevent her from it. Her sister, Heather (Melanie Minichino) wants everything to do with being a mob wife.
She is obsessed with the idea of Italians being mobsters and makes attempts to sneak into their world by going to a mobster's funeral and dragging Frankie along. While at the funeral Frankie meets Nicolette (Natalie Knepp), the mob boss' daughter and an attraction unfold.
Frankie's fiancé, Tony (Jake Robards) is a line cook at the family restaurant and has visions of making it big in the frozen food world with his lasagna. He isn't the man of Frankie's dreams but he's a nice Italian boy, so that's all that matters.
Stricken by confusion with her feelings for another woman, Frankie ultimately attempts to run from her emotions. But when a mob hit plot is uncovered, Frankie and Nicolette find themselves closer than ever.
Alto offers an abundance of comedy topped off with just the right amount of romance to create a combination that leaves you hungry for seconds. With its light-hearted attraction, audiences will have a fun evening watching this film.