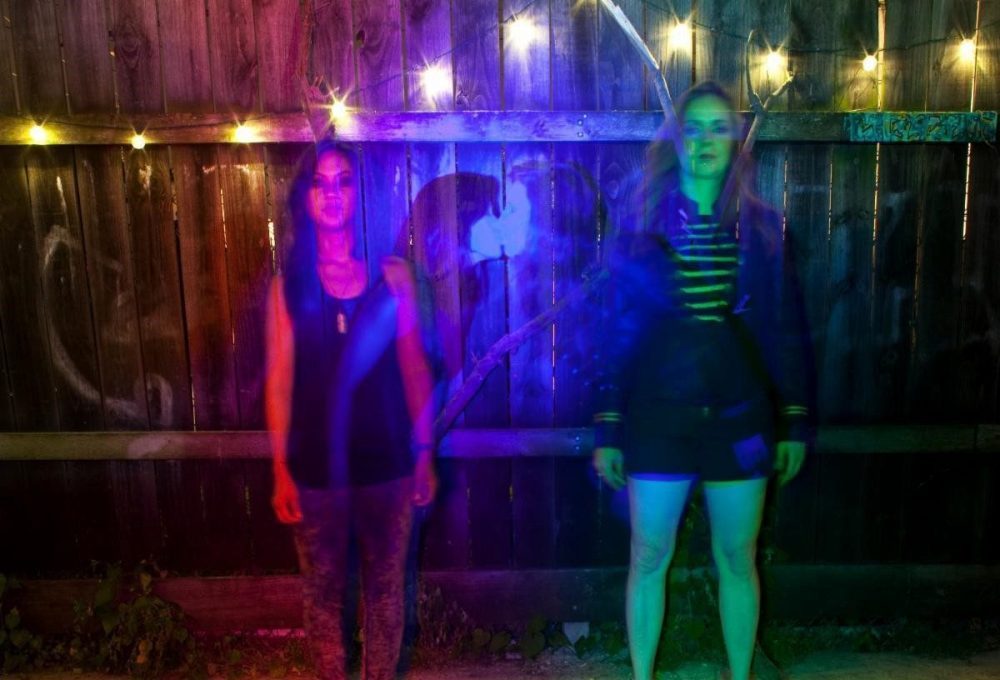 Chicago-based electronic dance duo Dance Loud has released their 420 inspired, timely new single and DIY visual for "Shady Beach" about getting stoned and spreading love in a divided world.
The feel-good visual for the future-forward groove shows the pair (and real-life couple) lighting up and going out into the world showing kindness to others in a pay-it-forward style because "nobody likes a shady beach." The track is the second single off Dance Loud's 2020 indie debut album The Moment, which drops Friday, June 5th. The duo recently released their first single "Hollow" about the hollowness inside us all and the good and bad in everyone.
A reflection of the struggles of the world and the emotions within it, The Moment is meant to be listened to as a whole in an endless loop and can be described as "emotional dance music," offering sounds you can dance and cry to.
"We feel art is a reflection of reality. With the division we are experiencing in our country right now, 'Shady Beach' is our message to the world to 'brighten someone's day because nobody likes a shady beach. Do whatever it takes to be a positive person and spread love vs hate," shares Dance Loud.
"We believe the energy input into the universe you receive times 3. This video is a pay-it-forward style short story. So even if you are naturally or nurtured "shady", it won't benefit anyone but it will benefit you to "pay it forward" in the long run.
We start the story with Kristin getting really stoned on a foot-long joint and goes on a journey to get pizza. Instead of eating the pizza, she gives it all away to strangers, and in return, they are giving to another stranger they come across. In the end, the karma kindness comes back to her from someone who received indirect kindness from another person who received the pizza who then signs Kristin up for a raffle where she wins 100 bags of (rebranded) Flammin' Hot Elotes chips.
A small detail of the video is the Wizard of Oz book. It's filmed in the neighbourhood that the writer lived in while writing it. The video has a lot of marijuana references as a celebration that Illinois just went recreational. "
Formed in 2008, the dynamic and diverse whole of Dance Loud is comprised of Kristin Sanchez [DJ, producer, engineer] and Desereé Fawn Zimmerman [drums, guitar, vocals] and proves that opposites do more than attract. The real-life couple turned Chicago duo co-mingles Fawn's live instrumentation steeped in classical training with Sanchez's electronic production and DJ wizardry.
After catching each other's attention in art school, their relationship blossomed before they found themselves on stage together. As the story goes, Kristin had a DJ gig, and Desereé hopped on the drums, illuminating the potential of their creative chemistry. By taking on real estate projects, they financed a D.I.Y. musical operation as Dance Loud. They dropped their debut single "Spy Vs. Spy" in 2013 and performed across North America, taking over the Artist Lounge at Bonnaroo and packing celebrated venues such as Knitting Factory in New York and The Steady in Toronto.
The pair trucked along and quietly built an audience until a horrific accident nearly derailed everything. In 2017, a semi-truck rear-ended their vehicle. Airlifted out of the wreck with internal bleeding, Sanchez broke eight ribs, her collar bone, and her sacrum. The destruction also claimed an old computer with ten unreleased songs as well as other gear. During a month in the hospital, the future became clear. As soon as they left the hospital, they commenced work on what would become The Moment.
Crafted from analog guitars, drums, and field recordings, distorted synths give way to an angular beat as hypnotic vocals enchant and engage. It blurs the lines between electronic immersion and alternative orchestration. In the end, the duality distinguishes Dance Loud forever. By embracing who they are and their differences, they're spreading positivity and karma through music.