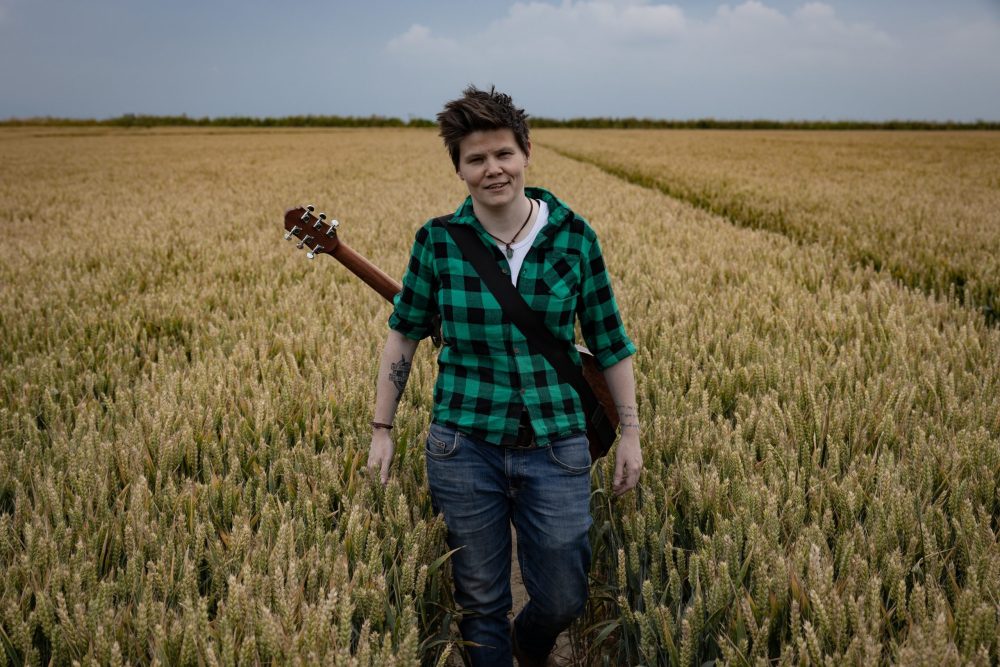 UK's Grace Petrie makes a return to Australia this January, bringing her polemical folk anthems, acerbic lyricism and open-hearted performance style to venues all over the eastern part of the country.
Since the release of her 2018 album 'Queer as Folk, Petrie has been launched into the mainstream spotlight as one of the subversives to watch in the folk world. Petrie draws comparisons to Billy Bragg for her delivery and is fast becoming a recognised voice for feminism, the queer community, and anyone else who doesn't want to take any more crap.
Petrie's first appearances in Australia in 2020 saw sold-out shows, and this first headline tour since then promises to take her to the next level with Australian audiences looking to be challenged, looking for a good laugh, and wanting to leave a show with a fire in their belly.
Says Grace of her upcoming Australian tour,
"I first came to Oz in February 2020 and fell in love with the country and especially the fantastic audiences, and immediately started scheming to return as soon as possible. Unfortunately, the pandemic had other ideas, so it's been three years since my last Australian headline tour, which feels like way too long! Since then, I've released my new album Connectivity which topped the UK download chart, so I'm excited to get to share some new tunes with Aussie friends, and Woodford Folk Festival is legendary, so I'm thrilled to be appearing there. From there we're on the road for three weeks and hitting up some of my favourite cities – I can't wait to get back to some favourites like Sydney, Melbourne and Canberra but also really excited to do some new places this time, including my first trip to Tassie! I couldn't be happier to be finally coming back."

Petrie's latest album 'Connectivity' was built from the reflections of what humanity means in a world struggling against division and destruction. Glued to one place for the first time during the pandemic, this is a record made firmly out of Petrie's comfort zone: slowly, intricately, and over many close-up, painstaking months. The result is the most honest collection of songs she has ever shared. It is about storms and the rebuilding that follows them and how to find a way to fight for a better tomorrow when you are told you've already lost every day. It is Petrie's most personal – yet universal – album to date.
'Connectivity' reached 37 in the main UK album chart and topped the UK download chart week of release without a record label and as a completely independent release, and is available wherever good music is streamed.
TOUR DATES
Tuesday 27th December – Saturday 1st January 2023
The Woodford Folk Festival – Woodford, QLD
Various performances
Tickets and info: www.woodfordfolkfestival.com
Tuesday, 3rd January 2023
Brunswick Picture House – Brunswick Heads, NSW
Doors: 6:30 pm
Tickets: bit.ly/gracepetrie-BPH-3jan23
Wednesday, 4th January 2023
The Outpost Bar – Fortitude Valley, QLD
Doors: 7:00 pm
Tickets: bit.ly/gracepetrie-outpost-4jan23
Thursday, 5th January 2023
Mo's Desert Clubhouse – Burleigh Heads, QLD
Doors: 7:00 pm
Tickets: bit.ly/gracepetrie-mos-5jan23
Saturday, 7th January 2023
The Factory Theatre – Marrickville, NSW
Doors: 7:30 pm
Tickets: bit.ly/gracepetrie-Factory-7jan23
Sunday, 8th January 2023
The Baroque Room – Katoomba, NSW
Doors: 5:00 pm
Tickets: bit.ly/gracepetrie-baroque-8jan23
Tuesday, 10th January 2023
Smith's Alternative – Canberra, ACT
Doors: 7:00 pm
Tickets: bit.ly/gracepetrie-smiths-10jan23
Thursday, 12th January 2023
Trinity Sessions – Clarence Park, SA
Doors: 7:30 pm
Tickets: bit.ly/gracepetrie-trinity-12jan23
Tuesday, 17th January 2023
Palais Theatre – Franklin, TAS
Doors: 7:00 pm
Tickets: bit.ly/gracepetrie-palais-17jan23
Wednesday, 18th January 2023
The Barn at Rosny Farm – Rosny Park, TAS
Doors: 7:00 pm
Tickets: bit.ly/gracepetrie-thebarn-18jan23
Thursday, 19th January 2023
Northcote Social Club – Northcote, VIC
Doors: 8:00 pm
Tickets: bit.ly/gracepetrie-northcote-19jan23
Friday, 20th January 2023
The Barwon Club Hotel – Geelong, VIC
Doors: 8:00 pm
Tickets: bit.ly/gracepetrie-barwon-20jan23