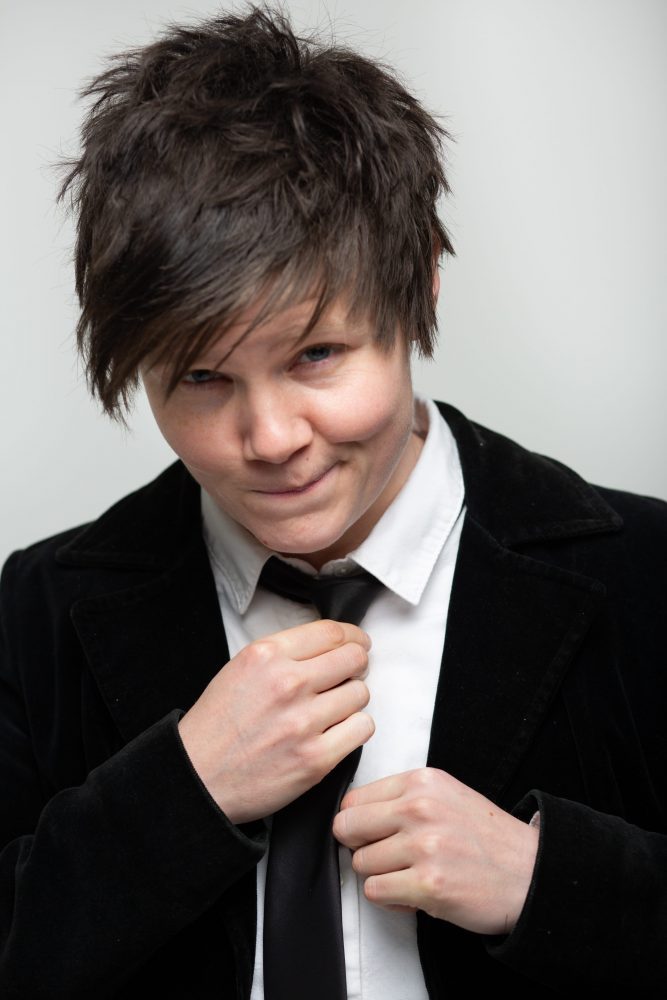 A folk singer, songwriter and activist from Leicester in England, Grace Petrie has been writing, recording and touring relentlessly for ten years and has won an army of loyal fans in the UK who pile into her shows to sing back every carefully placed word of every song.
Her unique takes on life, love and politics, and the warmth and wit with which they are delivered have won over audiences across the alternative, folk, political and comedy scenes, including on recent support dates to Australia's Hannah Gadsby
The wildly popular worldwide touring phenomenon The Guilty Feminist sees award-winning comedian Deborah Frances-White host, special guests, for a live recording of the podcast. Hear them discuss their noble goals as 21st-century feminists and the paradoxes and insecurities which undermine them.
The podcast has had over 70 million downloads since it launched in late 2015. Returning after a sold-out 2019 Australian and New Zealand tour, Deborah and guests are joined across the tour by English protest singer Grace Petrie, a regular on The Guilty Feminist UK tours, ahead of her own headline dates.
LOTL chats to Grace about her upcoming Australian tour: 
What are you looking forward to the most about touring Australia?
Probably travelling around and seeing the country. I've never been to Australia but one of my best friends is Aussie and she has given me loads of tips on things to visit and experience. I think the Great Ocean Road will be amazing, will also probably try my hand at surfing although I can't imagine I'll be any good at that. I have a bit of an Australian audience (mostly from being on the Guilty Feminist podcast a fair bit) and all the Aussie folks who I've communicated with on social media seem to be really cool people up for a laugh so I'm looking forward to meeting them and sharing in their sense of humour.
If you had to share an uber with one of the Aus, UK and USA leaders, who would it be and what would you say?
I don't think I'd have anything much to say to Donald Trump and to be honest, I've spent a lot of my career making my feelings about Boris Johnson and the rest of the British Conservatives well known too. I think if I could get Scott Morrison in an Uber I'd probably try and get him to appreciate the terrifying, urgent threat of climate breakdown, especially as the leader of a country that is suffering such devastating effects of it already.
What was your favourite most memorable moment performing live?
Vancouver Folk Festival 2015, probably. We had just driven for days all the way from Calgary through beautiful scenery, and the festival is held in a place called Jericho Beach, right on a horseshoe bay that looks out across the city of Vancouver and the Rocky Mountains cascading just beyond. It's utterly breathtaking and I couldn't believe my luck that I get to spend my life doing this.
Tell us about your new single?
It's called Black Tie, and it's basically a letter to my teenage self promising that life will get easier, more enjoyable, more fun and that I don't need to sweat not fitting in as an adolescent. I was quite an unhappy teenager, and I was very insecure about presenting the way that I do – as a lesbian and as a butch or fairly masculine-presenting woman – and it took me until my thirties to really become at peace and accepting of myself. I wrote the song as a message of hope to other kids in the same position, still figuring themselves out, as a way to say – it gets better, one day you won't be worried about any of this, actually, you're great as you are and one day you'll really see that.
THE GUILTY FEMINIST – FEB 2020
Fri 7th Enmore Theatre, Sydney
Sat 8th Powerhouse Theatre, Brisbane
Mon 10th Miami Marketta, Gold Coast
Thu 13th Thornbury Theatre, Melbourne
Sat 15th & Sun 16th Thornbury Theatre, Melbourne
Tue 18th Isaac Theatre Royal, Christchurch
Thu 20th TSB Auditorium, Wellington
Fri 21st Q Theatre, Auckland
GRACE PETRIE – FEB / MAR 2020
Thu 27th Feb Stag & Hunter, Newcastle
Fri 28th Feb Heritage Hotel, Bulli
Sat 29th Feb Smith's Alternative, Canberra
Wed 4th Mar The Old Bar, Melbourne – NEW SHOW ADDED!
Thu 5th Mar Wesley Anne, Melbourne – SOLD OUT!
Fri-Sun 6th-8th Mar Port Fairy Folk Festival
Tue 10th Mar Brass Monkey, Cronulla
Thu 12th Mar Marrickville Bowling Club, Sydney
Fri-Sun 13th-15th Mar Blue Mountains Music Festival