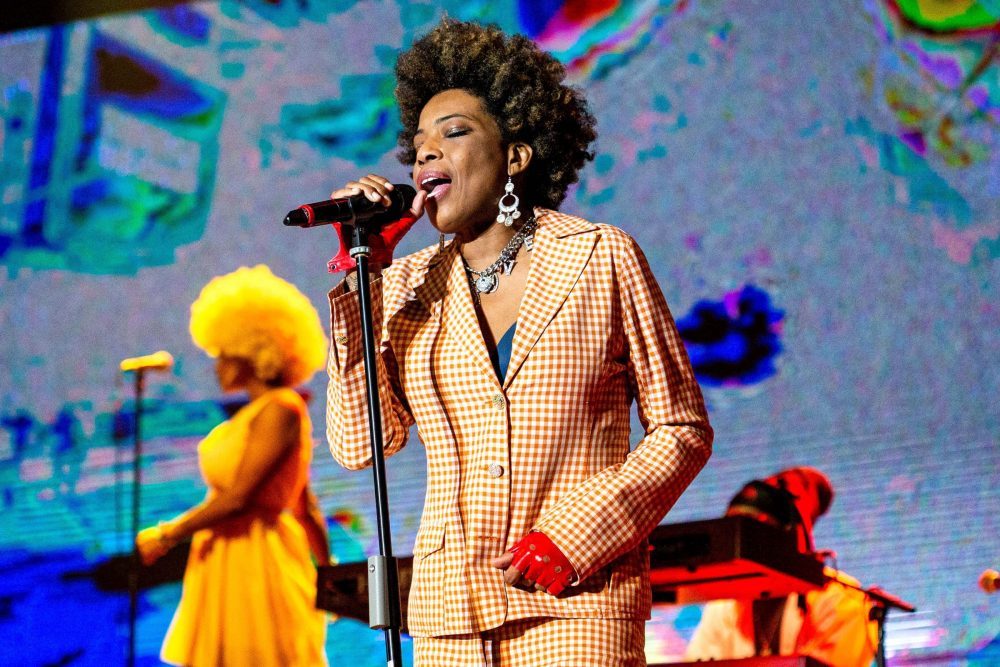 The Dinah Shore Week headliner dishes on her alter ego, Prop. 8 and Obamania.
After a year and a half of working on her soon-to-be-released new album, Macy Gray has emerged from the studio ready to play.
First stop: Girl Bar Dinah Shore Week, as a headliner for their event, "Jungle Fever." Gray first burst onto the scene in 1999 with her hit single "I Try," for which she won a Grammy for Best Female Pop Vocal Performance and an MTV Video Music Award for Best New Artist.
She subsequently released four albums that brought her modest success, but now she's poised for a comeback, starting over with a new alter ego, Nemesis Jaxson and a viral hit, "Slap a Bitch."
The video, which has created substantial buzz on the Internet is positively chock-a-block with slappy goodness and even some celebrity face smackin' (Beware: Bjork is not to be toyed with).
So, how did you end up headlining at Girl Bar Dinah Shore?
[My friend] Nick Chavez, the hairdresser, is really close with the owner of the bar and he texted me and kind of talked me into it…I haven't played in a very long time. That's another reason that I wanted to do it. I did a show in Russia [in] October. So it's been a [while] for me, so I'm really excited to play. I'd probably play for a bunch of elephants, if you asked me to.
What have you been up to lately?
Mainly, I've just been working on my album; I've been in this cave working on [it] for the past year and a half.
What can you tell us about your new album?
It's like something you've never heard before. It's amazing. I say that, all modesty aside. I took a long time to figure out what I wanted to do and where I wanted to come from this time.
When will it be available?
Probably this summer, like, late summer, early fall. There's a song out in Australia called "Can't Hold Back" that I did with [Australian artist] Kaz James.
"Slap a Bitch," was released under the name of your alter ego, Nemesis Jaxson. What can you tell us about her?
Nemesis Jaxson is just like a hot, sexy bitch, you know. Like a Cleopatra Jones type, a music superhero. All my friends tell me I have, like, five personalities, so I thought I'd give them all a name. She's one of them. And I've always liked the name "Nemesis," I know it has a negative thing attached to it, but if you just listen to the word, it's really pretty. And I just put Jaxson on the back.
Any chance we're going to get to see some of your other personalities in the future?
[Laughs] I don't know. I just might have to keep those to myself.
Are there any plans for a tour to go along with the new album?
Yeah, we're talking about going to Australia in March. I usually go overseas first and then I come here. So hopefully, by the end of fall I'll be doing shows here in the States.
You've also being doing some charity work too, right?
Yeah, I do a lot actually. [Laughs] I always had a special spot in my heart for kids. I have three kids of my own, and my mom was a teacher, so I've always been around kids. So anything having to do with [them], I am down for. I'm [also] really focused on this thing in Darfur, and I've been going to D.C. to visit the wounded soldiers in the hospitals. I've really been trying to reach out and do what I can for other people.
And you were also one of Obama's earliest supporters?
Well, I saw him on television at the [2004 Democratic] convention…and he gave this amazing speech, and I remember the things that he said were so inspiring and moving. And I thought, "You know, that's the guy who should be president." [Hurricane] Katrina happened just a little bit after that, and I had this shirt made that said "Obama for President." I had no idea he was actually gonna run and become president one day. It was just something in my heart that I wanted to express. When he ran, I was all over it.
You were recently misquoted on the New York Post's Page Six. Can you tell us about that?
Yeah, it's crazy. I did a TV show called Head Case…it's a black comedy on Starz Network. [On the show] they have is this really wacky psychiatrist [and] the hilarity of it is that she's wackier than her clients. So you're prepped to go in and talk about anything, any kind of quirky thing that you just want to make up. I was trying to think of the most innocent, stupidest thing…and I said, "I think I have a crush on Obama." It was just really all in fun.
Then what happened?
Last week I read on Page Six that I wanted to have his kids. They quoted me like I [had] sat down and given an interview. It was ridiculous. I don't know if it was embarrassing so much as I was pissed off that they presented it as something I said. So I've been going out of my way to clear it up. Hopefully, everybody just realizes it's Page Six, for God's sake.
Does this mean you're not into the fame game?
No, I love fame. I'm not against it at all. It's definitely not a negative thing. It's definitely not an accident. I think if you get famous, you're famous on purpose; you're famous because you want to be. So there are certain things you do to have the things that you want in life, including fame. Some days I am down to be famous and some days I'm not. It just depends on the mood I'm in. Some days I am really happy that people know who I am, and some days I wish they didn't.
Some folks partly blamed the African American community for passage of Proposition 8 in Cailfornia.
I think it's interesting that all of a sudden the black vote is that powerful. I think there are a lot more conservative people than we realize out there, and I think as progressive and advanced—as far as we have all come, there is still a long way to go. The challenge is to keep going, just keep pushing the issues that you want to get across and keep convincing people, persuading people, pushing people towards freedom…not judging people and not holding people back and creating more barriers and walls in the nation because that's what we are trying to break down. I personally doubt that that's what passed Prop. 8.