The Indigo Girls talk orchestras, politics, and each other.
It's easy to take the Indigo Girls for granted. For three decades now, Emily Saliers and Amy Ray have quietly but reliably been turning out top-notch albums every few years.
Duos often have a harder time staying together—or at least staying together happily—than larger bands that have a distinct front-person. Having interviewed Art Garfunkel, John Oates, and Curt Smith (Tears for Fears), I can tell you firsthand that each of these artists has had to make sacrifices—to "take one for the team," as it were—in order to keep that team going.
That has never seemed to be the case with Saliers and Ray. Any disputes have been minor, each of them has indulged in side or solo projects when they've felt the need, and their music sounds as fresh and timely now as it did in the late '80s. Don't believe me? Pick up their most recent studio album, the criminally underrated One Lost Day, from 2015.
But the new Indigo Girls effort is not a studio album.
Rather, Saliers and Ray have released a double-disc live set that may be their most ambitious project yet. Live With the University of Colorado Symphony Orchestra was recorded in April of 2017. Credit must be given to Trina Shoemaker, their mixer and co-producer, and to Gary Lewis, the orchestra's conductor.
But ultimately, this album is a testament to the Girls themselves. Fans will find 22 songs spread over two discs—and almost every phase of their career is touched on. There are the early hits, like "Closer to Fine" and "Kid Fears" from their self-titled debut; longtime fan favorites like "Power of Two" and "Galileo"; and deeper cuts, like "Sugar Tongue" and "Love of Our Lives," both from 2009's Poseidon and the Bitter Bug. Surprisingly (and a bit disappointingly), they've included only two songs from One Lost Day.
But, by  now they have a huge back catalog. I was wondering how it's even possible to choose a nightly set list, after 30 years and more than a dozen albums.
"We get a lot of requests, and a lot of them aren't on the set list," admits Saliers. "And we're like, 'Ah! Why didn't we choose that one?' But we make a fresh set list every night. We eat dinner together and make a set list…When people yell out old songs that we haven't played in a while, typically we'll learn them again. There's a way of circulating more obscure choices—deep cuts, whatever you wanna call them — through the set list, and that's based a lot on what people start to request. We definitely listen to the fans. But if we haven't practiced a song or we just [aren't] into it, then we don't do it."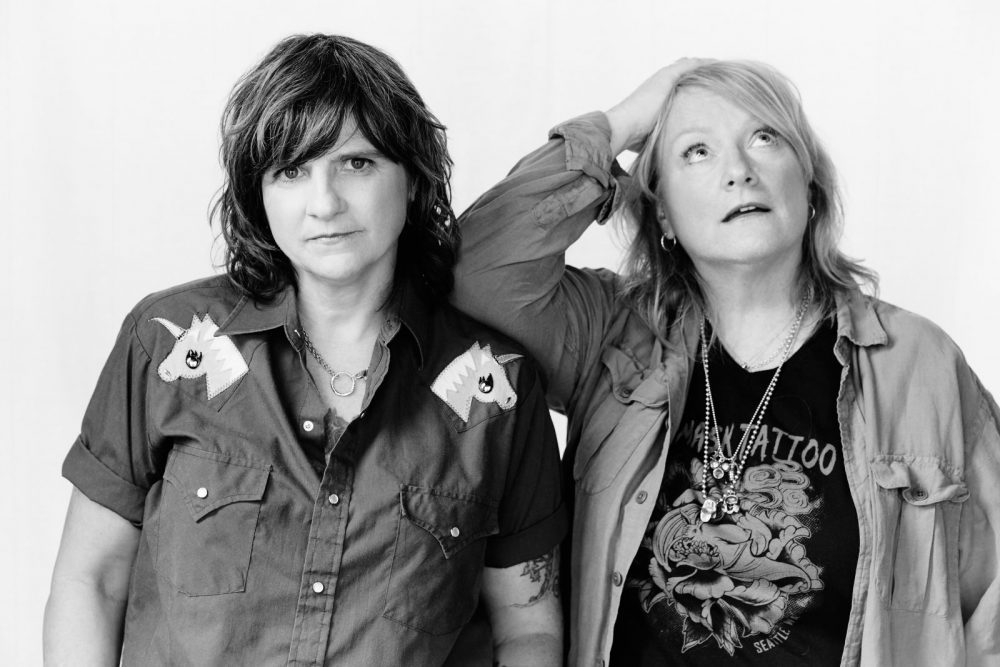 Image Credit: Evan Carter
The Indigo Girls have actually been performing with symphonies since 2012, so this project wasn't entirely new for them.
But it must have been difficult deciding which symphony to work with for this record. In fact, there were others they considered—notably, the Birmingham Symphony Orchestra in Alabama. But Saliers and Ray both felt after working with the folks at the University of Colorado that this was the right fit. "You know it when it happens," says Saliers. "I mean, all the symphony experiences are thrilling to us. But there are some that really strike us in our heart and our spirit—and playing with this particular symphony was one of those." Ray adds, "We kind of kept tabs on who we loved as we were playing…[And] literally, as soon as we finished the show [in Boulder], Emily and I looked at each other and we're like, 'This is who we should record with!' "
Since I last interviewed Saliers and Ray, much has changed—not just in their personal lives (Ray remains based in rural Georgia; Saliers now spends much of her time in Canada with her wife) but also politically.
Donald Trump is now in the White House and I was curious to get the Girls' take on what his election means to the LGBTQ community and to America in general.
Ray's take was especially interesting to me. "[It was] 90 percent for him in north Georgia, where I've lived for years," she says. "And I'm part of the community. I'm so much a part of the community that when I go to my voting station, they already know who I'm gonna vote for—and they laugh about it! They feel sorry for me because they know I'm never gonna win, you know? But it's all out in the open.
We talk about it. There's a lot of elitism on the left, a lot of hatred on the right. Those two things really knock against each other and they don't achieve anything. I just want people to talk to each other again." She adds, "If he was a man of conviction, like a Ted Cruz, [that's] somebody you can disagree with but you don't necessarily think, 'That person's crazy.' But with Trump, it's even worse because it's spineless. It's like, 'You don't even have any conviction. You're just a chameleon. You could be anything, as long as it's gonna serve your purpose of power and narcissism.' So it's even harder for me."
For her part, Saliers says, "I think that racism, homophobia, all these 'isms' against people have existed in this country since it began. But it [often] goes under the radar. With a president like Trump—who is sexist and probably homophobic—he doesn't really have a shred of decency that I've been able to pick up on. From wanting to allow people to kill wild game, to the awful separation of kids from their parents at the border, [to] the NFL players who kneel to bring awareness to social issues…For him to make comments like 'I could go out on the streets of New York and shoot somebody and still win'—it was like, 'Can this be real?' But I realize that our culture has a sickness and that people are very drawn to reality TV, to false heroes, to fake strength."
This time around, unlike the last, I spoke with Saliers and Ray separately. I concluded these interviews by asking each of them what the other person brings to the Indigo Girls that is unique. Their answers were beautiful. "Oh gosh!," says Ray. "[Emily] is a killer melody writer. She can write a melody that just hooks people in; that is a skill that I work on all the time that she just has, you know?
She writes all the songs that people know. I definitely would not be where I am without that. And I think she [also] has this ability to tap into some communal feeling about something and write one or two lines that sum it up…I feel that I always learn from her." And Saliers says, "Amy can write a social issues song and tell it in a way that I just can't do. Her songs are peppered with references to either historical events or social issues…She's [also] a very visceral guitar player; she has a rock and roll energy. You know, musically, [we're] like night and day. Everything that I can't do, she can do. I love playing with her and she's really influenced me over the years. She brings so much."