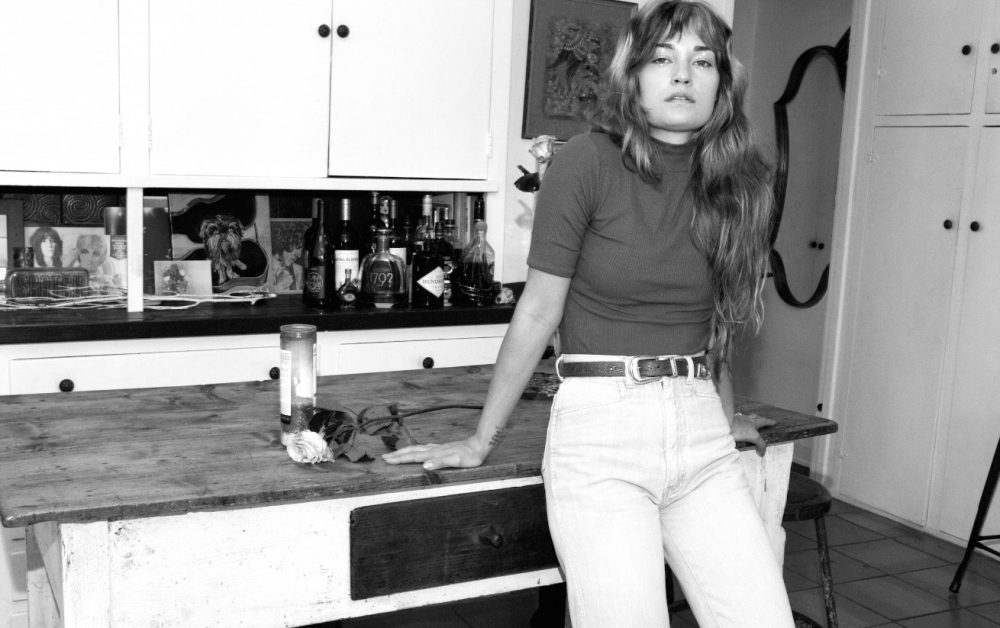 Lauren Ruth Ward oozes cool. From her, vibrantly coloured hair to her effortless 1960s and 1970s style, the singer-songwriter evokes a bygone era of rock 'n' roll.
Her debut album, Well, Hell, released in February, is the culmination of years of creative passion and is an ecstatic, sexy romp highlighting her impressive Janis Joplin-esque vocals.
Hailing from Maryland, the former hairstylist made the move to Los Angeles after years of going back and forth between the East Coast and the City of Angels. "I had always been content, and then one day I realized I couldn't work another day, I couldn't book another client. I was like, 'What the fuck is wrong with me? Why do I feel so bored with this beautiful life?' And that's when I realized I needed to do something," Ward says. Making the move solidified her musical identity and jump-started the process that would lead to the release of Well, Hell as well as her partnership with iconic brand American Apparel.
"When I moved here in January of 2015, I immediately took the music industry seriously. If people would be like, 'What do you do?' I'd be like, 'I'm a musician.' Now I can comfortably say that what has happened is what I wanted to have to happen. I am one of the lucky ones," she says.
Well, Hell is a 12-track LP highlighting Ward's standout vocal range. In "Sheet Stains" she laments the distance between her and her always-touring fiancée, LP. In "Sideways" she roars through the trials and tribulations of living her life outside the American mainstream. "Make Love to Myself" is a take-no-prisoners brush-off of someone trying to pick her up in a bar. The album is a burst of adrenaline from beginning to end. Though her upbringing always included music (her mother, unsurprised, said, "This is your calling" when Ward told her she would be pursuing music full-time), she has always had an equal passion for her other creative endeavours, which include hairstyling, sewing, and art.
"My sewing machine is also my instrument. Thinking to myself about what can I make my stage look like so that my band feels so into it, and what will make the people who come to my show feel so happy that they put their time and money into it is also my passion," she says. When American Apparel approached Ward about partnering with them for a new promotional series highlighting different artists, she was thrilled to be the first one to rep the brand for this new endeavour.
"That was super-flattering. I love their clothes," she says. "There is something for everybody. They had some really great ideas, and it was really collaborative."
Her interest in fashion has always been a major part of who she is as a person. "In high school, I was into the 1950s and the '80s. I was having sleepovers and sewing my friends' flare jeans into skinny jeans. My mom let me start sewing when I was 12, on my nana's Singer sewing machine. Fashion has always been a part of my identity and my growth, and when I am feeling really pumped about something with music, or hair, they all feed each other, and they are all food for my brain. I need tactile, I need to create and express in more ways than one," Ward says.
Being in a relationship with another lesbian icon, the accomplished musician LP, comes easily for Ward, despite the challenges of being apart frequently when they're both touring. "I'm a fan of her and she's a fan of me. Then there's the fact that we're both women in the music industry, and if we don't have time for each other, we both understand immediately because we're in the exact same boat. "You have to have respect for your lover and what they do and how they do it and their message to the world, genuinely. We naturally influence each other. I love my little songbird. She'll pick up the ukulele, pick up the guitar; she is always thinking of a song. It's so nice to watch. She's a genius," she says.
Thanks to the release of Well, Hell, her upcoming wedding, and her status as a major star on the rise, Ward is positioned to have her best year yet.