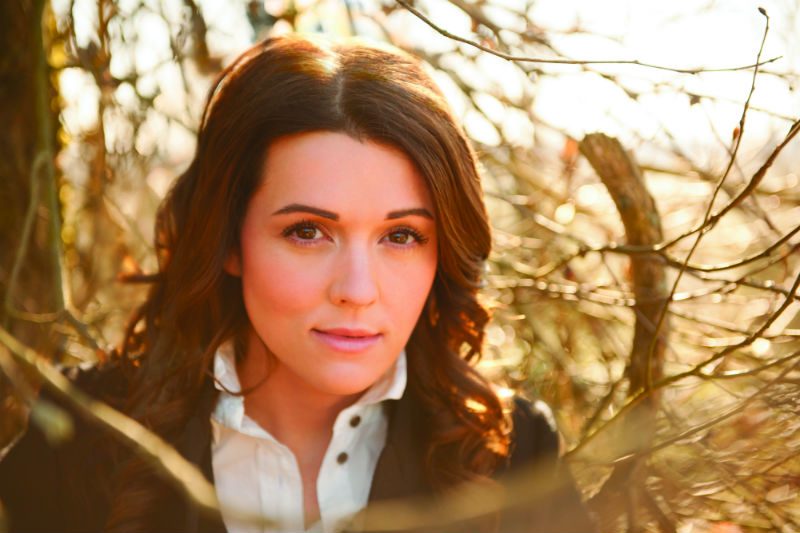 Folk rocker Brandi Carlile enters the second decade of her career, balancing fame, family, and fans.
While it's true that girls with guitars are far from an endangered species, every now and then, someone truly special comes along.
That happened in 2005, when Brandi Carlile announced her arrival with an eponymous debut album. Carlile is the whole package—a singer, a songwriter, an entertainer, an activist, and, yes, a lesbian.
She is also prolific, recently releasing The Firewatcher's Daughter, her fifth studio album in 10 years. Carlile sees the work as a synthesis of all her past efforts, with "the innocence of our first album, before we knew what a commercial song structure looked like, the self-consciousness and live-ness of The Story, the hyper-focus on songs that we had on Give Up the Ghost, and the adrenaline that we put into Bear Creek … all the good experiences of the past albums are in this album—and the bad experiences aren't there," she says, before adding, "We had our own new bad experiences, but I think that they served the album well."
In Carlile's estimation, all roads have led to here, to now—starting way back in Seattle, Wash., when she first asked Tim and Phil Hanseroth (aka the Twins) to make music with her.
Even though it's all done under her name, make no mistake, this is a collective rather than a solo project. "I can't imagine a career without them.
I just don't think you and I would be having this conversation right now, because I would probably be a bar singer doing cover tunes," Carlile says with a laugh. Though the three have been thoroughly committed to one another, truly a band for over a decade now, with a sameness of mind and a closeness of heart, their music is still as unpredictable as it is unpretentious. On the new set, songs as disparate as "Mainstream Kid" and "The Eye" stand side-by-side, though a casual listener might not believe they hail from the same artist.
That's the result of three voices flowing as one. She's quick to point out that she's not a triplet, but … "We all end up finding our milestones happening in the same place, even at different ages."
Indeed, Carlile and the Hanseroth brothers all became spouses and parents over the past few years, with Phil marrying Carlile's sister, Tiffany, to officially make the band a family affair. As would be expected, having a wife and a baby changes things, personally and professionally. "It was funny—in that week after the wedding, there was a realization that there's a new sense of security and safety around my relationship. It allowed me to bring a lot of humour into my day-to-day because I think, for some of us—and I don't want to speak for everyone—before we're married, we're kind of always seeking something, the wholeness of ourselves.
Or we want to make sure we're maximizing the ultimate compatibility with another person. So, every time there's a disagreement, minor or major, you wonder, 'What does this mean?' " Carlile continues with a laugh, "Now that I'm married, should something like that arise, I don't wonder what it means for a second! One of us is going to have to get over it. There's just a different sense of relief in that."
Despite that relief—or, perhaps, because of it—Carlile had a rough go when it came time to write songs for The Firewatcher's Daughter. "I had a lot of anxiety writing for this album—maybe because I'm getting older, or because I had a daughter on the way at the time, or because I'm married and happy—that I would have a difficult time going into that tortured, kind of dark castle that I'd written from a long time ago," she explains. But a conversation with Tim broke it all open: "He told me, and I think he's right, that you can do everything better when you're happy.
You think you look better when you're 20 pounds underweight and smoking and drinking and super-dark and able to hide in a dark room and visualize your feelings and write these tortured songs. You think you're doing better and it's cooler because you have to make something good out of it. But you can write even better-tortured songs when you're happy."
"You can do everything better when you're happy."
The other relationship that brings Carlile a sense of security and safety, along with a lot of happiness, is the relationship she shares with her fans, particularly the LGBTQ ones. "What they've meant to me is unconditional love. They've shown that to me, regardless of how I've changed or looked, or the things that I've gone through.
They've continued to embrace me because we have something in common," she offers. "I see us doing that and holding each other up because maybe some of us didn't experience that at home, at first. So we're really happy to, then, turn and share that with someone else, whether it's an artist or someone that you relate to who's making music or speaking in a public platform.
"I'm an LGBT fan, as well … I feel that responsibility, too, to hold up those same icons and artists, first of all, for the road that they've taken for us. Second of all, because it's really important to have those icons, to be able to look to them and say, 'If they can get here, I can get here. My daughter can get here.' And to hold them up even if they put out an album you don't like, because that perseverance and that unconditional love is something that maybe some of us needed."
With her fans in tow, Carlile now enters the second decade of her career and a new phase of her life. But will she lose the wonderfully ragged edge that makes her so special? "I wrote the hardest rocking songs on this album that I've ever written. I can't tell you where they came from, or how that happened, but if I continue on with that trend, I'll probably lose my less-edgy fans," she jokes, adding, "I'm not sure that edge ages well. I think happiness ages really well. Love is timeless."