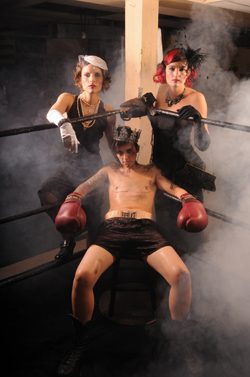 The band talks musical influences, their new album Dirty King and the challenges of being role models " shortly before their recent split.
The Cliks—the talented, Toronto-based band led by transgender singer-guitarist Lucas Silveira—broke up earlier this month, shortly following the release of their sophomore album Dirty King. The former trio consisted of Silveira, longtime drummer Morgan Doctor and bassist Jen Benton. On his blog Silveira has stated his intention to find a new rhythm section and carry on The Cliks' name, however, it's also clear that the current incarnation of the band is finished. I had the pleasure of conducting one of the last interviews with the complete group.
Snakehouse, The Cliks' 2007 debut album, featured 10 tracks of bold, melodic rock. It was a successful debut, as the band placed songs from it on The L Word and other TV shows and spent a lot of time on the road, both as headliners and as part of Cyndi Lauper's True Colors tour, at her request. Morgan says, "Working with Cyndi Lauper was probably one of the best opportunities we've had as a band so far."
"Oh my god, it was surreal!" adds Benton.
The queerness of the band may have helped them get gigs, but there was also a downside. Silveira's story often overshadowed The Cliks' music. As he explains, "You get put in a position where people always want to talk to you because you're like…this transgendered warrior. I had to save face and keep up this façade that everything was fine, but…that's not exactly what I was feeling." What he was feeling, he says, was a sort of emotional schizophrenia.
Dirty King represents an evolution for The Cliks. As songs like "Haunted," "Career Suicide" and the title track demonstrate, they haven't lost their ability to rock. But they're definitely working from a broader musical palette this time around.
Two of the three Cliks cite "Emily" as their favorite song from Dirty King—and preference that may surprise some of the band's fans. It's a melodic, waltz-like tune that Silveira wrote on a piano. He wasn't even going to include it on Dirty King until the band and their producer Sylvia Massy basically forced him to. "I never thought that [song] would make it on a Cliks album," Silveira admits. "It is quite a departure from what we do. But it really relates to a side of music that I love. It's very Beatlesque…. My main rule in life is that I do not trust anybody who doesn't like The Beatles."
Some people may not realize the depth of The Cliks' musical training and interests. Doctor cites jazz greats like Max Roach and Elvin Jones, plus former Smashing Pumpkins drummer Jimmy Chamberlin among her influences. She has actually released two solo efforts, most recently an album of ambient music called Other Life.
"Before I joined this band, I had been a gigging session player in Toronto for many years," says Doctor. "[I] got to a place in my career where I was feeling really stuck and wondering if I should continue with music at all. And my friend said, 'You should do your own project before you quit.' So I took his advice." The result was the album Is This Home, which wound up being picked up by Aporia Records. "I was shocked," she remembers. "That wasn't my intention at all. It was just a project to do for myself [but] that led me to continue with that work."
Like Doctor, Benton's influences are pretty diverse. In addition to rock bassists like Nate Mendel of Sunny Day Real Estate and Foo Fighters, Flea of Red Hot Chili Peppers and Robert DeLeo of Stone Temple Pilots, she cites Ray Brown and other jazz legends among her heroes. "Hearing Miles Davis for the first time, or Herbie Hancock," she says, "once you play that shit, you gotta play it forever."
Benton says the first bass line she learned was "Under the Bridge" by Red Hot Chili Peppers. "It's still one of my favorite [songs] to play…because throughout the second half of the song, Flea goes into a bass line that is really rhythmic but [also] melodic. Underneath everything else that's going on, it has its own voice and it sings its own melody…. That's my goal." Incidentally, Benton didn't play on Snakehouse; she replaced bassist Jordan B. Wright shortly after the album was completed, so Dirty King is the first disc on which she appears. "I feel much more a member of The Cliks now than I ever have," she declares.
While the group share similar musical backgrounds, their personal lives are drastically different. Though born female, Silveira always identified more with his father and brother than with his mother and sister. He also begged his mother to cut his hair short and screamed when she put him in a dress. But, he says, one of his most significant experiences took place when he was 7 or 8.
"I lived in this little village in Portugal," he remembers. "My parents took me to this festival. I was playing with a bunch of kids and these two little girls I was playing with thought I was a boy—so I just went along with it. They were like, 'We need to go to the bathroom' and I was like, 'Well, I need to go to the bathroom, too.' And they went, 'Well, you're a boy, you can pee over there'—up against the wall. And I literally pretended to pee up against the wall because, hey, that's what boys do. But I went with it. And I remember how happy I was in that moment."
Doctor exudes a certain steadiness, as befits a drummer. She is also the one Californian Clik. Though she has lived in Toronto for the last decade, she actually grew up in the Los Angeles area. When I ask her about the Prop. 8 debacle in her home state, Doctor laughs. "I thought it was ironic that it was all happening when that movie Milk came out," she says. "It was so interesting how history was kind of repeating itself. California's a funny place. I think on the outside, people see California as a real progressive, liberal state. And in the end, it is and it isn't."  She adds, "I always thought that they should really divide California into two separate states. Even three, because Central [California] is very agrarian and agricultural."
Benton is an All-American girl—that is, if an All-American girl can also be Canadian and queer. She may be a jazz aficionado who's traveled the world, but she's also a small town girl at heart.  Benton grew up in Waterdown, Ontario, a town she says no one has ever heard of. "There are no buses in Waterdown," she says. "There was one video store. There wasn't a swimming pool. There's a bowling alley. I grew up hanging out with my friends on the train tracks, jamming. Typical high school stuff. I wouldn't trade it for the world, but I wouldn't move back there either." 

I ask The Cliks to describe themselves in three words. Silveira says, "Solid rock band." Doctor picks "Raw. Tight. Turbulent," and Benton chooses "Raw. Melodic. Driven." All of that may well be true, but after spending the first half of my day chatting with The Cliks, I have my own three words to describe them: three terrific people.