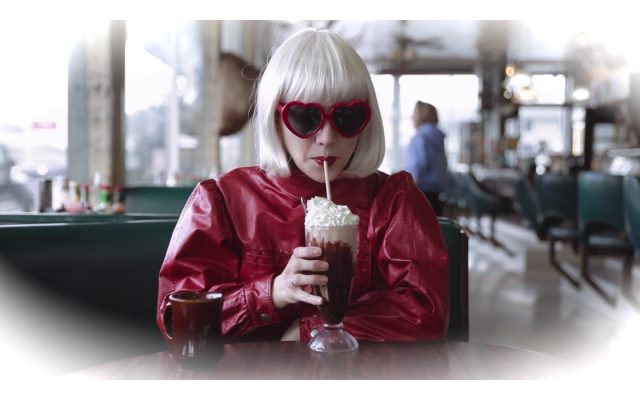 Small Town Girl Brings Big Meaning to New Album
The Portland, Ore.-based band HERS and their album, Youth Revisited, has lesbian frontwoman Melissa Amstutz reliving her whirlwind of a past.
Established in 2012, the indie rock band now known as HERS, previously known as Honeybee and Hers, has established quite a name and social media following for themselves on the Pacific Northwest circuit. Their new album, Youth Revisited, released on June 3rd, is a touching and beautiful image of songwriter and vocalist Melissa Amstutz's journey into her queer awakening.
She's cute as a button, with a voice as sweet as pie, so it's hard to imagine such a bright-eyed beauty as a young woman fighting her inner demons in a whirlwind of mixed emotions.
Youth Revisited brings us back in time to Amstutz's struggles before coming out and feeling trapped within her own life. "I married young," she says. "You'd see that a lot in Nebraska." Before starting a new life in Portland, OR with her girlfriend of four years, Amstutz resided in Omaha, NB, with her husband. "I married the first person I dated. It was like living two lives. One part was happy, but the other was tortured because of feeling confused."
With lyrics written that resonate with her past, Amstutz explains that the tracks of the album are softer to resonate with the vulnerable times she went through with getting a divorce, feeling guilty about leading someone on, and just feeling like they were the darkest times with no escape. "Power goes through the difficulty of maintaining relationships while being gay. Big Bad combines feelings, and it also touches upon sexual assault. It's very raw."
When you feel like you've reached the bottom, there is only one way to go from then on: Up. While the overall essence and theme of HERS' new album are one of a complicated past, the message isn't portrayed negatively. There is always a light at the end of the tunnel. The track entitled Thrills is entertaining and energetic, which she explained was the first song she wrote where she felt empowered and motivated. "I fell in love," Amstutz says. "I wanted to see if it was real, and that was enough for me. It was exhilarating coming out. The world was wide open, and I felt more connected to myself; self-empowered."
Youth Revisited is a culmination of truth and beauty, sorrow and confusion.
Many lesbians can relate to the struggles that Amstutz portrays in her songwriting. "Inner confidence helps. That connection to myself helped overcome the obstacles."
Along with Youth Revisited, HERS has premiered their latest music video for their song Please. In this video Amstutz dons a platinum blond wig, red heart-shaped sunglasses, bright red rain boots and a red leather jacket. The video takes us on a journey from the booth of a diner where Amstutz sips on a tasty milkshake to wide angles shots of her dancing in front of old dilapidated buildings. The song and video follow a cadence beat pattern that you can visually see in her movements on camera.