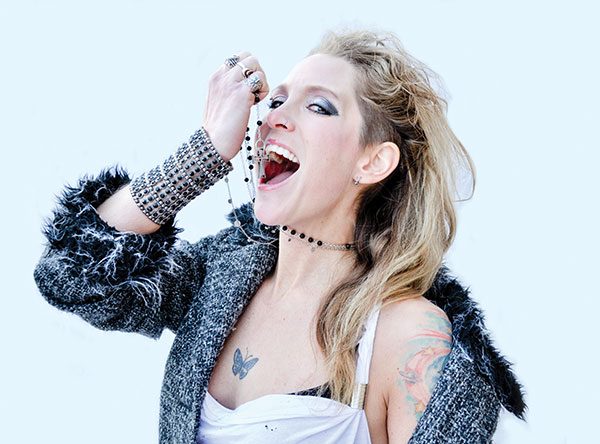 Lesbian rocker Sarah Smith is a rebel with a pension.
As I was prepping for a photoshoot with Sarah Smith, she took a glance down at her cell phone and casually mentioned, "Oh, I just won a London [Ontario] Music Award for Most Popular Singer-Songwriter."
With a voice that is often, in fact almost always, compared to Bonnie Raitt, Melissa Etheridge, or Janis Joplin, Smith makes you want to rock out and at the same time recharges your heart and soul. Her intimate cover of "Oh! Darling" by the Beatles is bucket-list worthy. Her own songs reflect her lives, and she hopes her shows bring people together as an extended family. "I guess I just always felt like people who are watching and supporting my shows have become friends.
Actually, the only social life I have is at shows, so I want to get to know as many people as I can, and what they're going through in their lives. I try to listen, and I learn from everyone I come across. It's kind of like Buddha, or God, or Jesus is in everyone you meet. So I try to listen with an open heart."
Before her solo career began, she was the lead vocalist with a band called The Joys. Their music was chosen for the Canadian TV series Majority Rules!, used in the movie Cake (starring Heather Graham), and featured on the OUT TV show Chris & John's Road Trip. She's recently released two solo albums, Sarah Smith Live and Live B-Sides, which were produced by the award-winning Kevin Doyle, who's worked with an eclectic list of musicians, including Van Morrison, Andrea Bocelli, Anne Murray, KISS, Yo-Yo Ma, Alannah Myles, Hall and Oates, Glenn Gould, and Michelle Wright. Smith boasts an impressive resume, especially for someone who never realized that music could be a profession until she went to college.
But all it took was one person telling Sarah that she could make living playing music, and that was it—she went for it. She's had a full-time career in music for 12 years now. Smith grew up in the small town of Arthur, Ontario (population 2,450), we're becoming a professional musician was not an option. "Coming from a farm and living in a town where nobody played music, I didn't even realize that there was such a thing out there."
She left Arthur to attend the Royal Military College of Canada and brought her guitar with her. In order to keep it in her room, she had to take it apart for inspection and lay it on her bed—like you would a pair of underwear, or your army shorts. So dedicated was she to having it there that she put up with this every day until she somehow realized that the army wasn't for her and decided to trade in her field jacket for a microphone. Her first step was becoming a regular guest with a band called Thundermug, which gave her the spotlight to perform a few songs. She was hooked. Eventually, Thundermug's lead singer, Bill Durst, asked Smith to form a new band with him. Together they started Big on Venus, which later became The Joys.
Smith had more than one eye-opener as she began her music career.
"Having grown up on a farm, I was very naïve. I had no clue that two people of the same sex could be 'together.' When I first started playing music, I found that women were hitting on me—and it was so weird, but awesome at the same time! Eventually, I met my wife, Janene. I guess, when I got married I came out. I have always loved people regardless of their gender—spirits are beyond the skin. With Janene, I fell in love with her spirit, and I couldn't help myself. I just needed to be with this woman for the rest of my life. Both of our parents are very sweet and loving and want nothing but the best for both of us. We have two beautiful golden retrievers, lots of amazing friends, and a cute little house in London, Ontario. What more do you need in life?"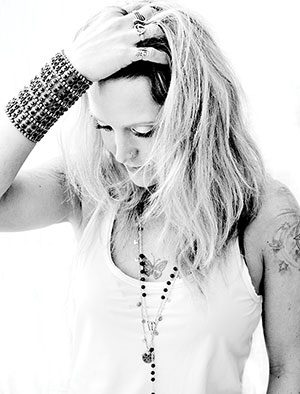 As one of the hardest working musicians out there, she has a strong business sense and is smart and practical when it comes to planning for her future. This artist even has a pension. "I finally joined a union. I thought, 'What am I going to do? When can I retire? Maybe when I'm 65 I won't be able to play music anymore.' So I really had to look into it. I joined the union, and they set up a pension package for me, and I have insurance on my equipment, and, you know, I'm totally in society but still being a rebel, right?
"I have big dreams, but understand that in this business you have to practice patience. So I'm just willing to keep writing and playing music—and meeting new people." Don't miss Sarah Smith when she's onstage near you, because the singer-songwriter has plans to build a U.S. tour around SXSW in March 2013. (sarahsmithmusic.com)