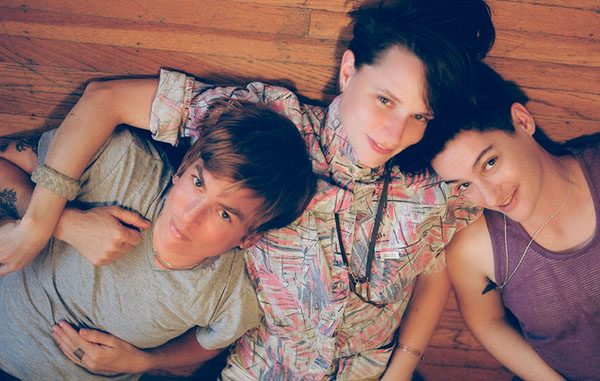 The out and proud Portland girl band is headed to Europe for the second leg of their tour, making new music videos and recording a new album.
If you haven't heard about Lovers by now, it's fine time you jump on their beat-hopping bandwagon. The Portland, OR trio that is lead singer-songwriter Carolyn Berk (perhaps better known as Cubby), Emily Kingan on the drums, and keyboardist Kerby Ferris, is about to take Europe by storm for the second time this year, travelling to France, Spain, Netherlands and Germany, much-anticipated for fans of those regions who didn't get to catch Lovers on their last leg in the fall.
"We're playing a festival in Paris called "Keep Portland Weird" at the Pompidou Center with friends Tara Jane O'Neil, Vanessa Renwick and Tender Forever. That should be a lot of fun." Tender Forever is the alias for out Portland musician Melanie Valera.
Will this big love-fest that combines the Pacific Northwest with Europe be wild and crazy? "We are looking forward to seeing old
friends, making new ones, spending quality time with each other and perhaps working on new material while travelling. Sex, drugs and rock 'n' roll? Not so much, we're in our thirties," says Lovers.
To say the girls are seasoned musicians by now, stepping onto some kind of mainstream circuit is almost worth a giggle since the whole concept behind Lovers breathes DIY, homemade goodness. Lovers' music is introspective and intensely emotional. "We still feel pretty far away from the 'mainstream,' but getting paid for making art feels great."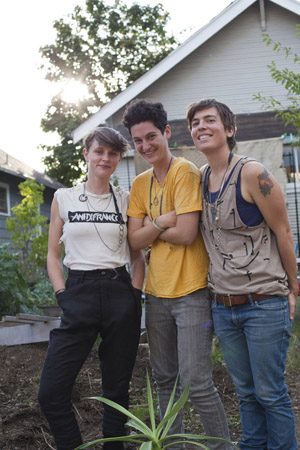 Photo by: Alin Dragulin
While Berk has been at it since 2001 when Lovers was still a solo act, the inclusion of Kingan and Ferris has proved to be a total completion of one soul-pleasing triangle. Just last year, their music was featured on season two of The Real L Word.
Their 2010 debut together in Dark Light, not only reconstructed old favourites like the song "Peppermint" off Berk's 2002 EP, Star Lit Sunken Ship, but also redefined the band's sound, somehow pulling in every fibre of not only that Northwest homegrown feeling, but also something electric, if not ingenious.
Lovers will be recording a new album and making new videos this summer. Be on the lookout for their latest as soon as March 2013. (loversarelovers.com)