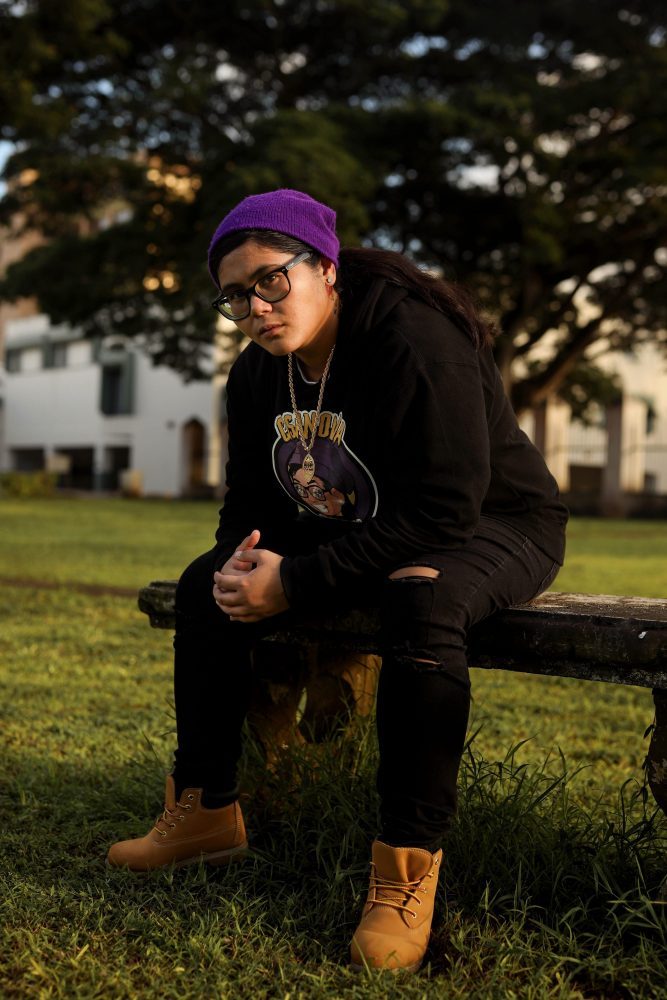 Women have been showing they can go toe to toe with male artists, and CasanovaOnTheMic is proof of their talent and skill.
Born a Pacific Islander/Japanese female artist from the Island of Guam, CasanovaOnTheMic's influence on the industry is one that incorporates different styles and flavours in her music.
She brings a sense of individuality while still blending across a multitude of genres. Whether Hip-Hop, EDM, R&B, Island, Dancehall, Trap, or Funk, she holds no limitations in the compositions she can create to connect with listeners alike. Her path to becoming an artist that stands as the public figure for the LGBT community, both personally and through her music, began taking shape in 2007 when her family decided to move to Tucson, Arizona. It was there that CasanovaOnTheMic found her calling in the music world and started growing as a singer, rapper, and songwriter.
She first started out dabbling in acoustic music, experimenting with varying sounds and techniques, before crossing over to Latin music. Because of her migration to Tucson, she would have the opportunity to learn parts of the Spanish language, which she uses in her music to expand her reach and create her own sound.
The bright future in music awaiting her could be seen from her first-ever performance that took place in middle school. She had the potential to climb the charts and become a hot topic in the music industry, and she set her dreams on accomplishing that goal.
CasanovaOnTheMic has a way with creativity. She is not only a beast over the mic, but her lyricism and intoxicating melodies mesh with her poetic side, bridging the gap between all that she feels and the masses that connect with her music. This wasn't always the case. While CasanovaOnTheMic wrote music on a personal level for herself, she had no idea that her music would be appreciated and felt by so many across the world.
Now with a growing fanbase that continues to look forward to her music, she not only writes for herself but to express real issues that others endure while aiming to inspire positivity and uplift listeners through whatever ordeal or situation that may be weighing upon them. Her music is real, raw, and unapologetic in the way it speaks to the hearts of audiences. It is fueled by passion and a will to bring change to someone's life for the better. CasanovaOnTheMic speaks from a place of experience, opening up herself through her songs, pouring inspirational stories of overcoming pain and hurt, while also sharing those of breaking through said heartache.
Her abilities over the mic and the depth of conviction in her music has taken her to heights unmatched by many others.
She has done shows for events such as Team Backpack Brooklyn, New York LGBT Pride Guam, the 75th Guam Liberation Day Parade, Vibe Fest Guam, and she holds the title of the 2019 Guam Island Music Awards Best Breakout Artist. CasanovaOnTheMic is paving her way to greatness and has no thoughts of stopping or slowing her rise.
Her swagger and comical finesse add a dash of personality and charisma that breathes in her music. She captivates and indulges the listener on a trip through emotions and life. Influenced by her friends and artists like The Green, Ekolu, and Fiji, CasanovaOnTheMic is making her talent known to the world and edging closer and closer to attaining mainstream success as an artist.
She has a particular ear for melodies and lyricism that she has refined through dedication to her art style and consistency in her craft. The level of composition of her music is clearly heard in tracks like 'Misery Loves Company' featuring IAmRayJohn, 'Remember Me,' and 'Checkmate' featuring Spell.
Each has its own unique sound and vibe. This is telling of the artistic abilities of CasanovaOnTheMic. She can sing like R&B in one track, then rap circles around the beat in another, then make the listener bob and bop along in the next. Nothing is beyond her skills when it comes to music. She is a true genius that shows no signs of ever peaking or plateauing on her growth as an artist.
CasanovaOnTheMic continues to break barriers as an artist in the spotlight that walks beside those of the LGBT community, and has a lot that's being worked on to keep pushing her movement and career to the top. One such project is the release of her upcoming new single Coastin'. The track goes back to her roots, enlisting the help of her fellow Guam artist ThaWavee.
Coastin' is a combination of everything heard and loved in CasanovaOnTheMic's music thus far. It looks to set the standard for Guam artists even higher and make a splash on the charts on its release on November 17th, 2020. It has a Hip-Hop/Pop cadence with a Feel-Good vibe that makes the listener feel like they're cruising along the seaside; melodic, catchy, ear orgasmic. Upon its release, CasanovaOnTheMic will also be following it up by dropping an animated lyric video on her YouTube the day after, November 18th.
Coastin' will be available on all digital streaming platforms like Spotify, Apple Music, and Tidal, for fans to enjoy and vibe to. It is more than just a song, it's a track that will put a smile on faces and spread a positive mood nationwide. Given the current state of the world and the rough patches in 2020, it will be a welcomed song throughout the industry.
CasanovaOnTheMic is a beacon of light and hope for female artists and LGBT persons across the globe. She stands for truth, both of self, and of others. Her music speaks life, and she is on her way to becoming a respected and notable artist in the industry while bringing change with her sound. Stream her music, support her movement, and look forward to her upcoming single Coastin' via the links: