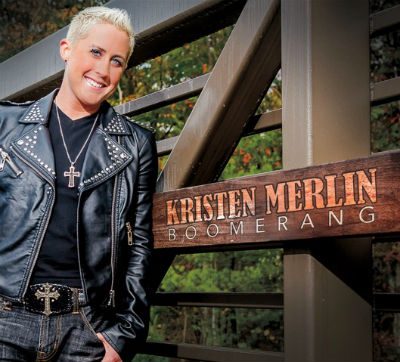 Our favourite from Season 6 of The Voice, Kristen Merlin is back with Boomerang
This former contestant on the NBC Emmy Award-winning shows The Voice has released her debut EP, Boomerang and it is set to be an instant country classic. There is a reason Kristen Merlin was so successful on The Voice, she has that kind of voice that makes you feel like you have come home.
Title track "Boomerang" has you from the opening line "A single tear runs down my face" and takes you through her journey of heartbreak and love repeating just like a Boomerang returning every time.
"Confusion" is where Merlin's voice breaks out and really demonstrates to us what she can do. Merlin calls this a crowd favourite and her lyrics "take me for what I am, or don't take me at all" are relatable to all of us.
"For Now" slows the tempo and brings the acoustic guitar to the forefront. Scoping out a betrothed beauty, Merlin croons and declares "I know I'm not your forever but baby I'll be yours for now", it's a verse and chorus that Merlin claims came to her quickly – yet it wasn't until she came to cut this EP she was able to complete this track with the help of Justin Derrico (Guitarist on the EP) and Corey Britz (Producer).  This is a track that is exactly what country music is and why we love it.  It's honest and it speaks to us all.
This EP has that very familiar country feel stooped in the guitar chords; beats and vocal twang that is all classic country music. There is a reason this music is so popular, it's accessible, and it always has that uncanny ability to bring my emotions to the fore.
"Pocket Love Song" rounds out the EP with an upbeat little ditty declaring that one thing we all know is "the heart can't help who it chases after". You'll be chasing for more of Merlin's music once you give into Boomerang.