Queenstown wedding celebrant Kathryn Omond shares her favourite locations for a wonderful winter wedding.
There are several superstitions about snow falling on your wedding day – that it brings either peace and warmth or prosperity and fertility to your marriage. One thing a thick dusting of white powder is certain to bring is a breathtaking majesty to your wedding photos, particularly if you're taking those photos in the mountains surrounding Queenstown, New Zealand.
Queenstown is one of the world's most coveted wedding destinations. Winter in this alpine resort is a quieter time for the wedding industry, meaning an increase in availability and the chance to negotiate lower prices with vendors. Winter weddings tend to be elopement style occasions, with heli (as in helicopter) weddings becoming increasingly popular.
While the summer tourism season offers a late-night party vibe, winter nightlife "focuses more on the smaller bars with cosy fires and plenty of mulled wine. It's an atmosphere to be experienced and never forgotten," says Queenstown marriage celebrant, Kathryn Omond. The town offers many honeymoon accommodation options featuring cosy log fires and views over Lake Wakatipu.

"The beauty with winter weddings is that although it's cold, it's sunny and very still, which is perfect for flying," says Kathryn. "The beauty of it will simply take your breath away. I've had people who have travelled to the most amazing places in the world say that nothing beats this!"
Queenstown is renowned for its professional, inclusive wedding industry, making planning your big day a breeze. "There is just something so special about marrying two people who have had to fight for their right to marry. We've got to the stage now though that we don't think of them as same-sex weddings… We think of them as weddings," says Kathryn.
Many wedding planners offer all-inclusive heli wedding packages with a number of high-altitude locations to choose from. There's the famous Ledge on Cecil Peak, where you can say your vows with the snow-dusted Remarkables mountain range as your backdrop. Or you can fly into the Remarkables themselves, where there are several landing options. Either way, you have spectacular lake and mountain views a mere 6-minute helicopter ride from town.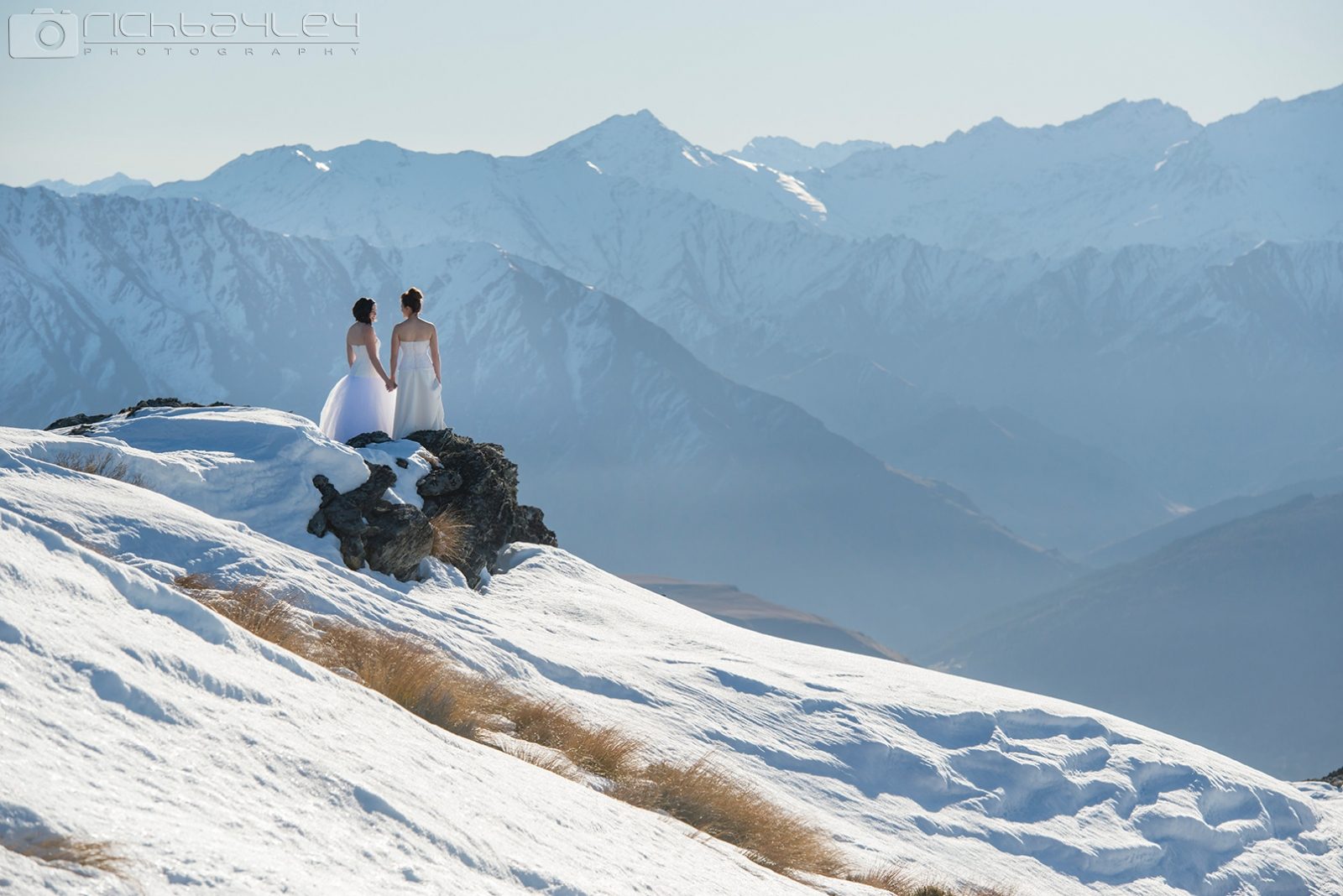 ---
For a truly unforgettable experience, Kathryn recommends flying 10 minutes to the magical Earnslaw Burn. A glacier whose stunning waterfalls and rock faces feature in the movie The Hobbit: An Unexpected Journey, "You'll marry on the valley floor surrounded by waterfalls and be dwarfed by the glacier wall. Nothing else like it! And in winter, it will be covered in snow and the waterfalls will generally be frozen!" Or, for a once in a lifetime experience, you can fly to Mt Tutako, the highest peak in Fiordland National Park, and experience the thrill of a glacier landing.
For those who don't want to fly, Kathryn recommends marrying at the Kelvin Heights Yacht Club jetty on the shores of Lake Wakatipu. It's the sunniest lake-side location in winter and perfect for an elopement or intimate wedding.
For a larger indoor celebration, Kathryn recommends two spectacular locations: Mount Soho Winery and Millbrook Resort. Mount Soho Winery is located 15 minutes outside of Queenstown and is set on 100 acres with 360-degree views over the Remarkables, Coronet Peak, the Crown Range and Mount Soho. The Antler room features a central log fire and leather lounges, while the venue offers a banquet room and many wedding items for hire. Five-star Millbrook Resort is a luxury hotel in historic Arrowtown, 15 minutes from the airport. It offers luxurious accommodation, award-winning restaurants, a day spa, an outdoor hot tub and even has its own golf course and helipad.
For a comprehensive wedding directory, visit The Queenstown Wedding Association.
Simply Perfect Weddings and Heli Weddings NZ offer all-inclusive packages.