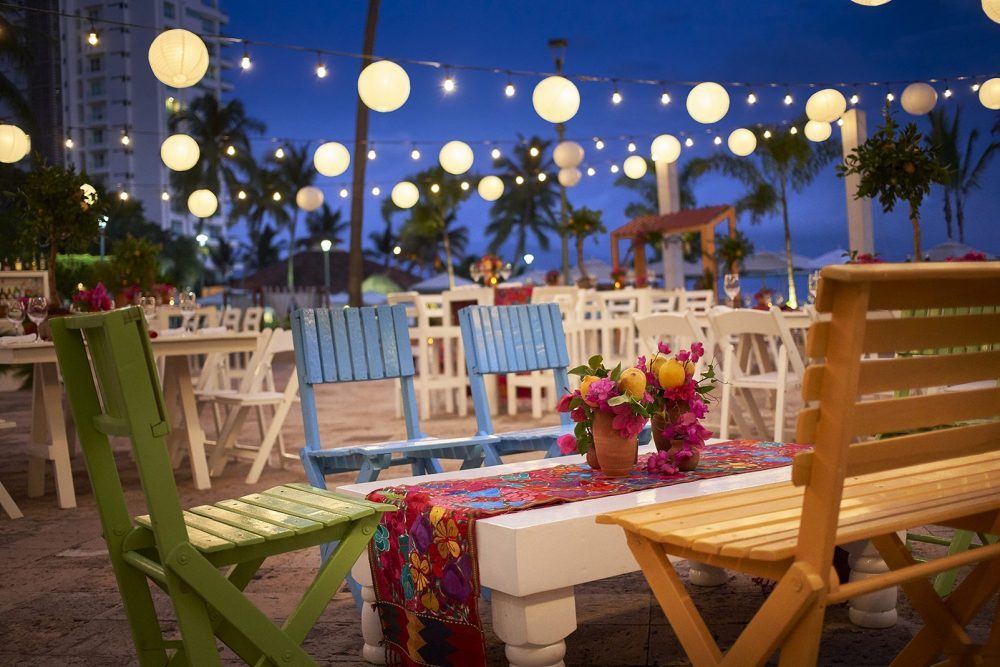 Festivals, food, and fine lodgings with Marriott Puerto Vallarta Resort & Spa.
This jewel of Mexico's Pacific Coast is located on the Bay of Banderas—the second largest bay in the world—and framed by the majestic Sierra Madre mountains. Puerto Vallarta is charming, temperate (average temperature is 80 degrees year round), diverse, and has grown from a sleepy fishing village to a magnet for tourists, artists, retirees, as well as LGBT expats.
You may notice how clean Puerto Vallarta is. It's an eco-friendly city with a visible commitment to recycling from hotels and restaurants, who also purify their water. There are also numerous LGBT organizations and groups located in town.
The urban center, which fans out from the lovely curve of the bay, has distinct zones all in easy walking distance of each other. Downtown (with its famous Malecon  or boardwalk, is where the Pride Parade takes place, with folks decked out in rainbow regalia framed against the vibrant sunsets for which Puerto Vallarta is famous.
All the shopping for souvenirs, and all the bars and restaurants with unbeatable happy hour specials can be found here too, as well as good people spotting. Vallarta Pride is held in the last week of May.
Thousands of people including the locals and their families celebrate this vibrant celebration of diversity. Many gay people live in Vallarta including numerous American expats and tourists come just for this event to enjoy the parade, block party, concerts, fairs, and drag derby.
City Hall, the main square, and many galleries and restaurants is where all the action and shopping are. At night there are shows on the main pier, and often Danzón music on Sunday. The Romantic Zone, also known as the 'gayborhood,' is characterized by cobblestone streets, bougainvillea that spills from doorways and windows, traditional colorful architecture, many cafes, arts and craft stores—this is where the LGBTQ community tends to socialize.
Puerto Vallarta is considered Mexico's second culinary destination after Mexico City with many calendar dates, including Restaurant Week in May and the International Gourmet Festival in November. There is also a recently opened Food Park with outdoor gastronomy. Sample the bites and the sights at the same time!
There are many places to eat exceptionally in Vallarta, but be sure to book a table on the beach at La Palapa Restaurant on Los Muertos Beach and order from their extensive Jalisco-inspired menu—all while sinking your toes in the sand.
On my most recent visit I enjoyed the Festival of our Lady of Guadalupe— Dia de Nuestra Señora de Guadalupe, a pilgrimage honoring the patron saint of Mexico. People — from farmers to school kids to mariachi bands — form "perigranaciones," which are pilgrimages and processions (some floats feature a real live Guadalupe model), walking through town to the Cathedral, which is festooned in colorful banners and ribbons in a celebration of the holy madre, the beneficent mother of all people.
The Marriott Puerto Vallarta Resort & Spa
Located in the exclusive Marina Vallarta, an upscale enclave just ten-minutes from the airport — and from Puerto Vallarta Centro — this magnificently renovated property boasts sweeping views of the bay of Banderas, the Sierra Madre, and affords unbeatable sunsets every afternoon. I never tired of gazing at the ever-changing light of these magnificent vistas.
The Marriott Puerto Vallarta Resort & Spa enjoys its own stretch of beach, which means you can take a healthy walk in the morning or a romantic stroll in the evening. Or just flop on the hammock with a cocktail of choice and soak up this Pacific paradise.
And those sunsets! They are pretty much guaranteed, day after day, and the perfect place to watch them on property is the on the newly constructed viewing platform above Nosh, the poolside bar and eatery.
What will you get when you check in to the Marriott Puerto Vallarta Resort & Spa? You'll get a taste of artistic, chill Jalisco designed on a grand scale with super-friendly service. There are hundreds of rooms to choose from, each with a private balcony and views of either the ocean and pool or the garden.
There is a range of sizes and price points to choose from but each is generously proportioned and tastefully decorated. Beds boast pillow-top mattresses, complimentary robes are perfect for lounging on your patio, and if you need to tear yourself away from the view you can indulge in your flat-screen TVs or Wi-Fi.
You can swim at the beach but I think you'll prefer the gigantic infinity swimming pool which appears to be the size of a football field. This is a family-friendly hotel so you will see kids on property — however, there is a Kids Club and designated area around the kids pool for them to play in.
To accelerate your plunge into adult tropical mode, stop by the coconut drink stand poolside and invest in a Coco Loco — made to order with fresh coconut, tequila, rum, and vodka. You won't feel a thing after one of these.
Speaking of tequila, the state of Jalisco is the home of Mexico's most famous beverage and Marriott Puerto Vallarta Resort & Spa is the only Marriott to have its own tequila label — Tequila Casamagna — and a female tequila sommelier. If you'd like to sample all the tequilas the property has to offer, the Ceviche & Tequila Bar stocks more than 180 tequilas, 12 kinds of draft beer, exclusive author cocktails and a great variety of ceviche.
I was lucky to sample Tequila Casamagna at a seven-course dinner al fresco in the hotel's tranquil herb garden.
The theme of the dinner was "Jalisco at your table" and the chefs presented some of the very best and most typical dishes of the region including tamale served with atole, a warm beverage with cornmeal and coconut; wood-fired Zarandeado fish; Los Altos guajillo chile marinated beef ribs, to name a few.
You can book such a private chef's table-style dinner. Just speak to the hotel when making your reservation. Another option: Chef-led, hands-on cooking classes, followed by a sit-down lunch made from what you prepared. We visited the local market with the chefs to pick up fresh ingredients to make authentic chicken and vegetarian enchiladas.
Special events are one of the hotel's strengths, with the property also hosting LGBT weddings. I was told by staff that The Marriott Puerto Vallarta Resort & Spa has indeed already hosted a number of lesbian weddings.
And if you'd rather be casual, La Estancia serves up traditional Mexican flavors with contemporary twists, starting with an extensive and delicious buffet breakfast, and casual dinner and drinks with ocean breezes and view. Of course, with all this food you might want to seek some physical activity and the best core workout is kayaking or stand-up paddle boarding right in the bay in front of the hotel.
One calm and tranquil blue-sky morning, as I balanced on my paddleboard and marvelled at the view, I was delighted to see a squadron of pelicans fly right by.
To reward yourself for your workout and good fortune, make an appointment with Ohtli Spa for a deep tissue massage, aromatherapy, or spiritually-guided rebirthing session. Tarry awhile in the expansive wellness area as a great way to relax or centre yourself.
The spa also has a palapa on the beach where you can enjoy a private outdoor massage and listen to the soothing sound of surf. Keep an eye out for the female attendant who wanders the grounds with a rehabilitated hawk, which she lets fly in the manner of a falconer.
Watching this beautiful bird, spread its wings, and return poolside, I felt my spirit soar and come to rest in Vallarta. I surely will return one day soon.